WHAT OUR CLIENTS HAVE TO SAY
As in any business, the best advertising is word of mouth and we welcome inquiries about our past projects. Take a look at what some of our clients have to say about our customer service and reasonable rates.
Still not convinced? Check out more testimonials on Yelp, Houzz, and our other social media sites. And—we've won the "Best of Houzz" award for customer satisfaction six years in a row.
Style, durability, quality, and price were unmatched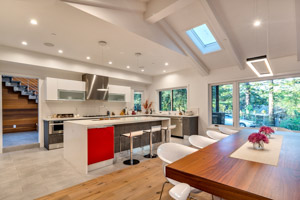 This review is more of a thank you letter to Robert, Alexandra, Sarah, and their installation crew at European Cabinets. Our down-to-the-studs remodel was a big project and involved many logistical, design, and problem-solving decisions. We were extremely lucky to work with many talented and passionate individuals, and the European Cabinet team were among our favorites.
They provided the cabinetry for our kitchen, master bedroom closet, and laundry room. Then, as we saw in person, the beauty and functionality of their products, we asked them to provide the cabinets for our master bathroom, to put in an open riser staircase, and to also design our study.
We looked at many products from Germany, Italy, and of course, custom-built in the US. We felt what we got from European Cabinets—in style, durability, quality, and price—was unmatched … We also had a very modern, open-riser staircase in mind, which we were told either could not be done as we imagined or would cost 2 to even 3 times as much as we ended up paying with European Cabinets.
We love our house and feel lucky to live here. We realized many of the favorite rooms in our house are in large part, due to the imagination, hard work, and products supplied by European Cabinets.
Karen F.
Los Gatos, CA