As in any business, the best advertising is word of mouth and we welcome inquiries about our past projects.
Take a look at what some of our clients have to say about our customer service and reasonable rates.
Still not convinced? Check out more testimonials on Yelp, Houzz, and our other social media sites.
And—we've won the "Best of Houzz" award for customer satisfaction for the past five years in a row.
Like our work? Write us a review!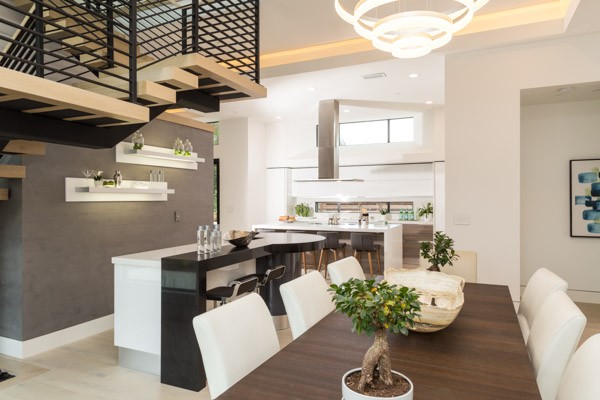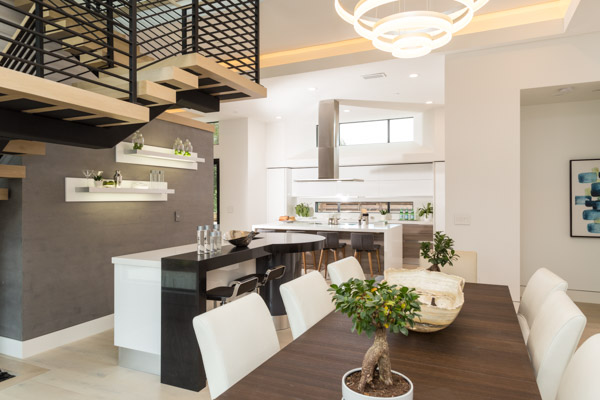 "As a builder & developer, I had a really good experience with European Cabinets. I've been working with European Cabinets since 2014 on three different projects in Menlo Park and Burlingame. I would say besides the great design team, on-time delivery and installation, and competitive pricing, they were really helpful and flexible to work with the other subcontractors to get the job done. I look forward to working with them in my future projects."
—Sharam Z., Builder
"You cannot beat both the quality of service and products from this group. I researched the entire Bay Area for modern kitchen design and cabinets. Sure, there are other larger, more name popping brands, but they are ridiculously expensive. These guys go out of their way to make sure you are happy with the design, layout, and ultimately the installation. If you are looking for a new kitchen, whether you have contractors perform the work, or are a do-it-yourselfer, check them out."
—Jonah T., Sunnyvale, CA
"I would like to thank you for the wonderful service you provided! I had a great pleasure doing my kitchen project with you from the very first time I walked into your store until the very end. Thanks for helping me choose the style, color, and material for the cabinets. Without your advice, I would definitely have made some mistakes.
Thanks for taking the time and helping me not only with the design of the kitchen layout but also helping with the selection of a floor and giving tips on how to install it (since we did it ourselves) even though it was "outside" of your responsibilities.
Thanks for ALWAYS being on time and putting the kitchen together as if you were doing it for yourselves! Thanks for always being available at any time I needed to ask a question or just listen to my concerns and giving support any way you could. I can tell anybody that even if I wanted to find something to complain about I would not be able to do that. Every time coming to your office I felt and feel that I am being treated not only as a customer but also as a good friend.
Your grateful customer,"
—Maya, Cupertino, CA
"As an interior designer in San Francisco, I've worked with many kitchen showrooms over the years, and European Cabinets & Design Studios were excellent from start to finish. I designed a very specific kitchen for a Los Gatos client, and they executed and installed a rather complicated kitchen extremely well.
My client and I could not be happier with the work, and I will definitely collaborate with Robert, Ilya, and the staff again."
—Mark N., San Francisco, CA
"European Cabinets & Design Studios was the only store that we found both functional and aesthetic designs for our kitchen. From the very beginning, it wasn't just about materials and prices. Robert and Alexandra taught us the effectiveness of drawers instead of cabinets; the use of horizontal lines versus vertical; the look and function of modern material for the countertop and backsplash.
We came to the store with ideas of the design for our kitchen. They helped us to form our vision into a concrete plan. They worked with us through the design process all of the way to installation and final touches. The kitchen became a piece of art and the showcase of our house remodel.s
We also worked with Robert, Ilya, and Alexandra to remodel our powder room and all interior doors. The pivot door we installed for our office was the correct form and function we needed. We are bubbling with happiness on the outcome. All of our visitors are amazed at the quality and look of the house.
Since all of the products come from Italy, we had to wait for shipment. But it was well worth it because the products have a good price, high quality, and outstanding look.
This was the only company that could deliver the outstanding customer service and interior that we now enjoy. Many thanks to European Cabinets & Design Studios."
—Margarita G., San Jose, CA
"They designed our kitchen cabinets, answered questions, and did site visits during the new construction process, installed the cabinets, recommended appliances, provided design advice for countertop and color, etc. Basically, they went beyond their job responsibilities. The cabinets turned out to be beautiful and good quality from Italy."
—Nancy L., San Jose, CA
"My wife and I gutted our new house creating a new enlarged master bathroom suite. Our interior designer had sketched various layouts that did not feel right. The flow and function was difficult. When I expressed concern with our designer's drawings our architect recommended that I call Robert and Alexandra at European Cabinets & Design Studios.
I called Robert and he arranged for us to meet the following day. Robert looked at the plans and the various drawings. I explained what I saw as a flaw in function in the proposed bathroom layouts. Robert got out tracing paper and started sketching. Within 10 minutes he came up with a design that others had not thought of or visualized. I was thrilled and truly impressed.
My wife and I met the following day with Robert and Alexandra in European Cabinets & Design Studios's Palo Alto showroom. Robert had taken it upon himself to do additional drawings with various layouts for our meeting. Because of his initiative and vision, we knew we had found the right person to design our bathroom. Robert is brilliant and has many years in the kitchen and bathroom design field. With Robert and his team, we were able to create a beautiful bathroom that functions perfectly.
European Cabinets & Design Studios designs bathrooms that are beautiful and practical. All the bells and whistles are worth every penny. Drawers and cabinets open silently and close automatically. Every detail is done with precision and is meticulous in function. My wife and I compared prices with other top kitchen and bathroom design firms. To our amazement, European Cabinets & Design Studios was within the ballpark of our budget and comparable to other bathroom design firms.
When we began demolition we found "hidden pipes" in the wall, Robert reconfigured the space and created different sized cabinets to incorporate the pipes. No one is able to see the different depth of cabinets that Robert magically designed.
Alexandra is a fabulous kitchen and bathroom designer. Her eye for detail is laser-sharp as well as practical. Robert was instrumental in stone and tile selection and appliances for our bathroom. Robert and his team are a pleasure to work with from beginning to end. They oversee every detail through numerous site visits and are efficient in communication through email and phone calls. My wife and I highly and enthusiastically recommend European Cabinets & Design Studios."
—Vlad D., San Mateo, CA
"My new kitchen is everything I hoped for. It works exactly like I wanted it to. I downloaded the catalog from the company website, it really helped to choose the right kitchen for us. When I called and talked to Robert about my kitchen he was very helpful and scheduled an appointment right away. The price was very reasonable. The design phase went very well. The installation phase did not have problems. The installers were very professional.
The European Cabinets & Design Studios team was great! I really recommend them to others in need of some renovation, they're extremely helpful."
—Laura L., San Francisco, CA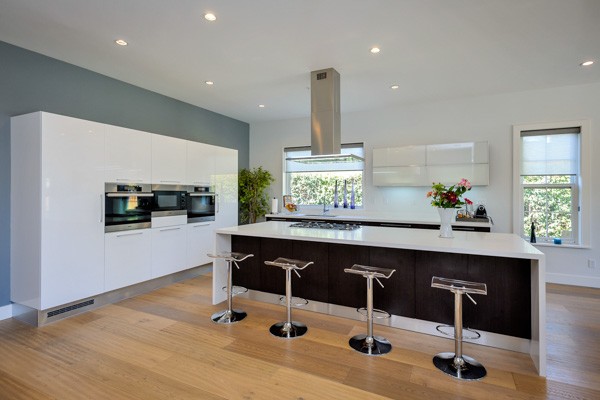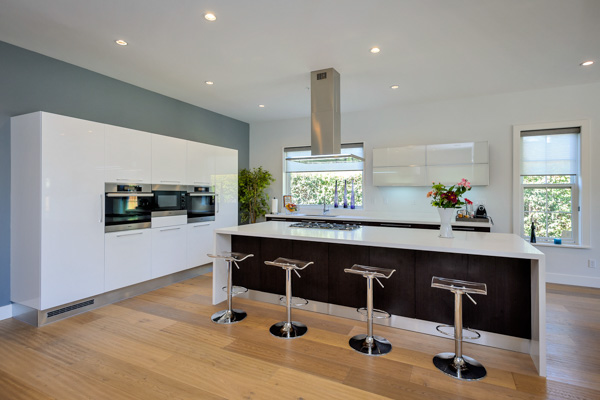 "The short summary is that we felt extremely comfortable with European Cabinets and Design studies from the very beginning until the end of our project. We did a new home construction in Los Altos in 2012. The kitchen, as well as Bathrooms, were critical to the whole house. After searching for a long time and comparing multiple bids from companies based between San Francisco and San Jose we found this very professional vendor. Five stars—nothing else!
When doing extensive constructions there are many people out there who scare you and be unclear about prices. It is a roller-coaster at times and at every turn there is another "surprise" which leads to cost increases. So, when we finally tackled our kitchen and bathrooms projects we engaged with Robert and Alexandra. It was a pleasure to work with them, they are both very experienced with situations such as ours and were able to calm down our fears and were able to come up with stunning ideas and designs. The kitchen looks absolutely gorgeous. We also decided to use European cabinets for our bathrooms as well – though we didn't initially know that they offer these services. But what can I say, they got really nice and affordable cabinets from Italy which make all the difference in the house. Again we got quotes from other firms but quality and prices were the best from European Cabinets. In the end we found a very capable firm who understood really well what we wanted and were fantastic to work with. It was fun and a great experience while the solutions and products were of the best quality you can imagine."
—Uwe W., Los Altos, CA
"After thinking and dreaming about a new, bright, and modern kitchen and bath for a very long time, our dream became a reality recently through the unique products and staff of European Cabinets & Design Studios. We couldn't be more pleased with the results. Now, our Palo Alto home has been brought together in the completely contemporary design that we hoped for.
From the very first visit to their studio, Robert, Alexandra, and Joe made us feel welcome. All of our questions were answered and we felt that they were people with whom we would enjoy collaborating. They made trips to our home and invited us to the studio. They always had time for us. They were there for us every step of the way.
Even after the completion of our project, we still feel that we can call on them at any time. In these days when the cynic in some of us may feel that excellent customer service is a thing of the past, a visit to European Cabinets & Design Studios will show that it still exists … in abundance. Thank you Alexandra, Robert, Joe, and Sergei. What a team!"
—Marilyn G., Palo Alto, CA
"Excellent service, super professional, amazing products, and great prices. We tore down a wall in our kitchen and got cabinets from European Cabinets & Design Studios. Amazingly enough, their prices were comparable or better than Scavolini Kitchens, but the service was above and beyond. They visited our place several times and provided valuable advice regarding design, as well as architectural advice. They have this amazing program that lets you see the design in 3D on a big screen.
The showroom is great if you want to have an idea of what the cabinets/accessories/even countertops would look like. The product is top-notch quality, cabinets made in Italy. Designs are beautiful and unique, they close quietly and automatically, and accessories look beautiful. Ilya, Robert, and Alexandra went out of their way to make sure we were happy with the design and installation and recommended products from paint colors to countertops to tile. Our kitchen looks WOW."
—Oleg P., Redwood City, CA
"We love our new kitchen, they really did their best to work things out. The combination of a great price and incredible quality and look makes it the best place to shop for your kitchen remodeling needs. Next step is a bathroom remodeling and this time I won't spend months of research and price comparison, I'll go straight to these guys and I'm sure I'll be as happy as I am with my kitchen now.
These guys are awesome, they come to your place, help with design, oversee every aspect of your kitchen remodeling and always there for you. And pricing is amazing compared to other places, we did a lot of research before moving forward and saved thousands by choosing European Cabinets & Design Studios, not compromising on quality and configuration, including advanced features."
—Alex D., Concord, CA
"We had both kitchen and bath cabinets from European Cabinets & Design Studios. This is much more than I ever dreamed while planning how my future home would look.
I never thought that you'd continue noticing your furniture after you are done with remodeling but this is exactly what happens to me every time I enter my kitchen or my bathrooms, I smile.
And service and attitude is just beyond any expectations. Thank you!"
—Natalya S., Campbell, CA
"If you are dreaming about a European kitchen with all the beauty and convenience it usually offers, this is the place to go. All the products are made in Italy. You will find absolutely beautiful kitchens in a wide variety of both traditional and contemporary styles.
Kitchens from the European Cabinets & Design Studios are not only known for their impressive appearance, but for their complete designs and the great appliances made in Germany. These kitchens are a long lasting investment for your house.
A combination of professionalism, knowledge, and expertise make customers satisfied and delighted. At European Cabinets & Design Studios you meet highly professional people. Our experience with them is excellent."
—Davidah G., San Jose, CA
"We bought our kitchen cabinets from European Cabinets & Design Studios in Palo Alto. As soon as we walked into the show room we met Alexandra. She worked with us on the design and has been so patient to satisfy our needs. The design was well done and our kitchen looks beautiful. We are planning to remodel our bathrooms and we definitely will be working again with the European Cabinets & Design Studios."
—Mike M., San Mateo, CA
"We searched for a high-quality, affordable, semi-custom European kitchen and we found it at European Cabinets & Design Studios. You can't beat this group for price, customer service, and design help."
—Layton J., San Francisco, CA
"I wanted to let other people know about European Cabinets & Design Studios, a locally-owned design and cabinetry firm that we have used twice to help us tastefully modernize our kitchen and bathroom. They have a keen sense of how to maximize the use of a given space and were able to work within our budget. They have great design and color ideas too! Check them out !
Your very satisfied customer,"
—Vol D., Foster City, CA