Lucile Glessner says remodeling her own Eichler kitchen has given her a better understanding of the emotional aspect of home design.
After guiding numerous clients through the complicated process of remodeling their homes, award-winning interior designer Lucile Glessner turned to remodeling her own mid-century modern Eichler. While she was well prepared for many aspects of the renovation, what she didn't anticipate is the emotional attachment you have to the project when it's your own home.
Lucile is somewhat of an expert on remodeling mid-century modern homes having worked on many in the San Francisco Bay Area. "Remodeling is complicated in an Eichler because you're so limited by the post and beam construction. If you remove posts, you have to add beams to maintain the structural integrity," she said.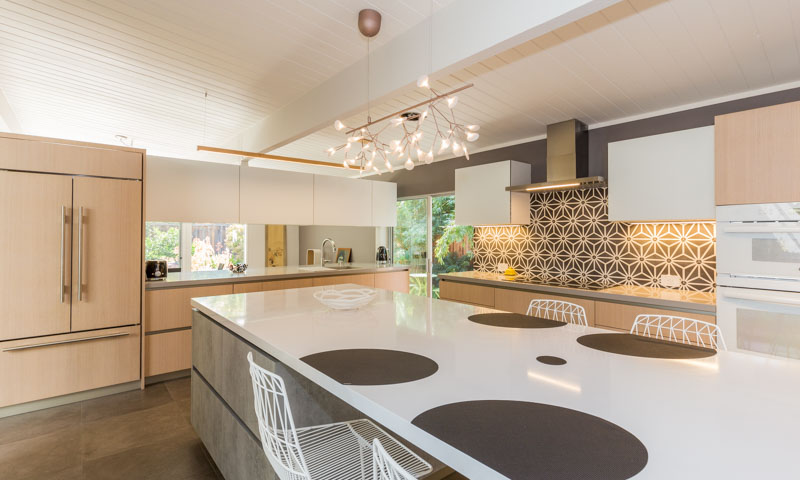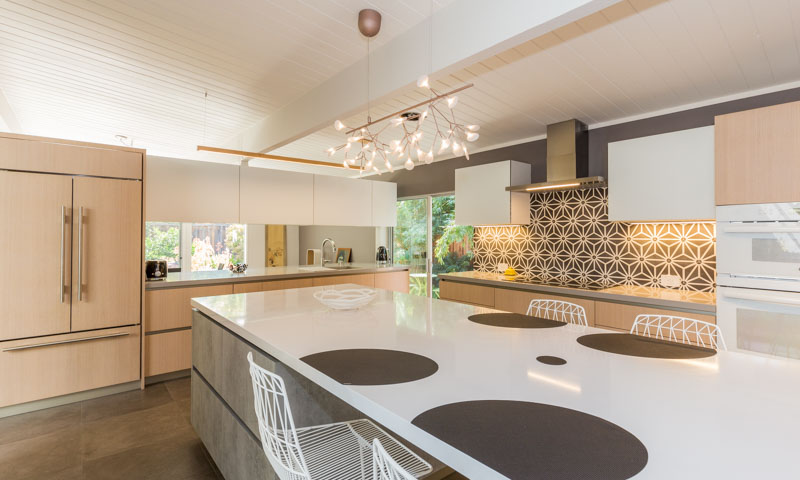 There was some minimal remodeling done when she and her husband purchased the home several years ago, but this time around, she was tackling major aspects of the entire house including the floors, doors and windows, and a bathroom. The largest part of the project was her kitchen, which she wanted to open up to bring in more natural light.
"Outside views and natural lighting are really important to me. Wherever you are in the kitchen, you can see outside—that was my goal."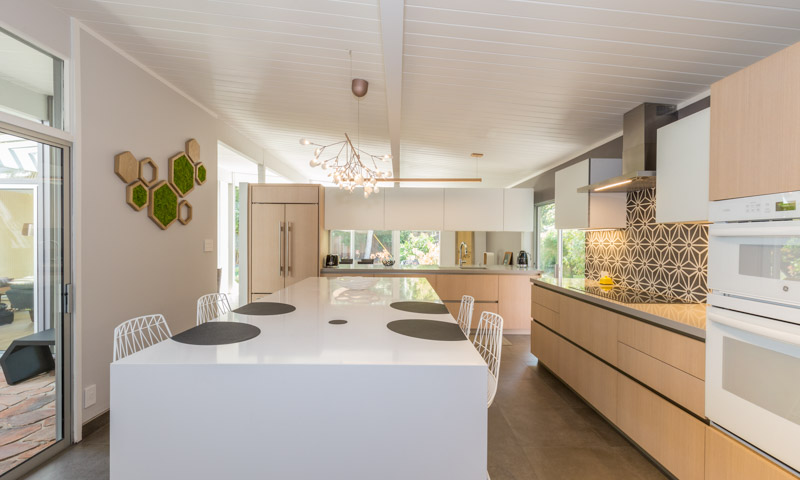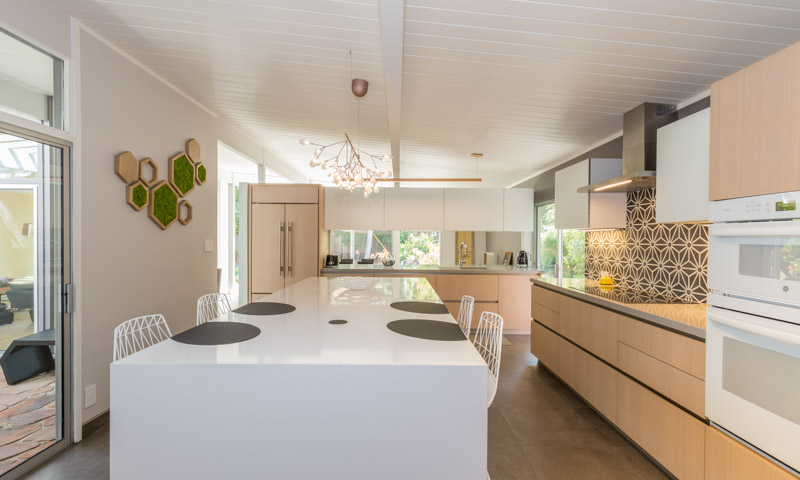 The updated design included a large island with a seating area (there was only a small peninsula before) and additional cabinetry, but overall she wanted to avoid moving things around too much. Eichlers don't have an attic or a crawl space, so any structural change has to go through the roof, the walls, or the floor. Lucile's home has radiant heating so there's a high risk of creating new problems if the floor is trenched.
For the custom cabinetry, she chose the LAB13 collection from Aran Cucine, available from European Cabinets & Design Studios. The collection offers a number of light wood veneers and textural finishes, as well as Aran's signature glossy laminate and glass cabinets.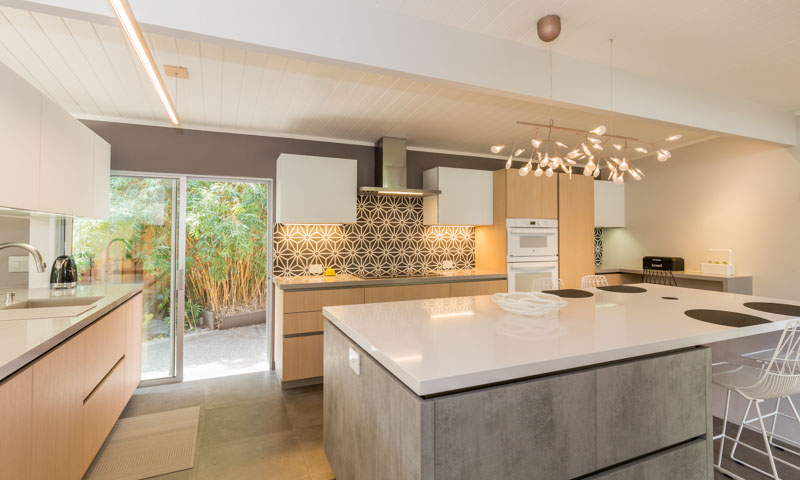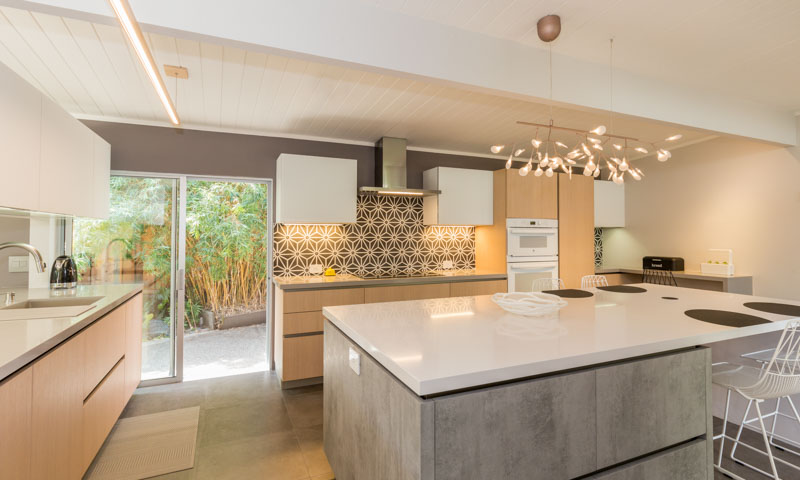 "I really wanted a warm, light finish. That's the reason I chose the light oak veneer cabinets and the white glass from LAB13," said Lucile. "Also, I didn't want any handles. The c-channel handles available with LAB13 come in a metal that's much softer. It has almost a gold tone to it."
The upper white glass cabinets open vertically and the cabinets over the peninsula separating the kitchen and dining space have integrated LED lights that shine onto the countertop and also up into the cabinet.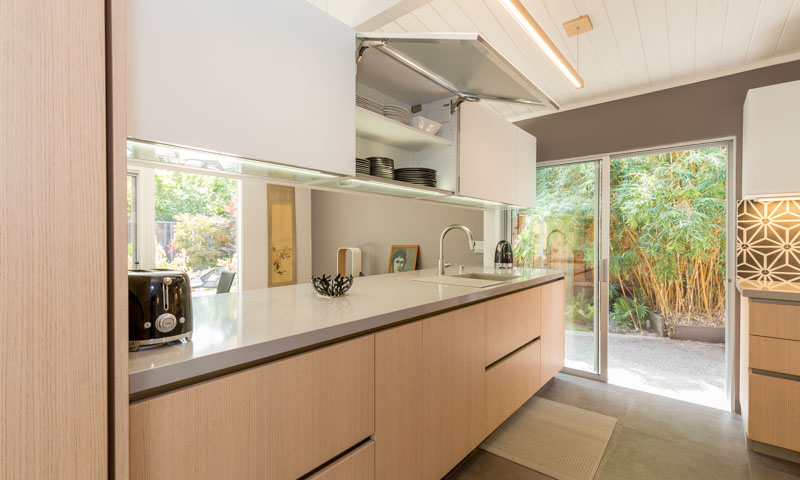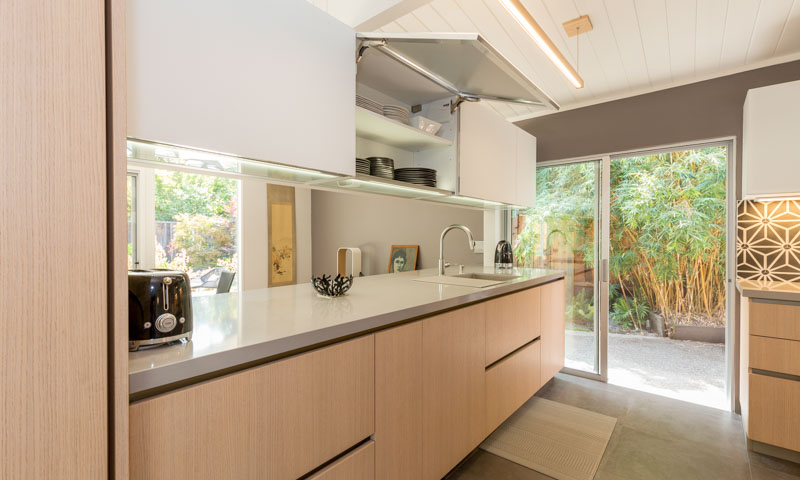 An added bonus, she noted, was the four-inch toe kick (most Aran Collections have a seven-inch toe kick). Lucile combined the light oak and white cabinets with a concrete finish for her new island, which coordinates with the polished concrete floor. The countertops are Silestone quartz in Kensho along the perimeter of the kitchen and White Zeus Extreme on the island.
Lucile's design theme of "fractal" is evident in her choice of the black and white cement tile backsplash, the chairs, and the custom geometric art piece on the wall composed of preserved moss and natural oak cut with a CNC machine. She worked with Fractal Flora in San Jose to design and manufacture the piece.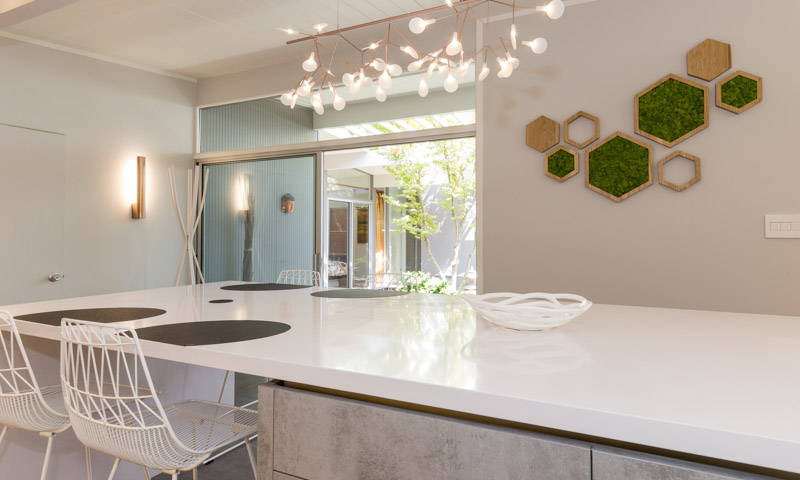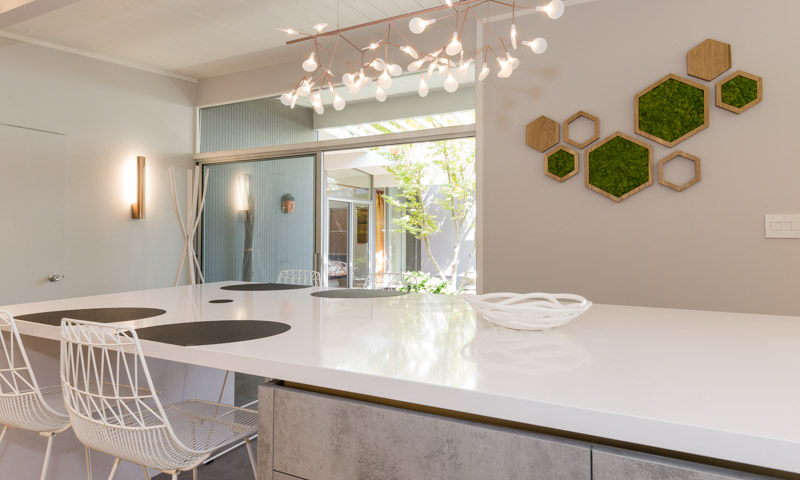 As a designer, Lucile said she had a good understanding of the process and what it would cost, though often her clients don't. However, she did feel added pressure to "get it right" not only because her family was counting on her and it was her own money she was spending, but also because it was a chance to really show her style and what she could do. She said she had a moment of realization that when you're doing something for yourself, you become emotionally engaged with the outcome.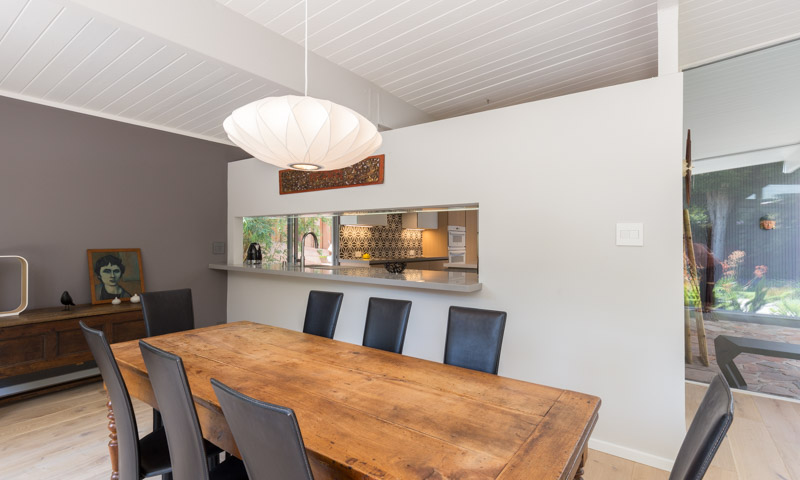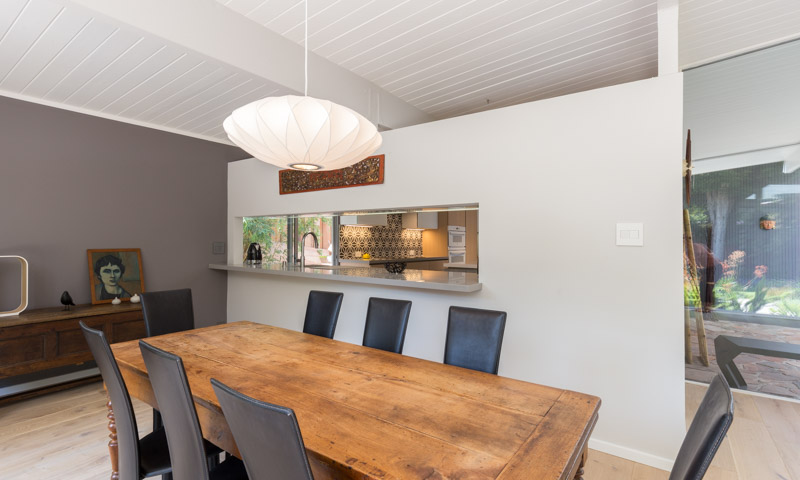 "When you're doing major remodeling, changing the structure of the house, you're making decisions that really impact the way you're going to live later. If you make a mistake, it can be a very costly mistake. Renovating my own home has given me a better understanding of the emotional aspect of the whole process and has helped me to empathize with the stress that my clients sometimes feel," she added.
To work with Lucile, visit her website.
Ready to plan your kitchen? Download our kitchen design guide