The Eichler—the Bay Area's iconic Midcentury Modern home—offers a modern, natural aesthetic that appeals to many homebuyers.
Midcentury Modern is coming back, and no one knows that better than interior designer Lucile Glessner. Not only does Glessner specialize in Eichlers—the iconic Bay Area midcentury home—she lives in one too.
After completing four Eichler projects with Glessner (and two more in the works), we thought it was time to sit down and talk with her about the return of Midcentury Modern design and the longevity of the Eichler appeal.
Why is Midcentury Modern so hot right now?
I think the millennials see it as a classic and historical era, and it has the appeal of a slower, less complicated life. For my generation or older—since I'm French I did not really grow up with that American style—people were looking at either a contemporary or traditional look. But for the millennials, Midcentury Modern is far enough in the past that it's interesting. It has that appeal of the simple lines from Frank Lloyd Wright, Le Corbusier, the Eames brothers, which changed the architectural landscape. The younger generation is more interested in open spaces, and a simpler uncluttered lifestyle—especially people in the high tech industry.
All these MCM furniture pieces are being redone by companies like Herman Miller, Design Within Reach, and others, and are used in a lot of commercial buildings and offices all over the world. People who work at Google or LinkedIn see these iconic pieces every day—by Arne Jacobsen, George Nelson, etc.
There's something ergonomic about midcentury design, but it's from an era even before ergonomic was a thing.
That's true. It's comfortable—some of it is comfortable—but overall, it is. You have the oversized Womb chair, the Egg chair, both of those are Midcentury Modern pieces and they are very comfortable. They really make a statement. You don't need a lot of it; you can just have a couple of these chairs and your whole living room looks unique. They are colorful; Midcentury Modern design wasn't afraid of color.
I'm helping restore one very original and unique steel Eichler, which is going to be on the historical registry. We're trying to go back and redo all the colors exactly the way the home once was—it's a gorgeous house. I don't believe all Eichlers automatically need to be kept exactly as they were, but there's a style and there's a feel for them that should be preserved.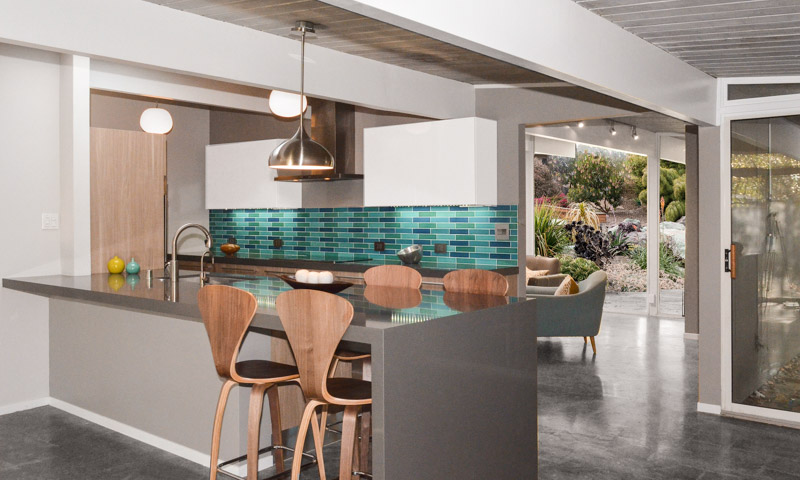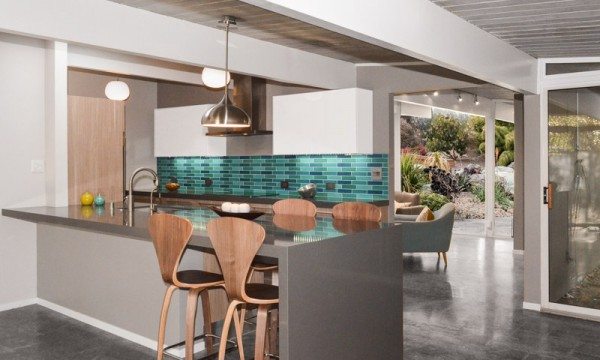 What do you love personally about the Eichler style?
They have a lot of natural light and high ceilings. They bring the outside in. When you look at older homes now either they have the typical ranch style, which is pretty dark and not extremely exciting, or you have the Eichlers, which people love or hate, but inside if they're well done and well maintained they're wonderful.
The atrium gives you an opportunity to have an outdoor room or a garden. It's a different way of living that's unique to this area. There are some really appealing aspects to an Eichler and they're becoming more and more popular.
What is your approach to designing or updating an Eichler?
I tend to remove walls to achieve a very open floor plan. We open them up even more than their original design. Some Eichlers have galley-type kitchens; people tend now to want open kitchens and more natural light. For purists, it might seem like a heresy, but overall for the people who actually live in the house, I think we're still keeping the original style.
When it comes to the floors, for some clients we've taken the floor back to the concrete slab and polished it, it's a bit of an industrial look, but it works very well. Other times we've done engineered wood. When we remove walls we often end up with additional beams; I try to keep them natural. Lighting is a big thing in Eichlers because they have natural light but not many fixtures, and without an attic or crawl space, it's quite challenging.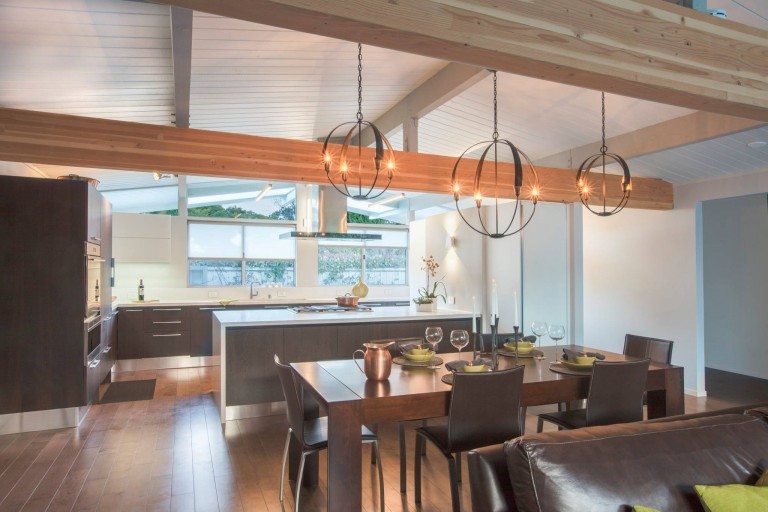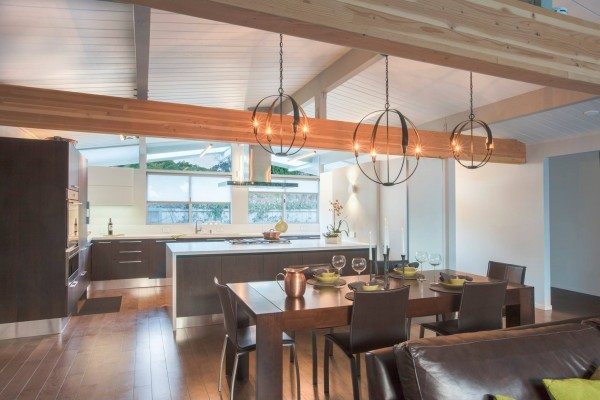 Why does the collaboration with European Cabinets work so well?
Italian kitchens work perfectly in an Eichler. You need simple lines and color. The modern cabinetry that Aran Cucine provides works really well. I find that the sizes are ideal for Eichlers and they offer so much variety that you can create a lot of different kitchens. Every client who goes to Aran Cucine finds something for their Eichler. Ikea kitchens are also good, but they only have a certain number of colors and doors, so every kitchen ends up looking the same. With Aran, we have the possibility of doing something really fun, really original. For our next project, we're doing red upper cabinets and wood laminate base cabinets.
How closely do you work with the client to help choose the kitchen cabinets?
It depends on the client really. Some need more help than others. Some people really know what they want, and only need a soundboard, others need a lot of help—it's a combination of things.
What are some of the difficulties you run into when renovating an Eichler?
It's very complicated to work on Eichlers construction-wise because there's no attic and no crawl space. It's on a three-inch concrete slab, and then you have the roof. So it's a challenging construction environment that requires structural, electrical, and plumbing experts—not to mention the radiant heat under the slab. You don't want to hit the pipes. Eichlers offer a very healthy type of living between the natural light and radiant heat, which is so much better for you than forced air and much more efficient. The only problem in the Eichler is the single-pane glass, but a lot of clients change the windows to double pane.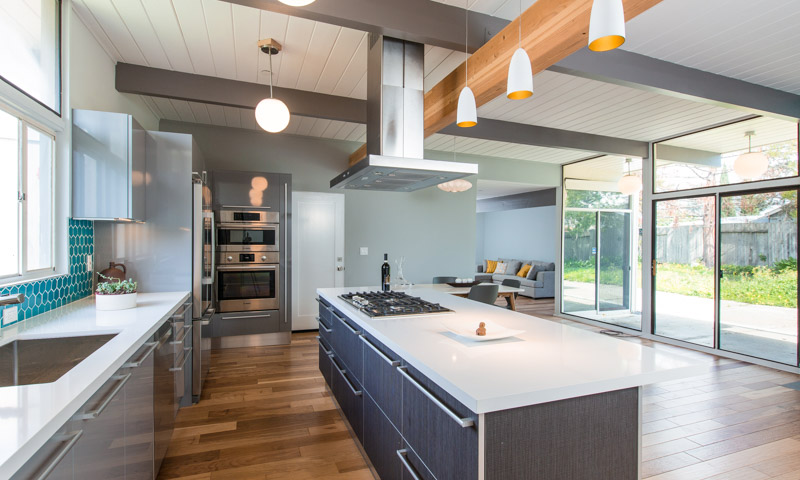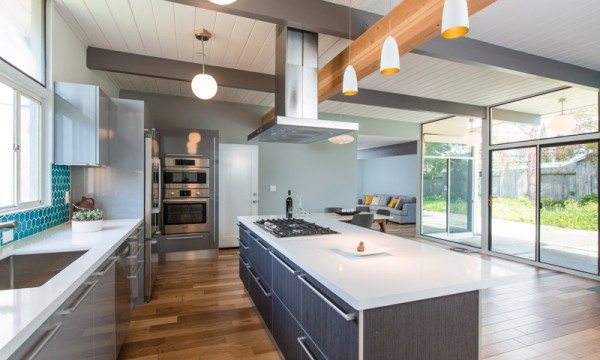 What are the mistakes to avoid when redoing an Eichler?
One mistake would be to use materials that are too heavy, especially for the furniture. But primarily doing something that's the wrong style—that's really the biggest mistake. There are some people who buy Eichlers and they want to have a traditional style, so they change the doors to traditional doors or put curtains on all the windows. When you do that, the Eichler just loses its appeal in my opinion.
You have an idea of inside-outside living that is pervasive to the Eichlers so you want to create a harmony between the exterior and the interior. The yard is almost as important as the interior of the house because you see it everywhere. So trying to make sure the colors from the outside work with the inside and vice versa, that's important, as well as keeping things simple and uncluttered.
Do people buy Eichlers because it's an Eichler, or do they buy the home and then fall in love with the style?
My latest clients are very aware of the history, but all of them like the style. In the past people bought an Eichler because it was a cheaper home—they're generally the ones who put on traditional doors. The people who buy Eichlers because they understand the style—where it comes from, the idea behind it—they're very aware.
Lastly, are Eichlers going up in value?
I think that's hard to tell, but in my area, definitely. I would say they've gained more value recently than ever before. They're not cheap anymore!
To work with Lucile Glessner on your Eichler, visit her website or call her at (408) 203-6729.
Ready to plan your kitchen? Download our kitchen design guide