Two kitchens featuring cabinets from European Cabinets & Design Studios were recognized in the ASID CA Peninsula Chapter's Design Excellence Award competition.
Interior designer Jennifer Hale of Interiors for Modern Living received a Platinum Award, the highest available, in the American Society of Interior Designers CA Penninsula Chapter's 2016 Design Excellence Awards. The project, which was entered in the Residential B category for contemporary design, involved restoring the charm of a midcentury modern home while improving layout and flow, ample storage, and a comfortable open floor plan.
Projects are judged anonymously by a panel of design professionals on a variety of criteria, including functional use of space, selection of materials, and "successful combination of elements that exhibit extraordinary design."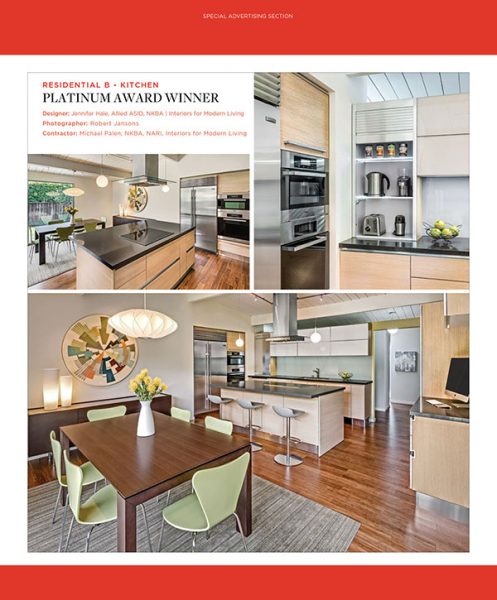 While it wasn't the first time Jennifer received an award in this annual competition, it is her first Platinum Award and the first time she received a perfect score. The project was also recently featured on the cover of Silicon Valley Design magazine.
"It was shocking, honestly. I thought it was a great project, but it never occurred to me that it would receive a perfect score, let alone a top award. So that was pretty fantastic," said Jennifer.
Her design solution involved borrowing space from the attached garage to open up the galley kitchen and include a larger refrigerator and wall ovens, as well as moving the entry from the middle to the side in order to redirect traffic away from the work triangle.
The kitchen featured cabinets from the Aran Cucine Mia collection in Light Oak.
Lucile Glessner earned two Gold awards in this year's Design Excellence competition in the Residential B and Commercial B categories. The residential project, an Eichler restoration, features cabinets provided by European Cabinets. Lucile is somewhat of an expert when it comes to restoring Eichlers, having completed numerous restoration projects as well as living in an Eichler herself.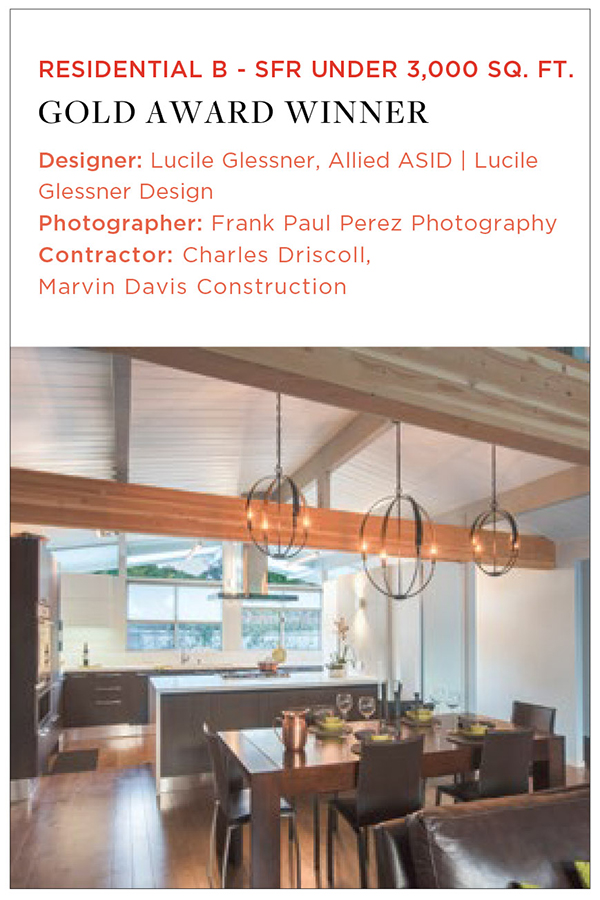 "It was an honor to receive two Gold awards from the American Society of Interior Designers especially since it was our first time submitting projects for awards. We particularly appreciated the thoughtful written comments from the judges as they evaluated our plans, before and after photos, and the design concept," said Lucile.
The cabinets for this kitchen are from the Volare collection by Aran Cucine, a combination of heat-treated oak and matte glass.
"We're always very pleased for the opportunity to work with Jennifer and Lucile, both very talented and professional designers, and it's wonderful to see their work recognized in this way," said ECDS president Robert Berkovich.
To work with Jennifer Hale, call her at (650) 722-9883 or email jen at interiorsformodernliving dot com.
To work with Lucile Glessner, visit her website or call her at (408) 203-6729.
Ready to plan your kitchen? Download our kitchen design guide