Interior designer Jennifer Hale choose modern kitchen cabinets from Aran Cucine's Miro collection to update the look and function of this 1990s home.
Interior designer Jennifer Hale of Interiors for Modern Living was tasked with updating the look of this 1990s spec house and improving the functionality of the space. "The design of the house was very choppy. Our greatest challenge was streamlining it and fixing the layout of the footprint," said Hale.
The original range was on a small kitchen island, and there was a doorway dividing the kitchen from the living and dining rooms. "The kitchen was really disjointed. The client wanted to be able to have informal dinners at the kitchen island, so that was a big part of how they wanted it laid out," she said.
Jennifer's team pushed the doorway back and removed a massive group of cabinets to open up the room and let in more light. To compensate for the storage that was lost to open up the rooms, they added the upper cabinets, as well as a large walk-in pantry with pocket doors. "We wanted to maximize all that storage," she said. They replaced the cooktop with a new Wolf range on one wall and designed a new island with a breakfast bar and prep sink.


"The client wanted to have two different prep areas, and to be able to cook with the kids," she said. The new island is a perfect place for gathering and entertaining, with plenty of space to set food out, and the open floor plan unifies the kitchen and eating areas.
For the cabinets, Jennifer came back to European Cabinets & Design Studios. "I've worked with ECDS on several projects over the years. These cabinets were a good fit. It was the style the client wanted at the right price point," she said.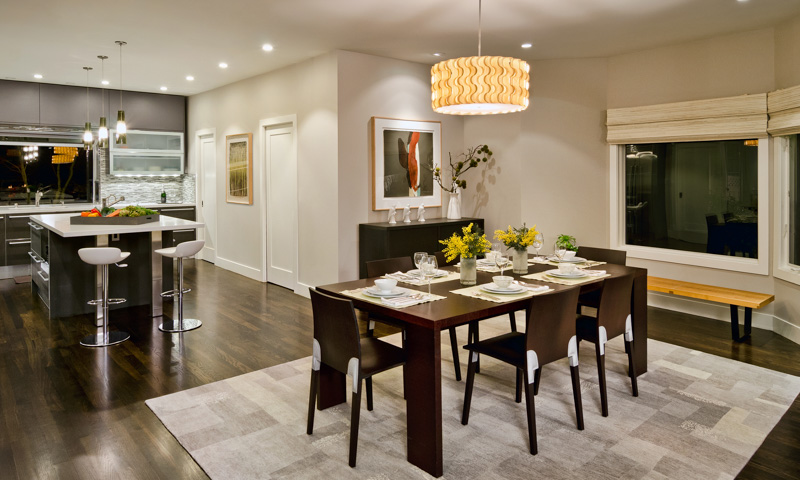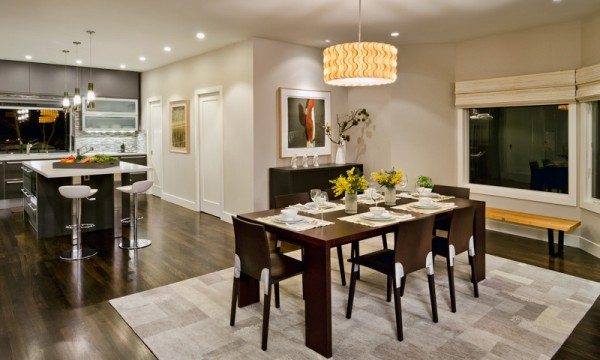 The dark gray base cabinets are from Aran Cucine's Miro collection, with big drawers and long linear handles. The frosted glass and upper warm gray wall cabinets are from the Volare collection. All of the cabinets were custom ordered from Italy. "The client liked the long upper cabinets, rather than standard vertical ones, and there are some finishes and some details you can get with European Cabinets that some of the custom shops aren't able to achieve," Jennifer said.
The cabinetry is modern, but the kitchen actually has more of a transitional look, thanks to the Sub-Zero refrigerator, Zephyr hood, and the six-top Wolf range. "To me, those appliances have a more traditional appeal, and the look kept with the integrity of the house," said Jennifer.
A white Silestone quartz countertop, black and white glass tile backsplash, and hardwood floor complete the transitional look.
To work with designer Jennifer Hale, call her at  650.722.9883 or email jen@interiorsformodernliving.com
Ready to plan your kitchen? Download our kitchen design guide