You'll love these five very different modern kitchens (and one bathroom) designed with cabinets from the Aran Cucine Volare collection.
Volare is one of Aran Cucine's most popular kitchen collections for its versatility; this collection of modern kitchen cabinets comes in a wide array of finishes—glossy or matte lacquer, wood, metallic, and glass—and many more colors. The cabinets can be arranged vertically, horizontally, or in any custom curved shape for a truly original kitchen layout. You've heard of an L-shape kitchen, but Volare can be designed as a J-shaped kitchen!
The kitchen at the top of this post was composed of glossy lacquer and yellow pine cabinets. Below you'll see five kitchens and one bathroom, all designed with Volare cabinets, and each is one-of-a-kind.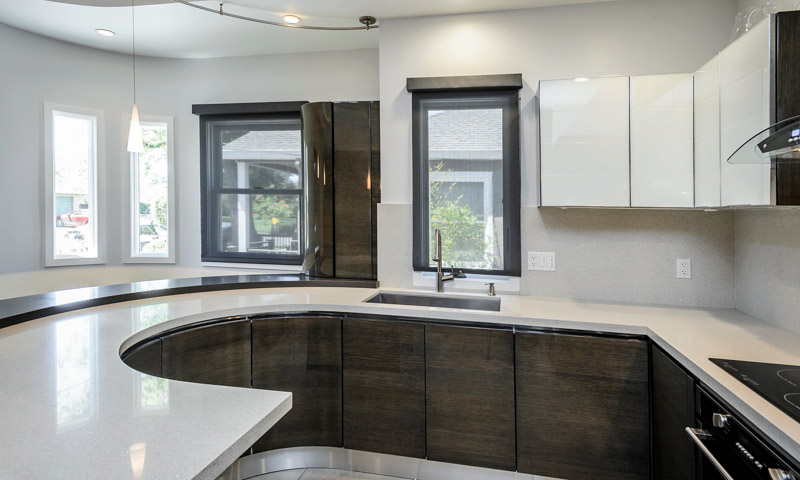 The dark gray kitchen
This open kitchen with a clerestory ceiling is the focal point of a cozy three-bedroom home designed by architect Davide Gianella. The client wanted a modern European-style kitchen for the home. They ultimately chose cabinets with c-channel handles from the Volare collection in dark gray lacquered wood veneer for the base cabinets and curved six-top peninsula and breakfast bar, and white frosted glass for the wall cabinets. The duo-tone quartz countertop and backsplash are by Caesarstone.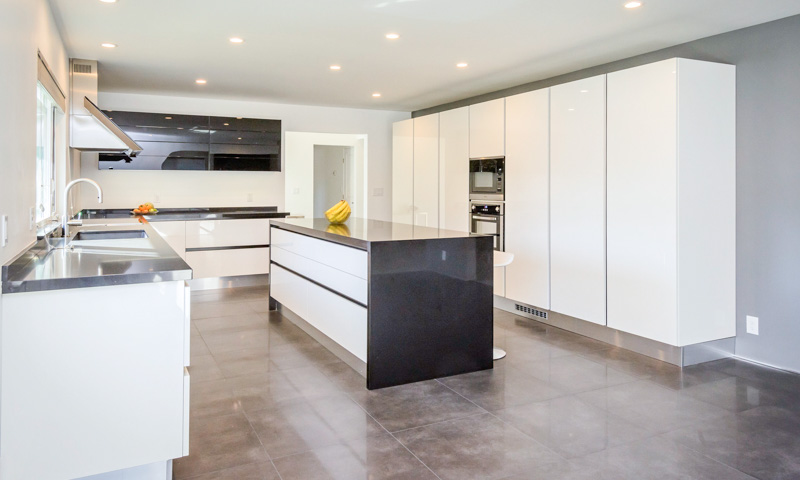 The black and white kitchen
We completely overhauled the kitchen (and a few other rooms) of this traditional California home to give it a fresh, modern look. The base cabinets and tall pantries are finished in glossy lacquer with sleek integrated handles. The wall cabinets are black glass. The modern look is perfected with a Caesarstone quartz countertop in Carbono and built-in stainless steel appliances.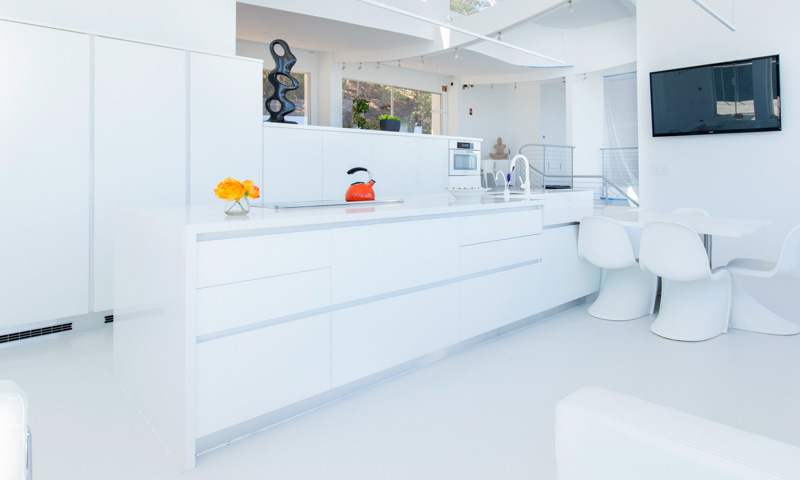 The white kitchen
This all-white home features an all-white kitchen composed of matte glass cabinets and pantries from the Volare collection, a Caesarstone quartz countertop and custom breakfast table in Blizzard, and white appliances—all the better to keep the focus on the home's stunning views.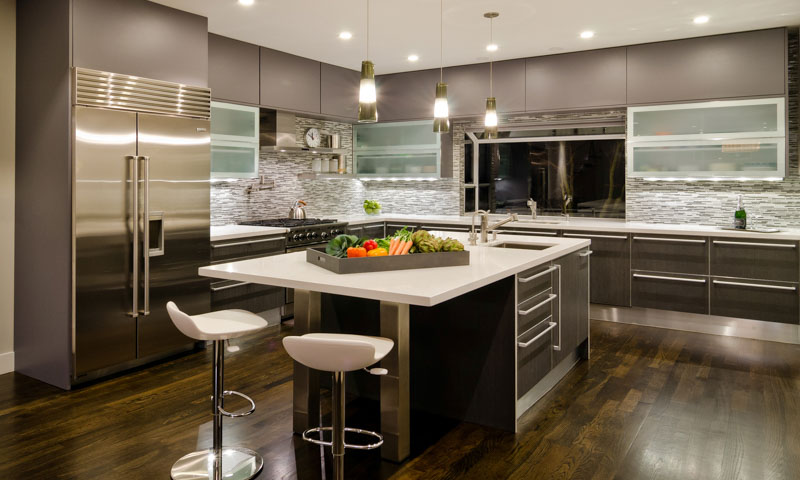 The warm gray kitchen
Interior designer Jennifer Hale of Interiors for Modern Living remodeled the kitchen of this 1990s spec house with warm gray upper cabinets finished in a matte lacquer and frosted glass from the Volare collection. (The lower cabinets in dark gray with an aluminum edge and handle are from the Miro collection.) Hale completed the design with a Siltstone quartz countertop, gray and white glass tile backsplash, and stainless steel appliances.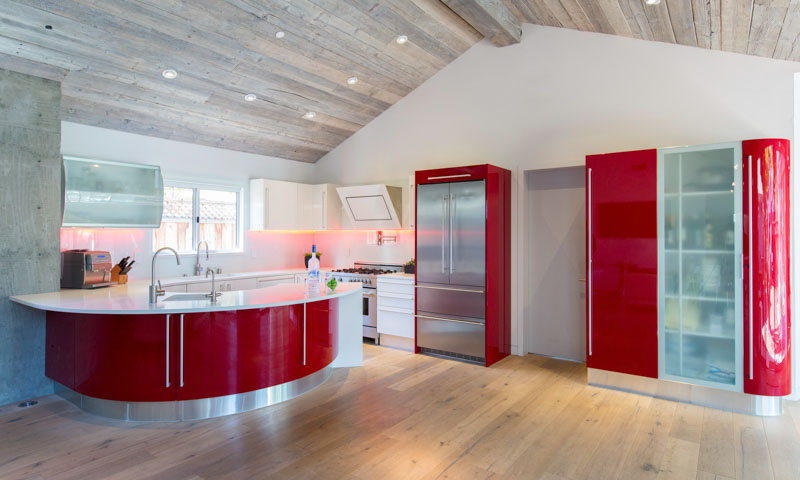 The red kitchen
The kitchen in this new home makes an impact with frosted glass and glossy lacquer cabinets in red and white from the Volare collection. The curved peninsula has storage access on both sides, and the refrigerator is enclosed in a red glossy cabinet. The wall cabinets feature Aran Cucine's integrated undercabinet LED lighting. The bold cabinets are set off with a white glass backsplash and a Caesarstone quartz countertop in Blizzard.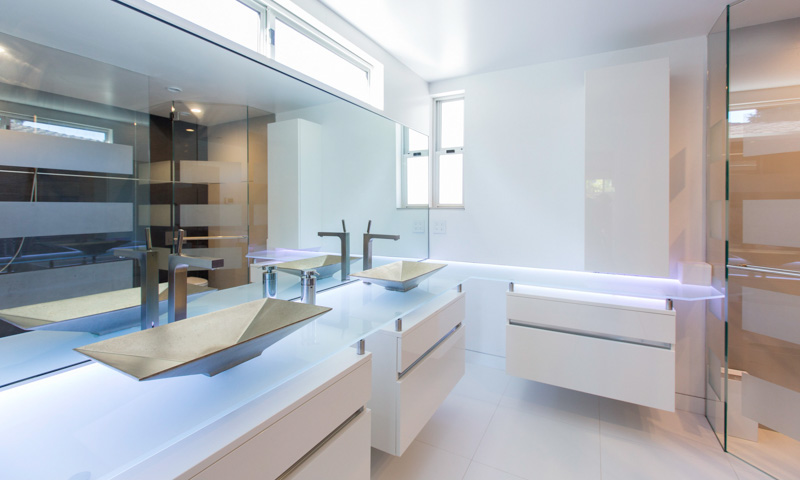 In the bathroom
Who says kitchen cabinets only belong in the kitchen? We used white glossy Volare cabinets to create custom floating vanities suspended under a translucent glass countertop in this master bathroom. The cabinets are given a futuristic look with adjustable colored lighting. A similar design was used in this home's guest bathroom.
Ready to plan your kitchen? Download our kitchen design guide