This remodeling project in Saratoga, CA, earned a Bronze Award in Professional Remodeler magazine's annual Design Awards.
European Cabinets & Design Studios was tasked with updating several areas of a traditional California home in Saratoga, including the kitchen, master bathroom, powder room, front door, and entryway, as well as flooring throughout. The project earned a Bronze Award in the Residential Interior Over $100,000 category from Professional Remodeler magazine's 2015 Design Awards.
The primary challenge of this remodeling design project was how to integrate the new modern front door and interior, without compromising the integrity of the house.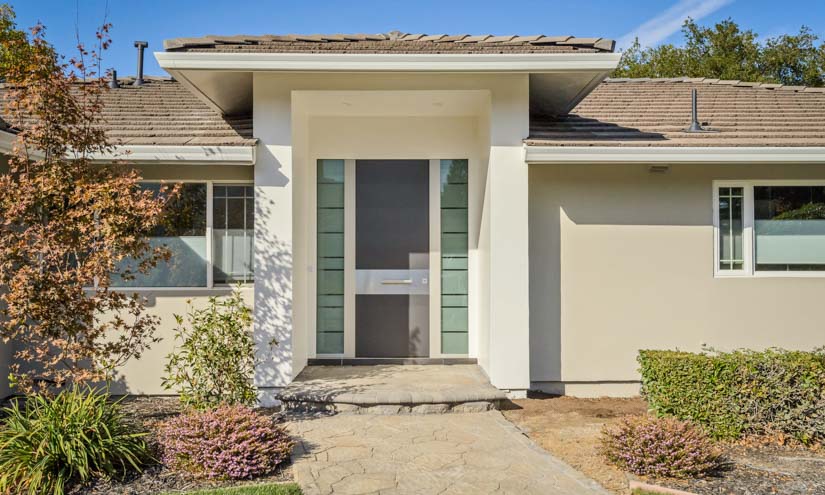 A new front entry was designed including two full-length side windows to showcase the eight-foot front door by Oikos, while also slightly separating it from the rest of the façade. The height of the entrance and hallway was increased to nine feet. The door is finished with porcelain on the outside and white lacquered glass inside. The muted colors that were chosen help to blend the modern door with the rest of the home.
The kitchen was extended by two feet, allowing for the addition of a kitchen island. The new contemporary look of the kitchen combines white high-gloss lacquer and black glass cabinets from Aran Cucine's Volare collection. The handle-less cabinets and fully integrated refrigerator offer a cleaner look and additional pantries offer more storage. The quartz countertop is from Caesarstone and the kitchen sink is from Blanco. Built-in appliances include the Miele microwave, Zephyr hood, and Fagor induction cooktop and 24" oven.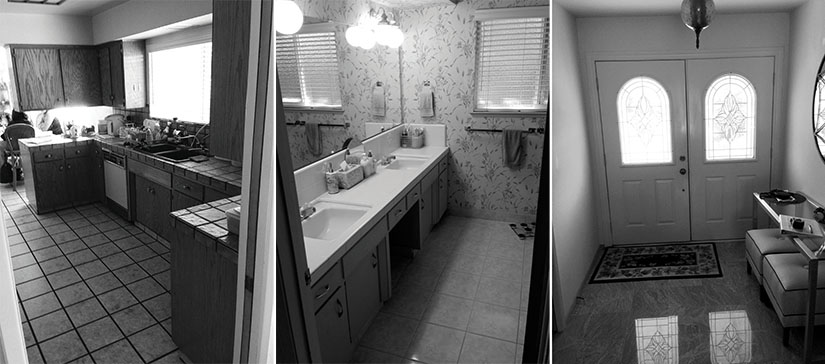 The kitchen, entrance hallway, and bathrooms feature large 24" x 24" porcelain tile. The rest of the floor is laminate provided by Skema. The unique color and texture gives the house a pleasant brightness and also offers a wide range of possibilities for furnishing the home.
The centerpiece of the master bath is a floating double vanity with a unique sinuous sink from BMT Bagni. The guest bath features an asymmetrical geometric floating vanity with a top-mount sink and curb-less shower with a linear drain. The powder room features a single rounded sink and an additional storage cabinet.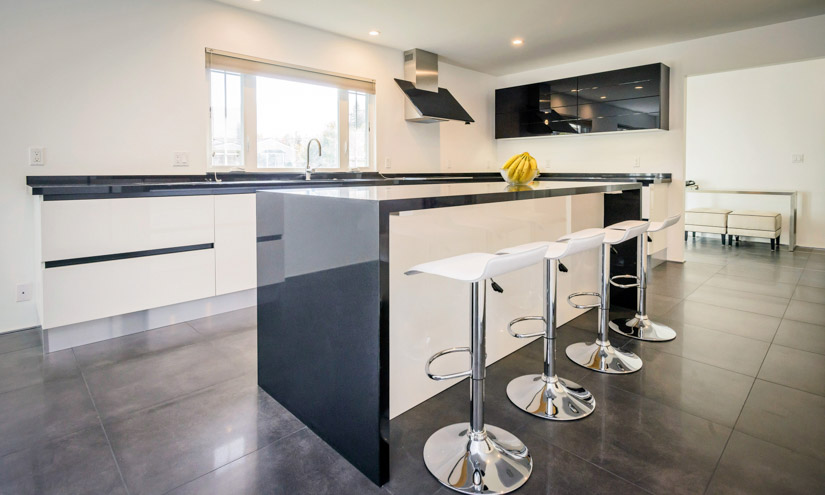 The client was pleased with the overall result: a clean, contemporary interior that still blends with the existing space and neighborhood.
European Cabinets & Design Studios collaborated with Sunset West Construction to complete this project. See more images of this project in our portfolio.
Ready to plan your kitchen? Download our kitchen design guide