The benefits of the open kitchen and living room are clear, but there are some drawbacks, too. Here's how to design your kitchen right.
Frank Lloyd Wright was one of the early advocates of the open floor plan. Wright thought homes should be more fluid and in harmony with nature and how we live.
In today's world of everyday foodies, wine aficionados and micro-brew enthusiasts, busy, working families, small apartments, and open, modern design, the kitchen is the place to entertain. Not only does that mean the host doesn't want to be locked behind a closed door preparing dinner while their spouse entertains guests, but food preparation has become part of the party.
While the advantages of an open kitchen are plenty, there are some drawbacks too, for example, how to avoid having your living room sofa smell like bacon days after your Saturday brunch party. Here's what you need to know to design an open kitchen right.
Zone design
In place of walls, some homes favor zone design. The kitchen and dining room are in one zone while the living room is in another, separated by an architectural element like a step or a floor-to-ceiling fireplace. This allows for fluid movement throughout the space and a lot of natural light, but you don't have to look at a pile of dirty dishes while you enjoy your post-meal coffee.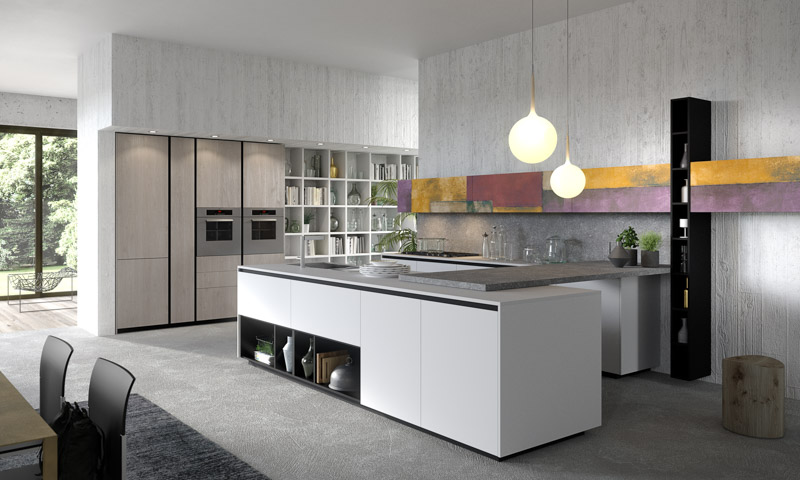 Integrated cabinets
By removing the wall between the living room and kitchen, we also have to rethink how we design both those spaces. The kitchen becomes a more sophisticated space with exclusive wood, glass, and chrome elements, while the living room gets sleeker lines with wall-mounted shelves and built-in cabinets that seamlessly integrate with the design of the kitchen.
Ceiling mounted cabinets can be a great way to reclaim some space in an open floor plan but don't overdo it or you might wonder why you bothered to knock down that wall in the first place.
Good ventilation is paramount
Not every range hood is created equally. Especially if you're designing an open plan kitchen for a home with a lot of cooks, you'll want to make sure you choose a hood that's up to the task.
The performance of a kitchen range hood is measured in cubic feet per minute (CFM), which is how much air the hood can move during one minute of operation. An electric cooktop requires only around 450 CFM, but a gas range needs a more powerful fan, up to 1,200 CFM.
Wolf, Zephyr, Miele, and Futuro Futuro are four top-of-the-line brands that offer powerful, well-designed range hoods in a variety of attractive, modern styles.
Keep the décor light
What's the sense of designing an open kitchen and living space if you're just going to fill it with dark, heavy furniture? Modern design is characterized by clean, unobtrusive lines. That doesn't mean your furniture has to be angular and uncomfortable, but don't choose pieces that are overly bulky either. Lighter colors are often best, or alternatively, use bold reds, pinks, blues, or black sparingly to give contrast to a stark white kitchen. For starters, check out these modern dining room chairs.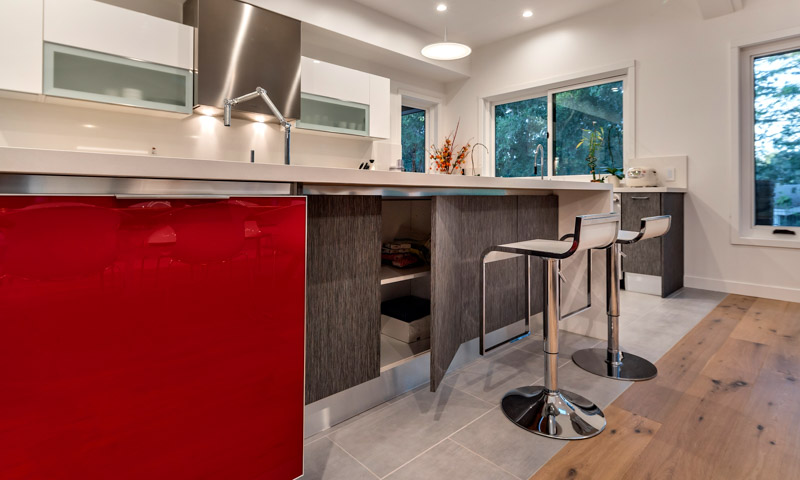 Make your kitchen island do more
One drawback to an open kitchen is the sacrifice made to storage space. But that doesn't have to be. Reclaim some storage space on the kitchen island. On one side, the island can have drawers, cabinets, appliances, and even plumbing for a prep sink. On the other, in front of the stools, build deep cabinets for items not needed every day like holiday decorations or extra vases.
Use continuous flooring
Some might be inclined to use flooring to separate an open kitchen and living space, but that just creates visual disharmony and an irritating edge to trip on. Continuous flooring brings unity to a room. Choose a high-quality, durable material that will be appropriate for both spaces. To bring warmth to the living room side, add an attractive rug.
Ready to plan your kitchen? Download our kitchen design guide