Considering laminate flooring for your home? Check out this essential guide.
A top-quality laminate floor is a great option for busy families: It offers the same great look of real hardwood, without all the hassle. Not only is it easier to maintain (read, next to no maintenance required), it's also easy to install thanks to floating installation.
Skema offers a huge range of laminate flooring to suit every taste and lifestyle. But with so many options available, choosing the right flooring can be a daunting task. So we put together this essential guide to help you choose the flooring that's right for you and to make sure it lasts a lifetime.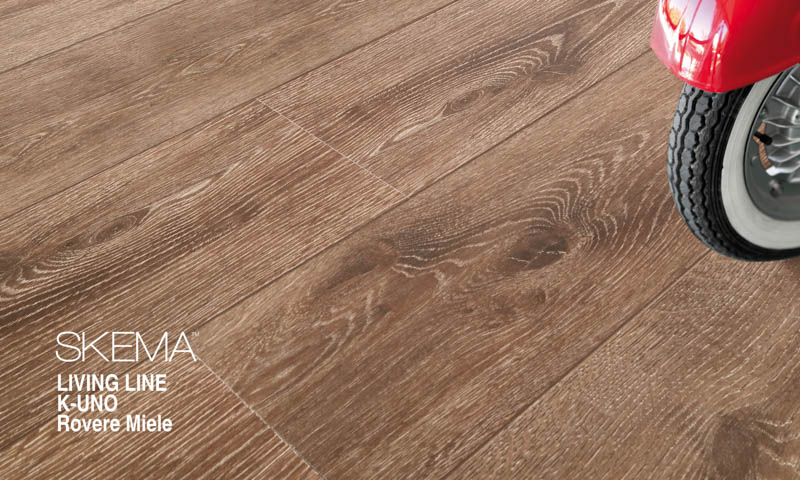 5 Questions to Consider Before Choosing Your Floor
When you visit our showroom, we'll ask you several questions to better understand your needs, which will help us find the perfect laminate floor for you. Consider these questions in advance, and the process will be that much easier.
How much daily traffic will the floor face?
Pets, kids, entertaining, and even spilled milk can put a floor to the test. More intense use requires a more resilient surface. The durability of laminate flooring products is rated by Abrasion Classes from one to five (one for light traffic, five for heavy traffic).
Will the floor be on the main level or an upper level?
The Impact Class of a flooring product determines how much sound is transferred when an object is dropped. Flooring with a high IC rating helps to minimize impact sound transmission to lower levels, thus reducing or eliminating bothersome noises.
What visual effect would you like to obtain?
A number of different visual effects can be created depending on the size and tonality of the slats you choose—Skema's Living series features 13 different finishes and textures. Overly large slats in a small room can get lost, while using small slats in a large space may seem too busy. The size can also be varied, heightening the effect of authentic wood. The choice of tonality, on the other hand, can determine a modern, rustic, or more traditional look.
Is the floor heated?
If your home has radiant heat, we'll need to be sure and choose the right type of underfloor to allow the maximum amount of heat to pass through. On the other hand, if the floor isn't heated, we'll want to be sure and choose an underfloor with good thermal and acoustic insulation.
How much exposure to the sun will the floor have?
If your home is extremely sunny, then laminate is the floor for you. Laminate floors aren't affected by direct sunlight; they won't stain, nor will they fade.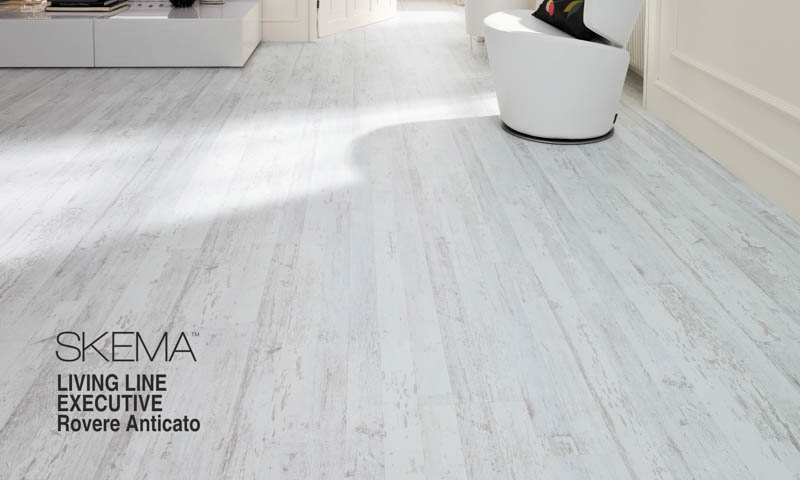 3 Tips for Keeping Your Laminate Fresh
Laminate is extremely durable with a superficial layer that protects it from impacts, abrasions, and humidity. The floor will likely last in the home longer than you will, but by following a few easy rules, it will last even longer.
Clean immediately and clean often
Frequent and aggressive washing can damage laminate over time so the best approach is prevention. Keep the floor clean using a vacuum cleaner or broom, and if the floor is in the entryway, we suggest using a doormat to keep out dirt and humidity.
Limit standing liquid
To clean a laminate floor, simply use a damp cloth. No need for excess water, bucket, brush, or polish. In the event of a spill, wipe up right away with a paper towel.
Use non-aggressive detergents
Only use detergents that are specifically formulated for laminate—they're different than those for tiles or vinyl. Bleach and any kind of chemical polishes should also be avoided.
All Skema products carry a two-year legal warranty and a domestic conventional warranty of 25 years.
Click here to explore these products further, or stop by the showroom for a free consultation!