A kitchen island is a wonderful addition to any kitchen. Here's how to determine the ideal island size and shape for your kitchen.
These days, kitchens are rarely designed without an island. The kitchen island is the modern equivalent of the hearth—the focal point of the kitchen around which all activity revolves, from meal preparation to entertaining.
A well-designed kitchen island offers an informal place for family and friends to gather, as well as creating a bit of separation between those who are cooking or cleaning and others who are simply enjoying the company.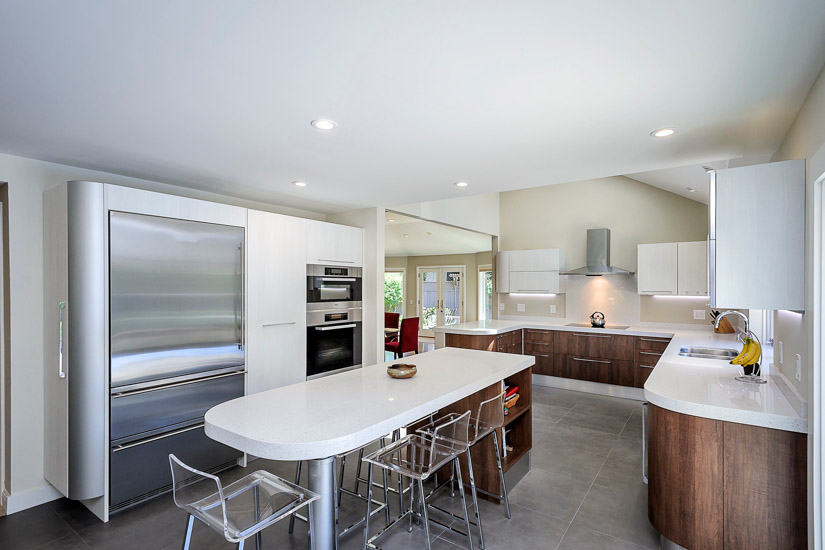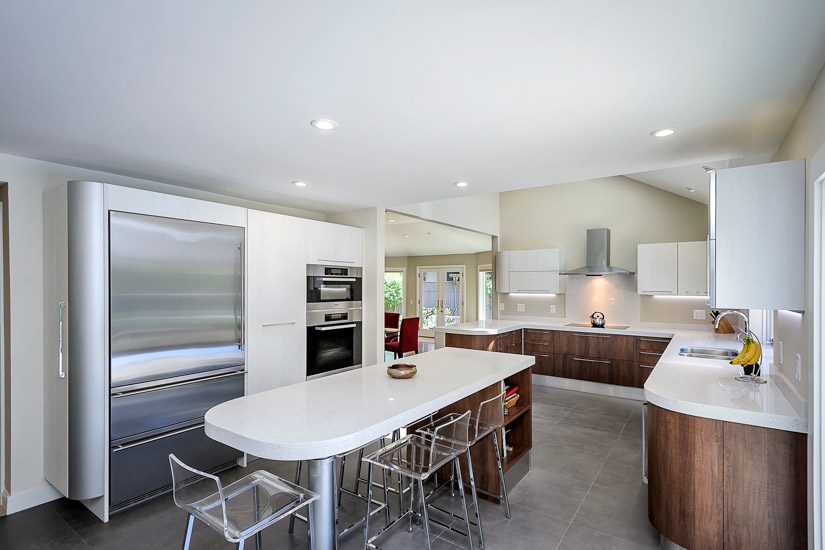 Do you have room for an island?
If you're building a new home, you can easily plan enough space for a large and functional island. But if you're renovating an older kitchen, there are a few things to consider when adding an island: space, shape, and the existing work triangle.
The absolute minimum distance from the base cabinets to the kitchen island should be 36 inches.
Enough room for two people to stand back to back or pass by one another. Ideally, the distance will be 40 to 42 inches. You need enough room for the cupboards and drawers to be opened freely and comfortably, and yet close enough so that you can move comfortably and efficiently between the two work areas.
There is no hard and fast rule about the shape of a kitchen island. Most often, they are rectangular, with bar seating on one side, however, the bar seating could be on one end, there could be a drop in height to accommodate seating in chairs or the island could be a square, oval, or other custom shape—we've done them all. In a renovation project, the shape and size of the kitchen may determine the shape of the island.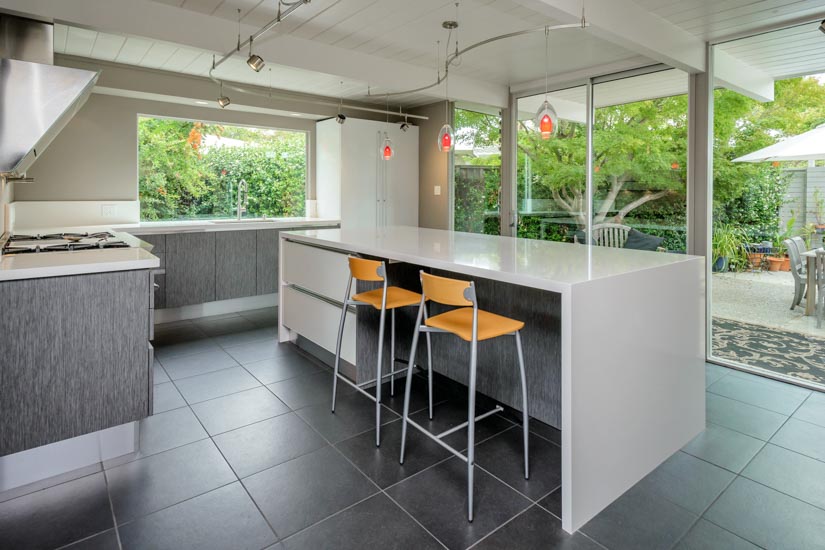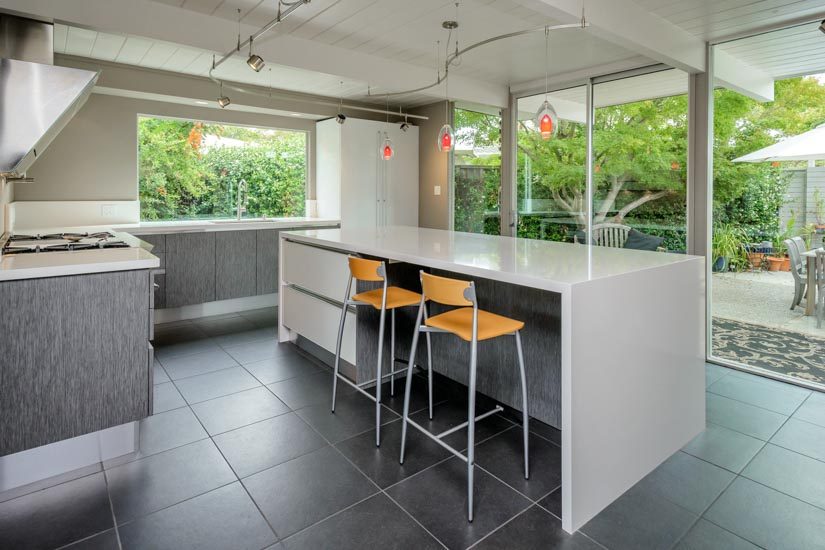 Whether you have room for the island is finally determined by whether or not it will interrupt the existing work triangle, or if you need to move one aspect of the work triangle. The kitchen island is least desirable in a U-shaped kitchen where the refrigerator, stove, and sink are each on a different side of the U. Putting an island in the middle of this triangle can interrupt workflow. If you have an L-shaped kitchen, you may improve the efficiency of the work triangle by moving either the cooktop or the sink to the island.
In a small kitchen, even a 30 by 36-inch island could offer a nice bit of additional food prep and storage space, but if you don't have at least that much space, you may want to consider other alternatives. Ideally, a kitchen island is at least 36 by 60 inches. That is large enough to have an eating area on one side or at one end. If you have the space, you can go much larger than that, however, while the island can be as long as you'd like, you probably don't want it to be deeper than 52 inches, or the cabinets will become too deep to be useful.
The height of the island should be the same as the rest of your countertops; 36 inches is standard. A low stool works well for seating. If you want an eating area that works with a chair, you'll want to drop one end down to 28 or 30 inches, or you could raise one end or side to 42 to 48 inches for use with a bar stool.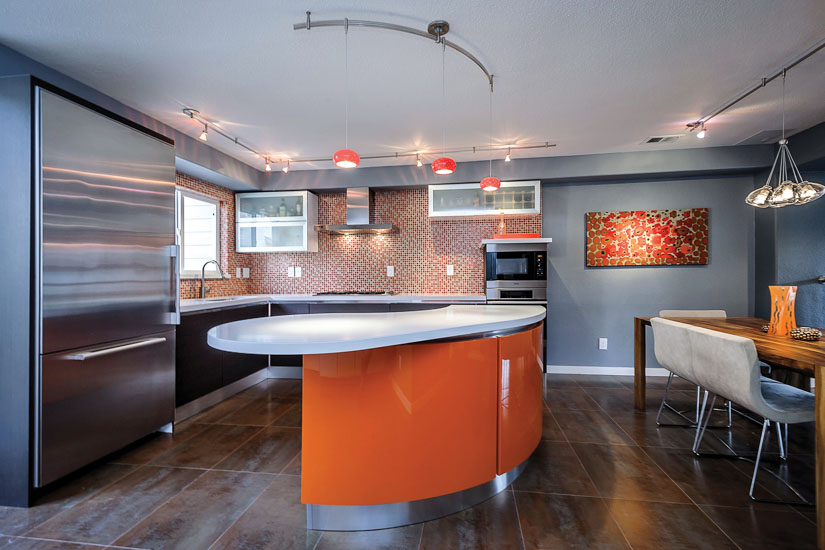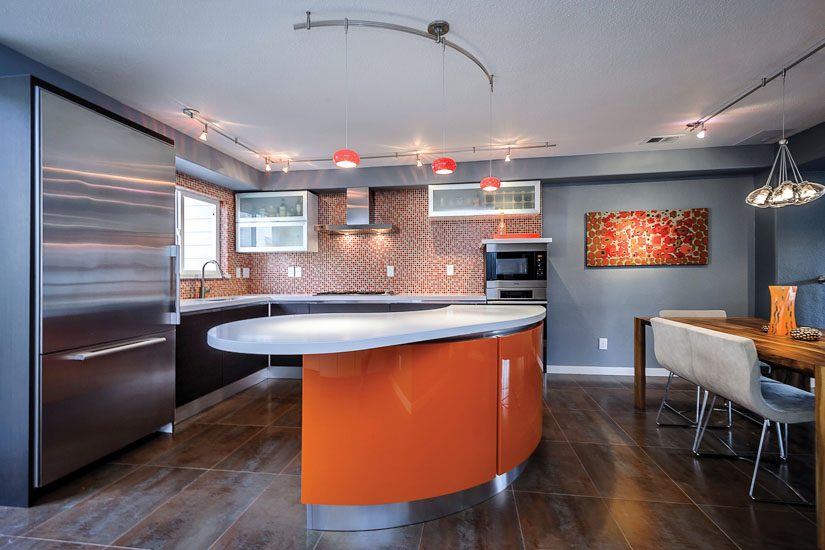 Designing your kitchen island
No two islands have to be alike. There are a number of things your island can do and very little it must do—but it should be functional. Which of the below features is on your must-have list?
Food prep
You may want to include a separate prep sink with garbage disposal; outlets and under-counter storage space for small appliances; butcher block counters; a compost bin.
Cooking
The kitchen island could include your cooktop, in which case you'll also need to accommodate ventilation. You'll need at least 18 inches of space on either side of the cooktop or range.
Cleanup
The kitchen island could house the dishwasher or pull out garbage/recycling/compost bins. Near the prep sink and/or opposite the primary sink you may include a rack or pegs to hang dish towels and hand towels.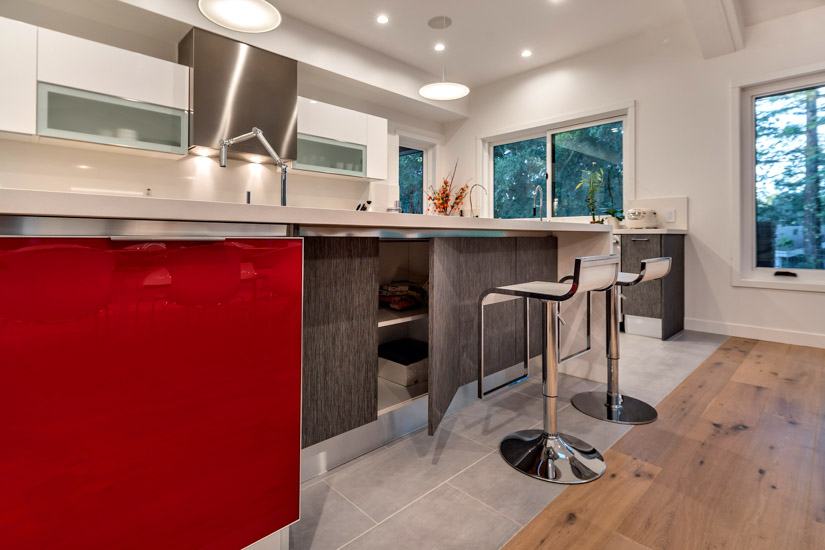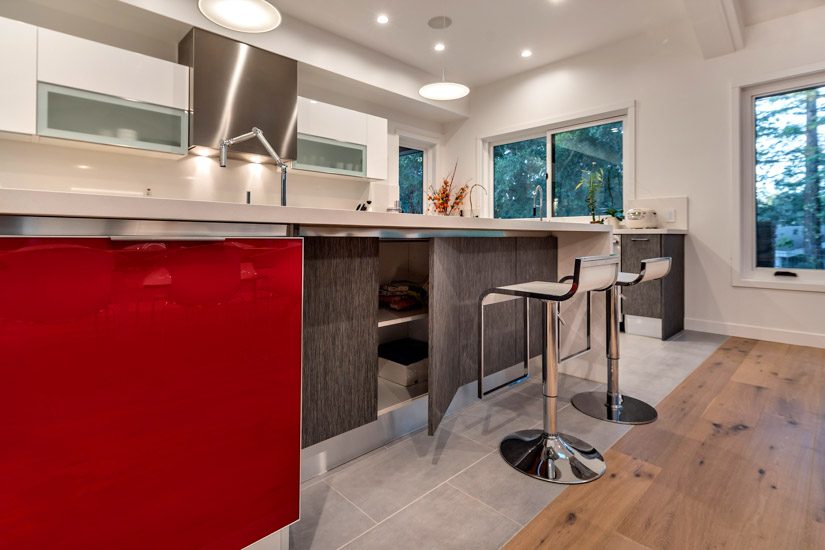 Storage
Do you have a large cookbook collection? Do you need a place for a wine or beer refrigerator? Space for both of these, and so much more, can be designed into the island—bookshelves on one end, the wine fridge opposite the primary refrigerator. If your island is particularly deep, consider putting cabinets for rarely used items on the opposite side; it's less convenient to move the bar stools aside from time to time to reach a vase than dig through a four-foot-deep cupboard.
Lighting
In many kitchens, the ultimate design success hinges on good lighting. When adding an island to a kitchen, you may also need to add lighting or end up with a dark island in the middle of your kitchen.
Ventilation
If your goal is to open up the kitchen and great room, you may not want to move the cooktop to the island because the overhead vent fan will destroy the open sight line. Downdraft fans are available for island cooktops but are less efficient than ceiling units.
Aesthetics
A dual-height countertop can provide separation between the eating and preparation areas and also hide dirty dishes. A dual-height countertop provides the slightest separation from the kitchen and great room; for a truly open look, opt for an island with a uniform height.
Ready to plan your kitchen? Download our kitchen design guide