This couple wanted a modern, energy-efficient home that was still cozy and inviting.
When Louis Lin and Karen Fann set out to renovate their Monte Sereno home, they told their architect they wanted it to be as environmentally friendly as possible. Guided by the LEED principals for sustainable design and the Passive House Initiative, the architect created a house that takes into account the movement of the sun across the sky for maximum efficiency. While the project is technically a renovation, the resulting three-bedroom home with a new pool and guesthouse retains little beyond the original footprint.
The large windows let in extravagant amounts of light, but subtle shading on the glass helps conserve energy. The two-level house features multiple zones for the heating and cooling system so that the family only has to heat or cool the part of the house they're using, rather than the entire structure. The seemingly redundant radiant heating system uses a system of under-floor pipes carrying hot water, which is heated by solar panels. "The radiant heating keeps the house at a comfortable 74 degrees so that we don't have to turn on central heat the majority of the time," says Karen.
When heating isn't required, the excess energy is diverted to the pool, which is insulated to retain the heat. A second set of solar panels provide electricity. The entire house has LED lighting (except for the Futuro Futuro hood in the kitchen) and the hallway and exterior lighting is on motion sensors, making the Fann-Lin home so energy efficient that in the past few months, they've actually made money on their electricity bill.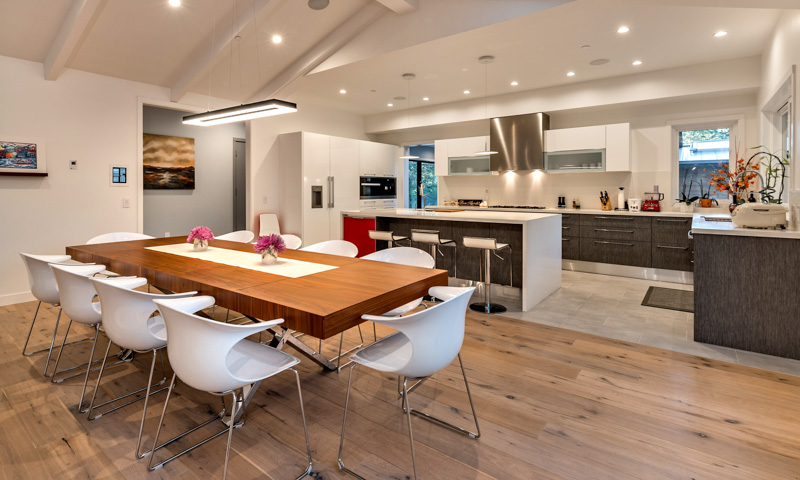 For their kitchen, Karen and Louis came to European Cabinets and Design Studios. "I wanted a big open kitchen with good access between the prep area, the stove, and the refrigerator. Other than that, I didn't have too many requirements for the design," says Karen.
She says that while they needed a modern kitchen that would fit with the integrity of their new home, she didn't want one that looked like a spaceship. "I didn't want everything so hidden. I didn't want my guests wandering around opening cabinets looking for the fridge. I didn't want it to feel cold and sterile. But I did gravitate toward that very clean look."
The design provided by ECDS uses lower cabinets from Aran Cucine's Penelope collection in Ash Larch, and white glossy wall cabinets from the Doga collection. Karen loves the vertical opening wall cabinets on either side of the stove, and the lower cabinets feature plenty of unique storage solutions to make the most of the space. A single red cabinet door under the breakfast bar breaks up the otherwise gray and white kitchen.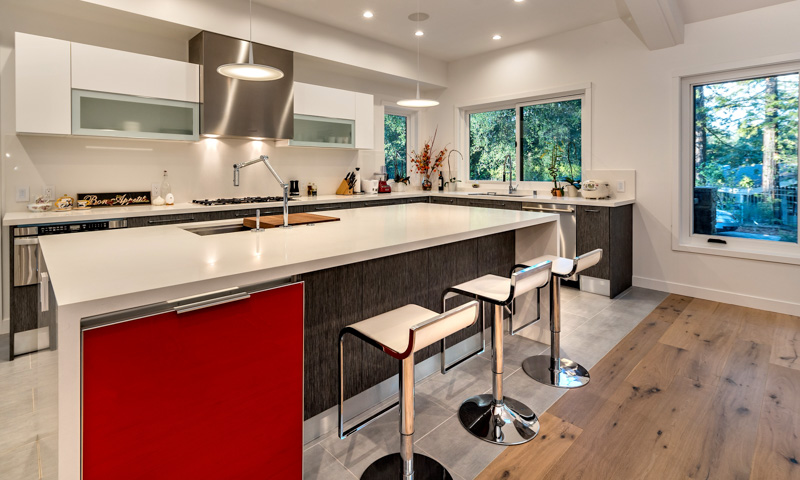 "I wanted a big bold pop of red. You don't notice it; you just notice the feeling of the space," says Karen. "I planned it all out: My food processor is red, the bottom of that extra chair, and the red door."
The crisp white Caesarstone countertop in Blizzard offers plenty of space to spread out, while the Kohler prep sink has a built-in cutting board and prep dishes that click into place making for a functional prep area worthy of a professional kitchen. (Watch this video to see how the sink works.)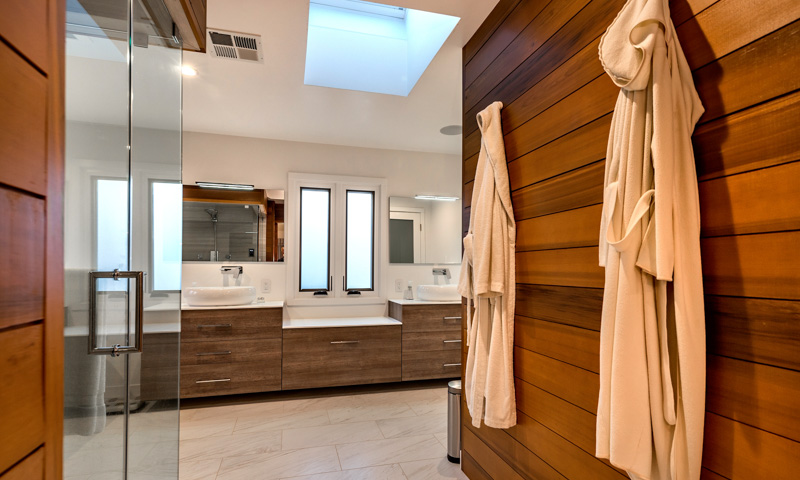 The master bathroom features a custom-made cabinet from GB Group and mirrors with adjustable LED vanity lights. "Our architect went wild for those mirrors," says Karen. "They're great because no matter how tall you are the light will fall perfectly on you."
ECDS also provided the custom-design closet from Pianca. "I wanted a closet that felt like a little boutique; where my clothes aren't hidden, but rather displayed," says Karen. "When you see your own things displayed, you don't feel like you need to go shopping for more."
She even measured her purses to be sure they would fit in the space. On Louis's side, the rack height was adjusted to accommodate his clothing. "Of course, Louis's clothes are bigger than mine so we made some adjustments there."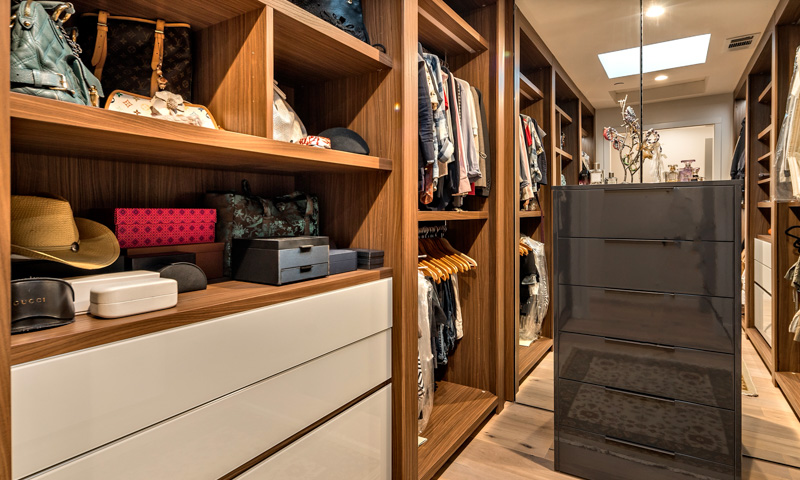 For the library and home office, Karen wanted a huge wall of bookcases. Louis wanted to have some spaces that would lock or could otherwise hide certain items. "We considered putting a safe in one of the spaces, but instead, ECDS designed us this incredible wall of shelves with doors interspersed throughout," says Karen.
The shelving is from Aran Cucine's Bella collection in Coffee Cedar with doors in white high gloss lacquer. The filing cabinets for the work area are in the same finish, with a built-in countertop from Caesarstone in Penelope Fenix with a soft matte finish.
Karen and Louis had already come to ECDS for two kitchens (the main kitchen and a second kitchen in the guesthouse), the library, bathroom, closet, and the laundry room, but they were still looking for a central staircase.
"The staircase, I really have to give you guys credit for that. We shopped around a lot for the stairs and there were a lot of people telling us, 'Nope you can't do that." I had almost given up on it," says Karen. "We had gone to ECDS for the cabinets. Then we went back for the closet, and we kept going back. And then Louis said, "Oh they have stairs too."
What they wanted was an open staircase, which they discovered would have had to be made as a single, molded cast-iron piece if they had gone with one of the U.S. manufacturers they were considering. Italian manufacturer CAST uses stainless steel sections to create the same effect. "It wasn't a kit because it had to be meticulously engineered but the way that they put it together it was almost like a kit. Everything clicked into place," says Karen.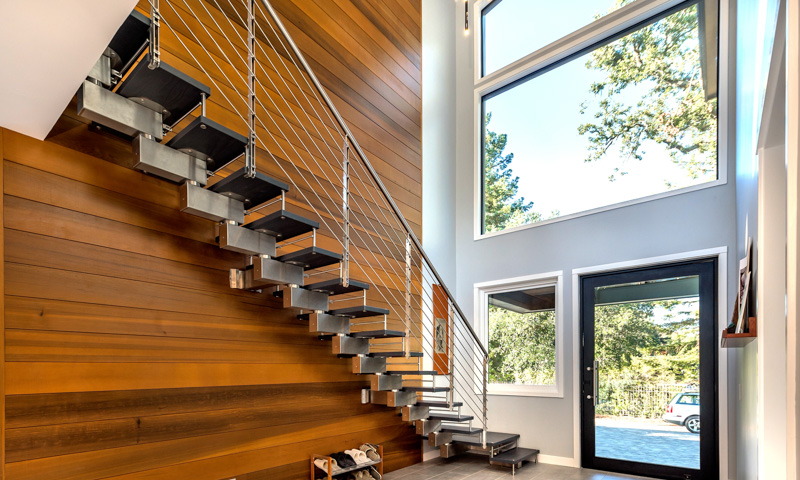 "The stairs are the jewel. I think we ended up paying a third of what we would have. And it's really good quality work. Everything we really love about the interior of our house came from European Cabinets," she adds.
Karen says that the best part about the whole process was that it was fun. "We had to go there a lot, but we'd laugh and drink cappuccinos," she says.
"Thank you to Alexandra for her impeccable and decisive taste! Thank you to Sarah for instilling her cool vibe into every thoughtfully planned design! Thank you to Robert for keeping his cool during the port workers' strikes and amidst multiple projects, and getting our project done in a timely fashion! Thank you to the installation crew who worked hard, were innovative problem-solvers, and left our site as clean as possible. We cannot say enough good things about our experience with European Cabinets!!"
See more images from this project in our portfolio.
Ready to plan your kitchen? Download our kitchen design guide