The only thing better than a stack of clean, fresh laundry is an efficient, functional space to launder it in.
The laundry room is one of the most essential and practical rooms in your home, second only to the kitchen, but often laundry rooms get a lot less attention than deserved when it comes to design.
No matter the size of your household or your home, an efficiently designed laundry room is essential to keeping your family in clean sheets and socks. And—a well-designed laundry room is one of the best ways to add luxury to your daily routine.
Check out these six tips for designing and organizing your laundry room cabinets to maximize space, function, and style.
Wash, dry, repeat
A large laundry room isn't necessarily better if it's not designed to fit the process. Arrange the cabinets, countertop, sink, washing machine, and dryer so that dirty laundry goes from the work area for stain treating to the washing machine, to the dryer, and back to the counter for folding in one smooth motion.
Create clever custom cabinets
Custom laundry room cabinets with space to store extra baskets, detergent and fabric softener, stain treatments, and a clothing repair kit will ensure even a small space is efficient and effective.
Use bright lighting
Good lighting is important in a laundry room to see stains on clothes. Bright ceiling lights are important, and an extra strip of LED undercabinet lighting will provide all the light you need.
Include a countertop and utility sink
A countertop—as large as you have room for—for folding laundry and tackling stains and a sink for washing delicates or treating tough stains are essential for a functional laundry room. If you choose a front-loading washer and dryer, it's often a good solution to forego the under appliance storage and place them directly on the floor underneath a long countertop.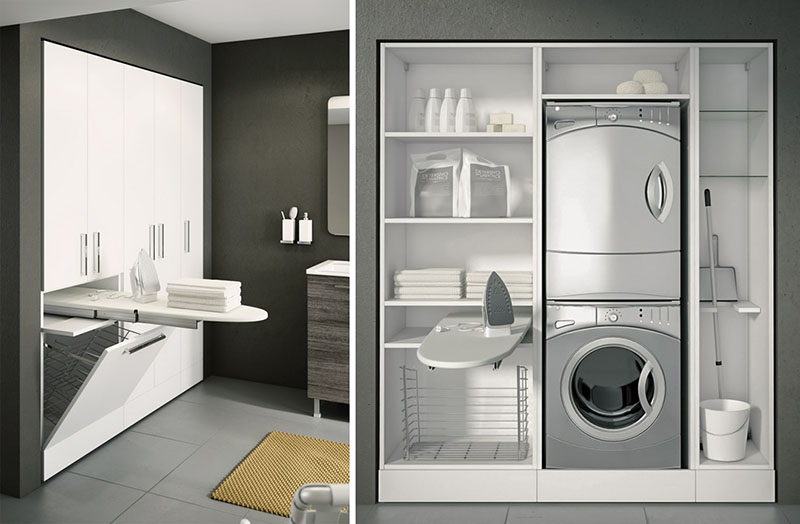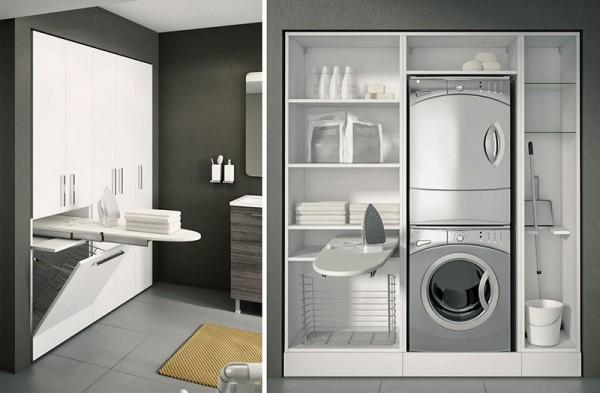 Modular drying racks
Accessories that can be hidden when not in use help to save space in a tight laundry room without compromising on function. Flat drying racks that pull out from above the washer and dryer or inside a cabinet are great for heavy sweaters while a smaller rack that folds down from the wall or a retractable clothesline works well for all your family's unmentionables. You could also add a built-in ironing board that can be folded up out of the way when you're not using it.
Make it a comfortable space
Even a small family can produce a fair amount of laundry, which means someone (usually mom) is going to spend a decent part of their week in the laundry room. Make it pleasant space to work in with attractive flooring, a cozy rug, colored cabinetry, wall decorations, or even a built-in stereo system.