Swedish design firm Cortina & Käll chose a CAST curved staircase to be the centerpiece of this NYC condominium remodeling project.
Swedish design firm Cortina & Käll were tasked with connecting a new 1,400-square-foot apartment to an existing 3,000-square-foot apartment in a New York City high-rise. Their goal was to give the apartment a scale and flow benefitting its new larger size.
"We envisioned a light and sculptural spiral staircase at the center of it all. The staircase and its opening allowed us to achieve the desired transparency and volume, creating a dramatically new and generous apartment," said Francisco Cortina.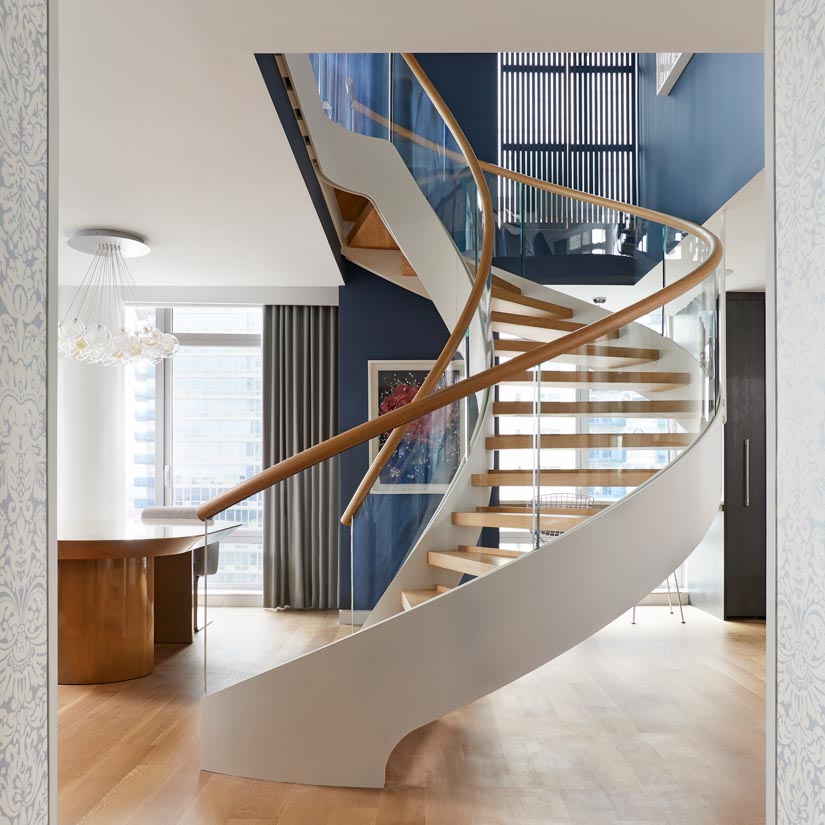 They wanted a seamless modern staircase, pure in shape and execution, that would feel contemporary, but at the same time, friendly and welcoming in the environment of a private home. It should also be comfortable and safe for use by the family. Additionally, it was also important that the look of the staircase was consistent with the material and color scheme in the rest of the apartment.
Cortina had seen the Helika Lux staircases by CAST in Europe, though they had never worked with the company before. European Cabinets & Design Studios represents CAST in the U.S., and after a quick phone conversation, Robert Berkovich flew to New York to take measurements of the space in order to get the design process started.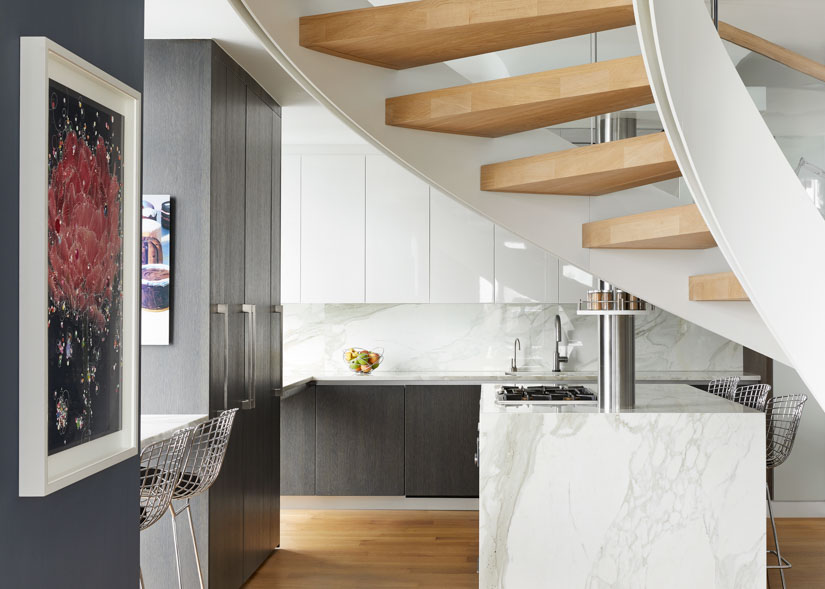 The custom-designed staircase is built from powder-coated steel. The steel is double thick to accommodate the glass banister, which is made from stratified 10mm extra-clear Starfire curved glass, inserted between the two pieces of steel. The 2 3/8-inch thick steps are solid oak stained to match the sample of the floor sent to CAST in Italy. The same stain is used on the curved oak handrail, recessed on top of the glass.
"This is a very complicated project because of the curve of the staircase, with a radius that changes slightly as it climbs to the second floor," said Robert.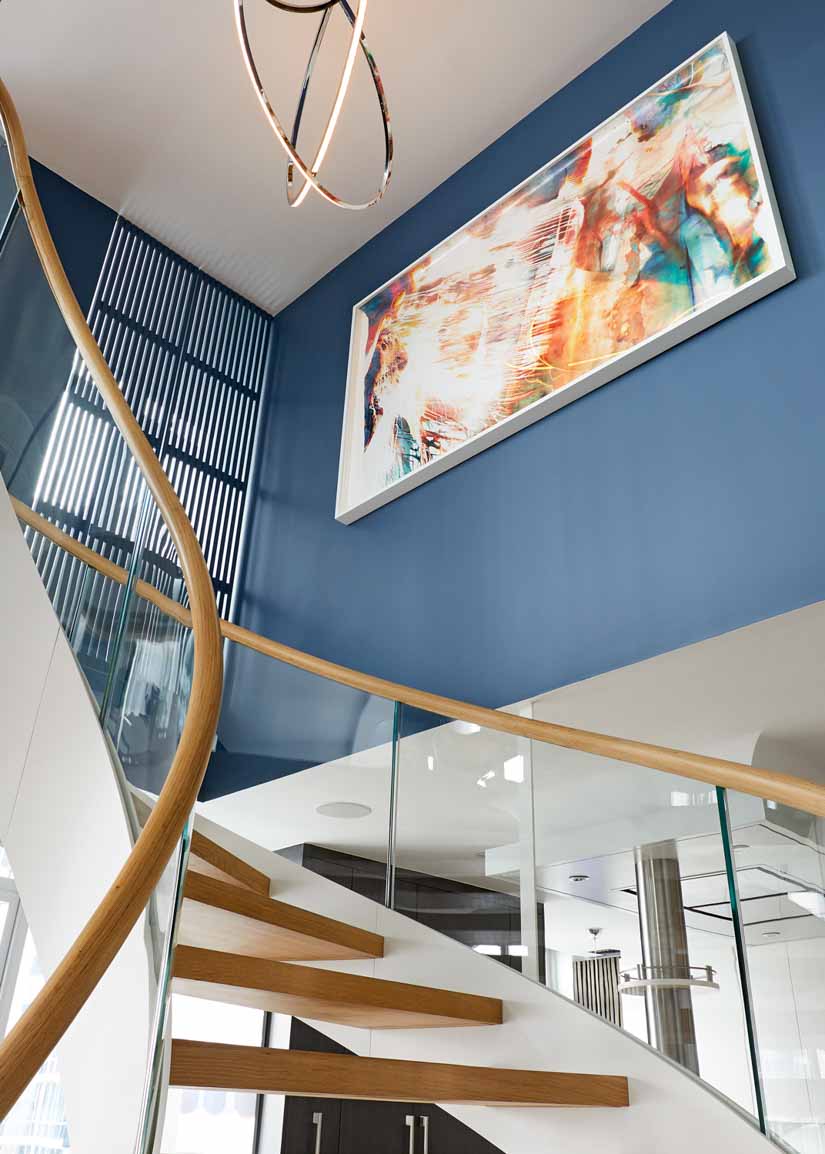 "To guarantee perfection, this staircase had to be completely built and assembled in Italy where they confirmed the measurements were correct. Then the staircase was dissembled and shipped directly to the client in New York. A team of installers from our team in Palo Alto and CAST in Italy arrived on scene for the final installation."
Cortina said the curved staircase is a sculpture used daily and has completely changed the experience of the client's home. "Our client is more than pleased with the result."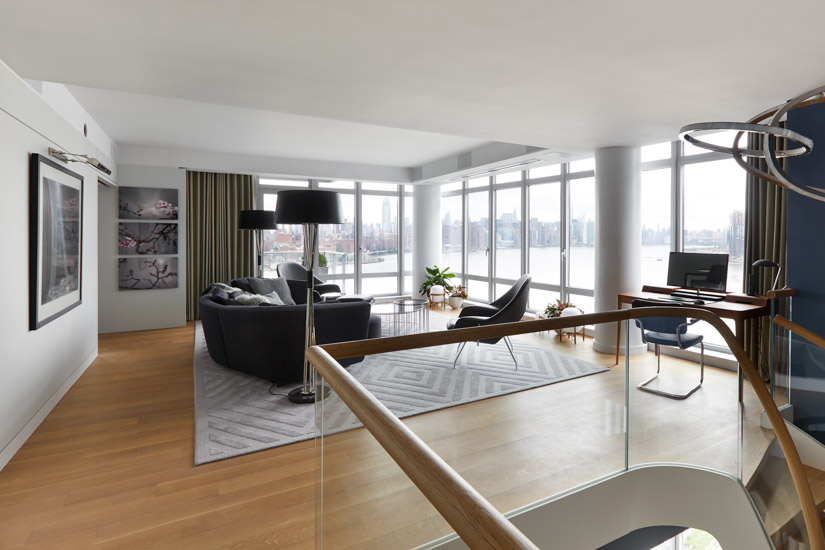 "Working with ECDS was a very straightforward and pleasant experience. During the design process, we naturally had several comments. This dialog, with both ECDS and CAST, was smooth and always attending to our concerns. We are very happy with the process and the result in every sense!" he added.