Peter Pomianek says when you're working for yourself, the possibilities are limitless.
San Francisco Bay Area kitchen and bath contractor Peter Pomianek said his clients' tastes typically lean toward transitional or contemporary, rather than the sparse, clean lines, metal edges, and handleless cabinets attributed to modern design. "This is still unique in California. People love it, but only a specific group of people are willing to install this very modern cabinetry," he explained.
When he works with clients, he advises them within the parameters of their style preferences. But working for himself, the possibilities were limitless, from colors and textures to slab selection and backsplash style.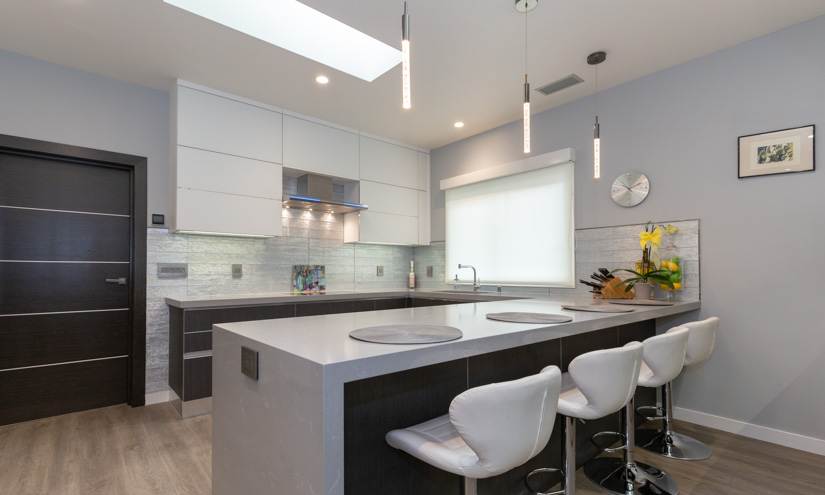 "I was passing by the showroom in Palo Alto one day and I saw the sign 'European Cabinets,' and out of curiosity, I stopped in. I was immediately reminded of the modern European style that I like. My wife and I were building a house at the time and we decided it was the style that we wanted," Peter recalled.
His expertise extends to tile and slab installation, and he wanted to compliment his kitchen design with modern tiles, stone countertops, and a metal toe kick. For the cabinets, he wanted a modern hinge and door opening system, as well as under cabinet lighting—details that would make his kitchen stand out in California. Given his professional experience, he had a pretty clear idea of the overall design and knew the direction he wanted to go, " but Alexandra [Berkovich at European Cabinets] really guided us with the details."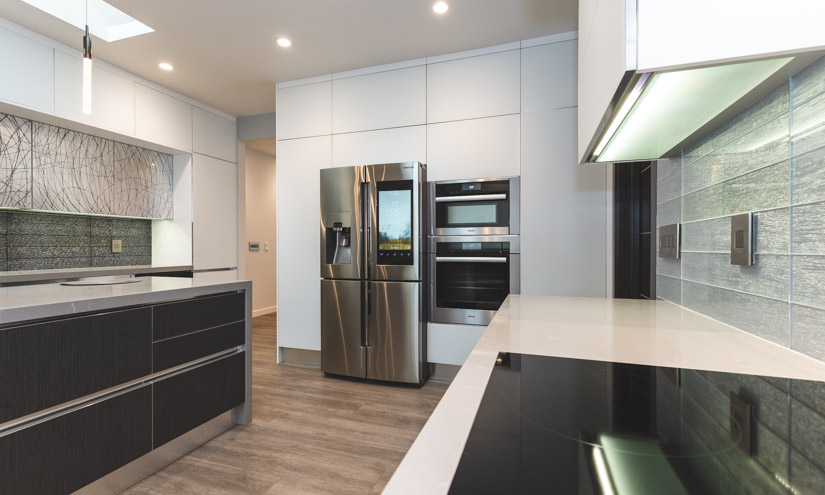 The kitchen features base cabinets from the Aran Cucine Miro collection with a charcoal Canovaccio Larix finish. The upper wall cabinets and tall pantries were designed with white matte glass from the Bijou collection. The cabinets above the bar use decorative glass from the Bijou collection. All of the upper cabinets come with built-in LED under cabinet lighting.
Peter selected appliances including built-in wall ovens and coffee maker, a wine refrigerator, cooktop and range hood from Miele and a Samsung four-door refrigerator with a connected touchscreen. The backsplash was created with glass tile. The modern look was completed with three LED pendant lights hanging over the peninsula.
Their home was rebuilt from the ground up. May 5 was demolition day; they moved in December 31.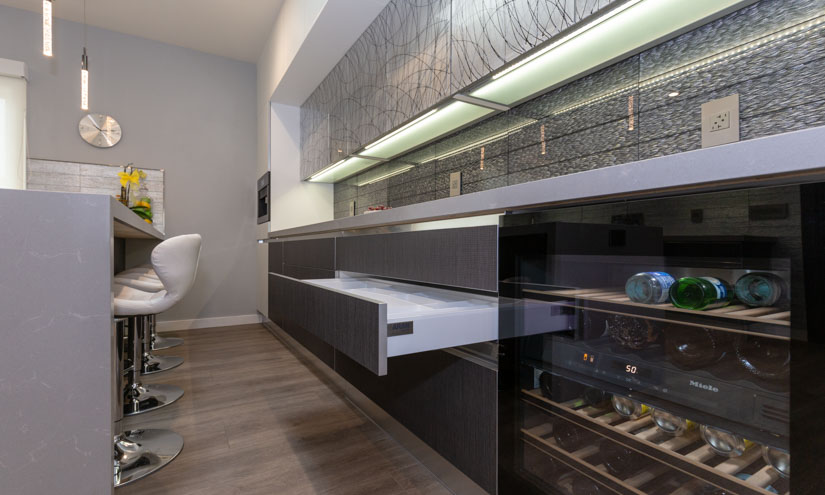 "We are very happy. Everything worked out well for us and the results are better than we expected," said Peter, adding that seeing the actual kitchen installed is so much better than working with samples and 3D modeled images.
He said the simple, clean look of his kitchen is a conversation starter demands attention from guests, who admire in particular the glossy cabinets, bold backsplash, and under cabinet LED lighting.
"I've already referred a few clients to Robert," added Peter, who himself works exclusively via referral. "I invite them to come by and take a look at my kitchen, and if they like it, I send them to European Cabinets."
To work with Peter Pomianek, call him at (650) 245-7985.
Ready to design your dream kitchen? Download our Kitchen Design Guide.