The scope of this project expanded from the kitchen and bathrooms to include flooring, doors, and fireplaces. And the client couldn't be happier with the process and the result.
Marina Berezovsky wanted to update the kitchen and master bathroom of the San Ramon townhouse she shares with her husband Ron and spent hours online researching cabinet suppliers and designers that advertise modern European cabinets. She narrowed it down to a few businesses, including European Cabinets & Design Studios, and thoroughly examined the website, Houzz, and Facebook pages for each before visiting the showrooms.
"We visited European Cabinets first, and we spent a couple of hours with Robert [Berkovich]. When we came out, Ron said, 'When are we starting? I don't want to go anywhere else. I loved it, let's do that,'" she recalled.
Their spacious two-story home was comfortable, but it needed to be modernized. She has a lot of beautiful china that she wanted to display but didn't want to add another piece of furniture in the dining room. Initially, Marina and Ron planned only to renovate the kitchen and master and guest bathrooms, but the project expanded to include most of the electrical, the flooring and staircase, railing, and two fireplaces.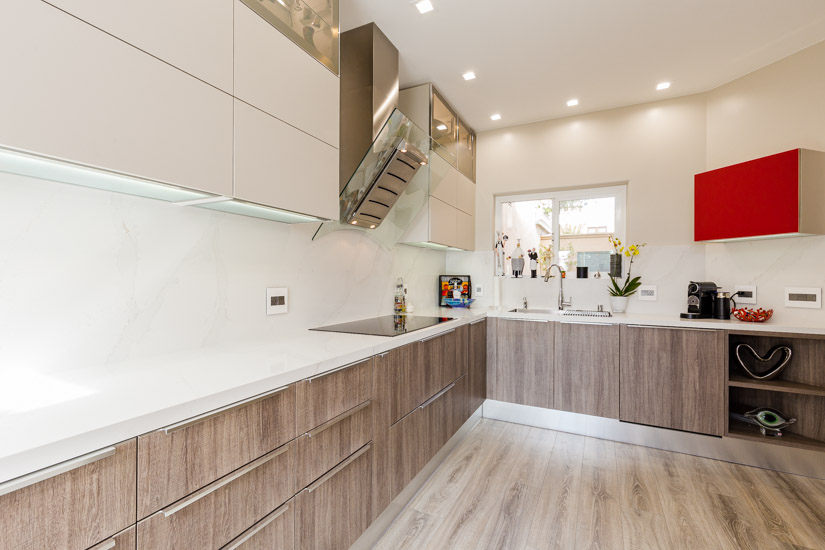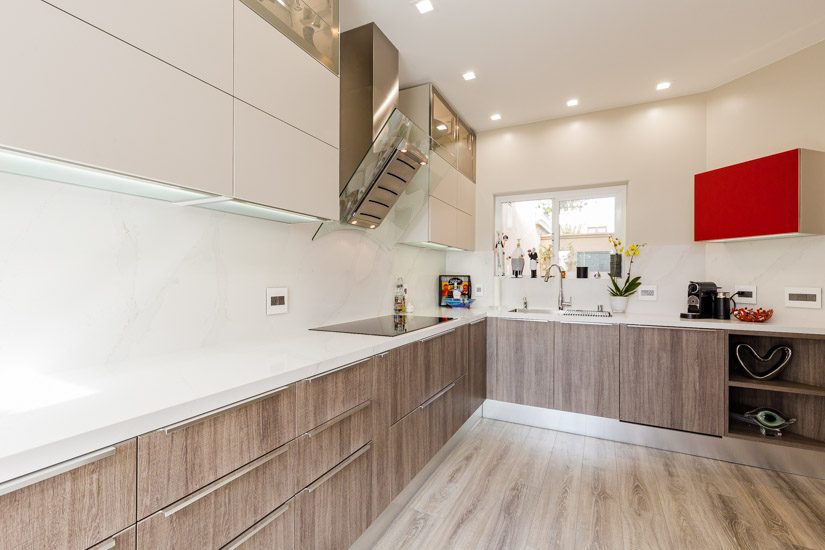 To see before pictures from this project, visit our Houzz page.
"When we started planning, we were only going to do the kitchen and bathrooms, but once we saw how the project was coming together, we realized we had to expand the scope, otherwise those two rooms would have been so beautiful and modern and edgy that the rest of the interior wouldn't make sense. We won't be doing this again. This was our opportunity to do it and do it right. And frankly, it was so easy with Robert taking care of everything—advising, measuring, ordering. He took all the stress out of it!" said Marina.
European Cabinets & Design Studios often works closely with Boris Okun of B&I Modern Construction, the contractor on this project.
"We were not only extremely impressed with Robert and his knowledge and integrity, but he also recommended a contractor, someone he trusts, and that was instrumental for us. Boris was very flexible, and at times, he and Robert would work behind the scenes to solve issues, and we didn't have to be involved at all, which was great," Marina recalled.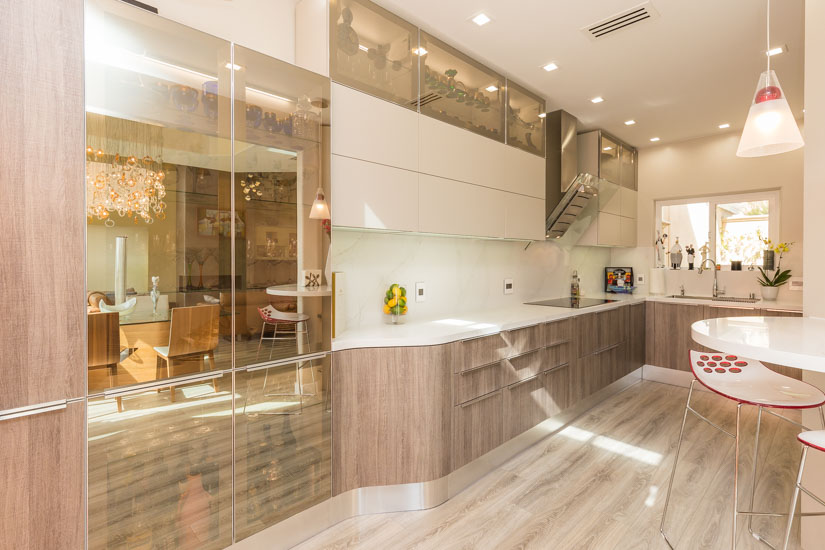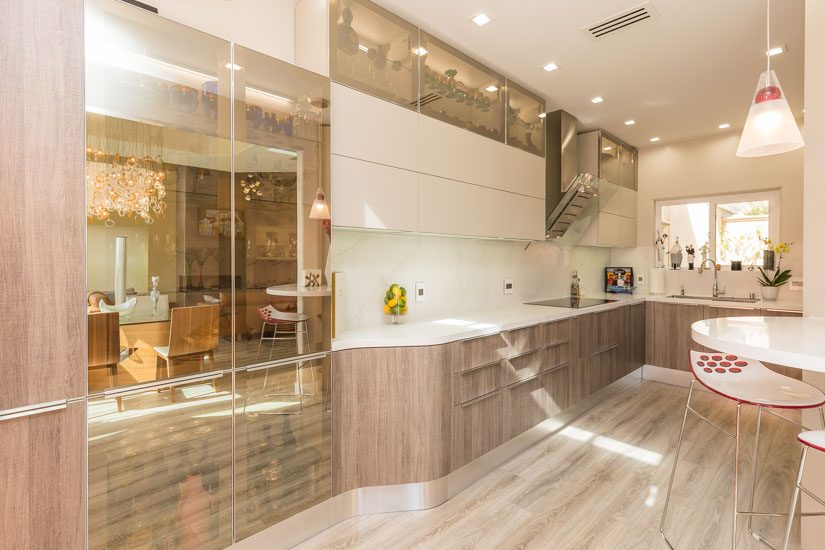 They completely gutted the kitchen replacing the cabinets, from the Aran Cucine Terra collection in Stone Oak and Erika collection in Kashmir, countertops, all new appliances, and lighting. To display Marina's dishes, they added a tall glass cabinet as well as glass display cabinets above the wall cabinets, designed with complimentary Stop-Sol bronze tint glass; the upper wall cabinets have a motorized opening and feature built-in LED undercabinet lighting. For a pop of color, they added a coffee cabinet from the Bijou collection in Rosso.
To improve the flow between the kitchen and dining room, they replaced a wall with a floor-to-ceiling island of built-in appliances—the ovens, a wine refrigerator, and refrigerator—and designed a custom built-in breakfast high-top, fabricated and installed by Bay StoneWorks.
"It was Robert's vision to wrap the breakfast table around the island, but it's floating, there are no legs. We said, 'How is it going to hold?' And Robert said, 'I don't know yet, but we'll figure it out.' It was amazing how Robert, Boris, and Raul [Mendoza of Bay StoneWorks] worked together to turn the vision into reality," said Marina.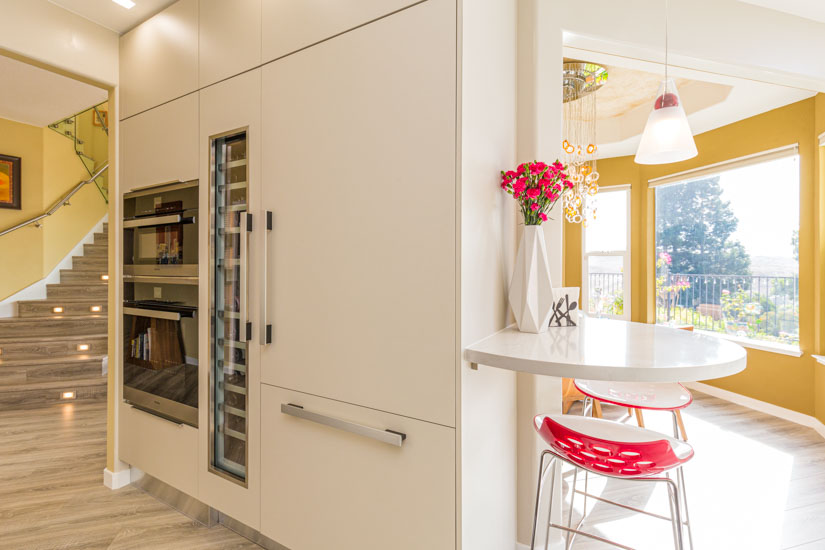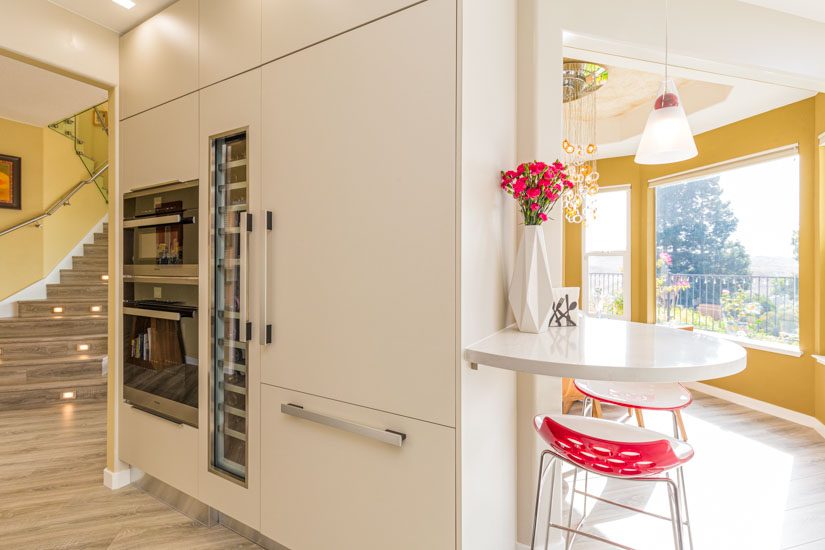 The breakfast table, as well as the countertops and backsplash, are Silestone quartz in Calacatta Gold.
"Raul, in my humble opinion, is a genius. The quartz has veins, and the veins on the countertop continue in the same pattern onto the backsplash. It's just gorgeous," said Marina.
When she was in the European Cabinets showroom, Marina fell in love with a glass door by Casali. She didn't know where she was going to put it, but she knew she had to have it.
"Robert tried to talk me out of it. You know, most of the time, people are pushing you to buy things, the most expensive, the most fancy, the most comprehensive warranty. With Robert, it was the other way around. He said, 'You don't need it. Why spend money on this door if you don't even have a place for it?' At this point, anything they suggest I'll do because I know it's not just to make a profit, it's what they truly believe is best for the project. My trust for Robert and Alexandra is unlimited," said Marina.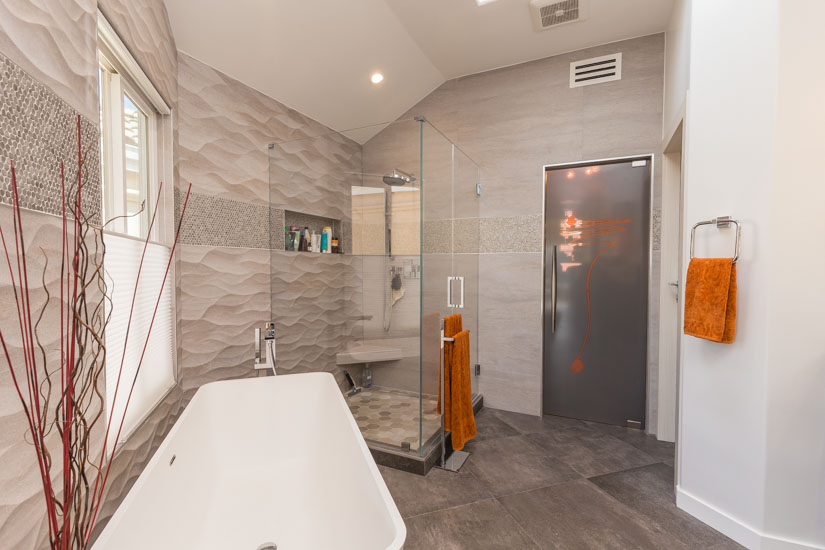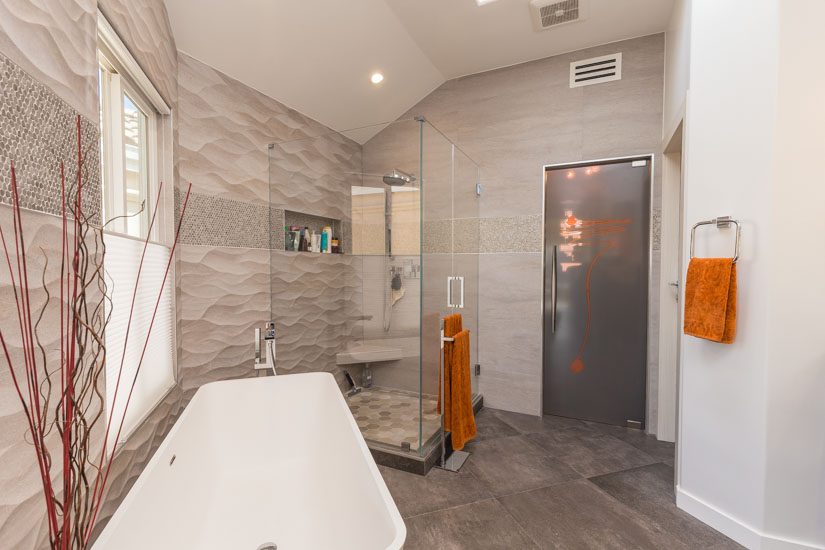 Ultimately, she got her Casali door, using it for the walk-in closet, which is entered through the master bathroom. They also replaced the interior doors throughout the home with new doors from the Pail Decorati collection in Olmo Artico.
The vanity in the master bathroom was custom designed by European Cabinets, using kitchen cabinets from the Aran Cucine Masca Laccata collection in glossy Graphite with integrated handles and a custom Cambria countertop in Daron, fabricated and installed by Bay StoneWorks. The guest bathroom features a vanity from the BMT Bagni Fly collection in Tortora Scuro with a coordinating wall cabinet and mirror.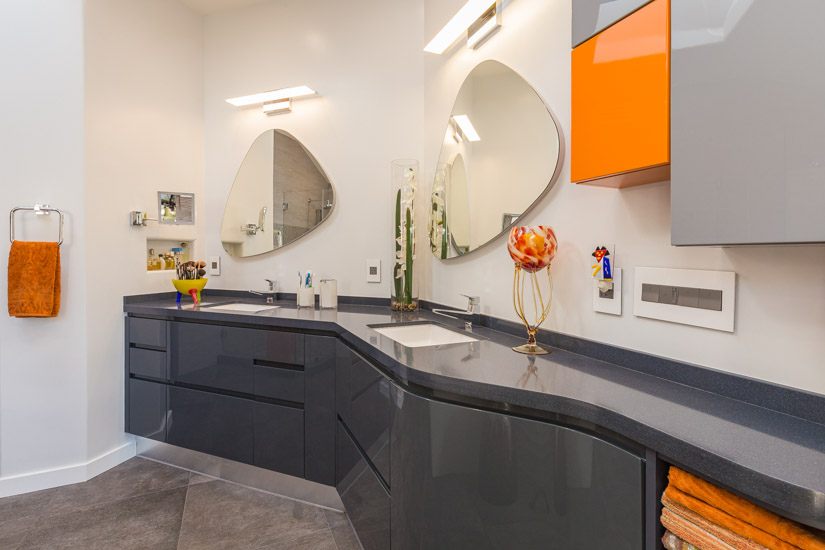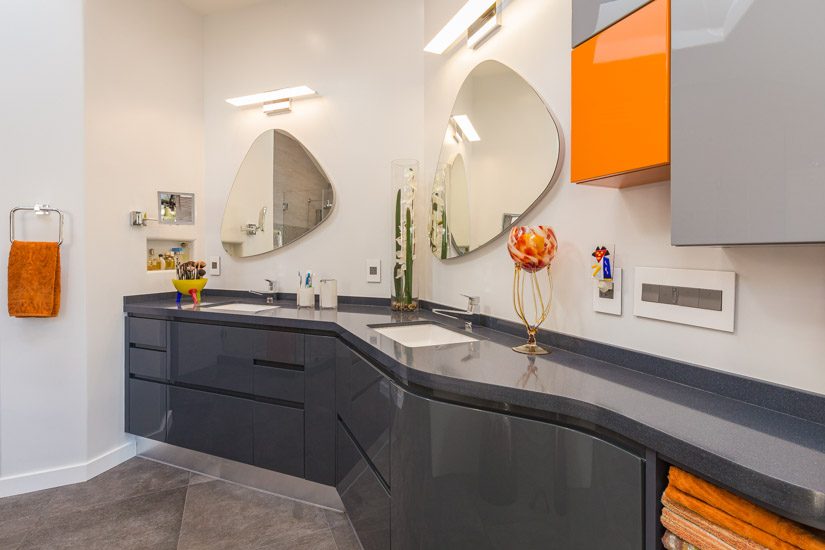 In the master bedroom, Marina and Ron had a fireplace that they wanted to update, but they weren't sure how. They knew they didn't want anything so clunky or traditional as tile or granite, but painting alone didn't seem to make enough of a statement.
"Boris introduced us to Alex [Chuikou of AADesignCA], and said he does amazing things with accent walls and fireplaces. The room was pretty much destroyed, but I showed him some pictures of the room before, our furniture, paintings, and even our duvet. He brought us some samples, and we chose one. While he was working, Alex completely closed off the room, he wouldn't let us in. When he was finished, he brought us upstairs for a big unveiling, like in the movies. When he took off the sheet, I was overwhelmed with the texture, the look, the feel. Although we weren't planning to do anything as fancy downstairs, after seeing that fireplace, we just knew we had to," explained Marina.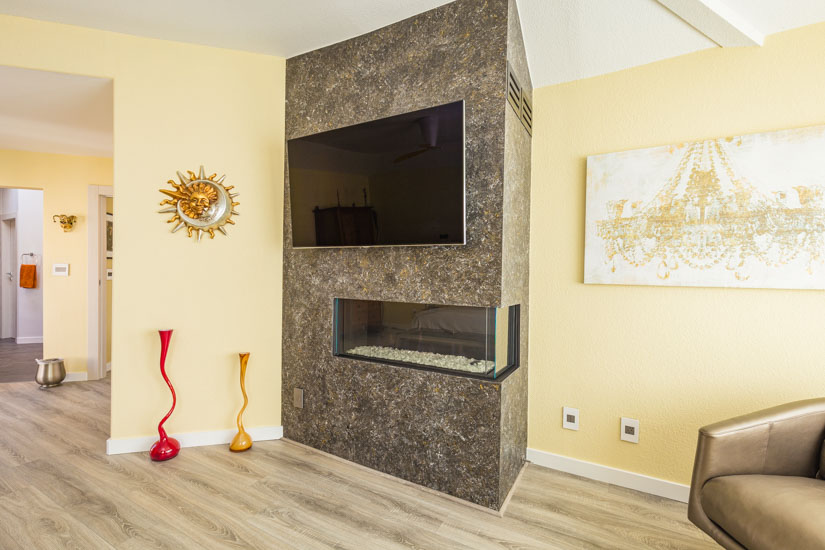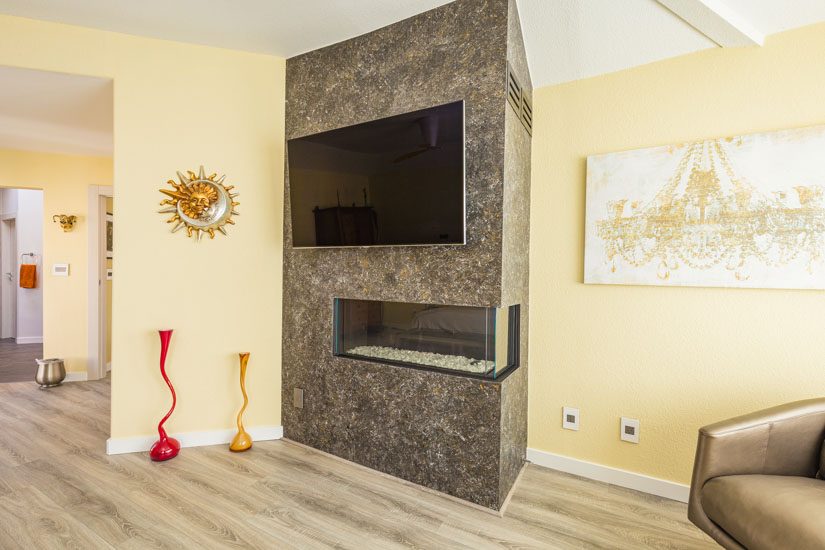 The material that Alex uses is a type of microcement, which comes from Italy in a variety of colors and can also be mixed with paint. Depending on the desired texture, he applies several coats using a metal trowel, spatula, or sometimes a sponge, followed by a protective wax. The technique can also be used outside, with a waterproof sealer followed by the wax.
"Alex warned us that every single person who comes to our home will want to touch it, and it's so true. Everyone is so surprised that this is a type of paint and not stone or other material," she said.
Alex also works with Venetian plaster, specialty wallpapers, and acrylic paint; he created the unique paint texture for the ceiling and display nook in Marina and Ron's dining room.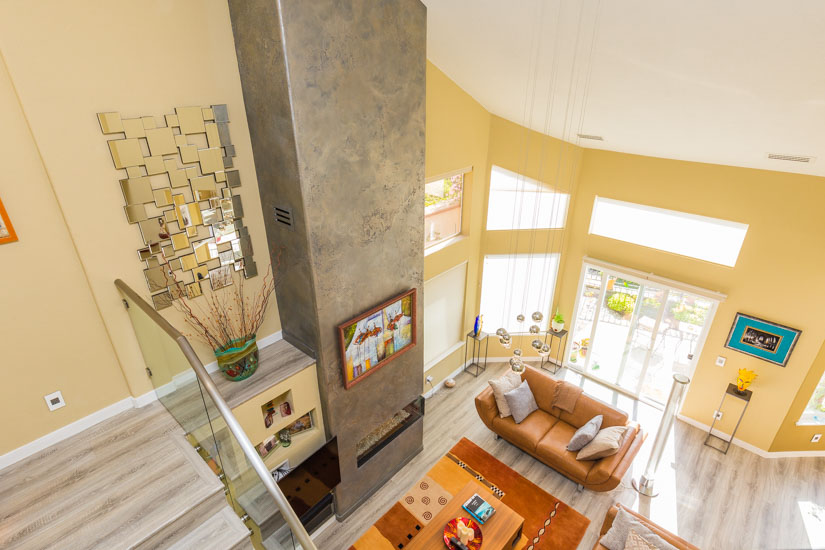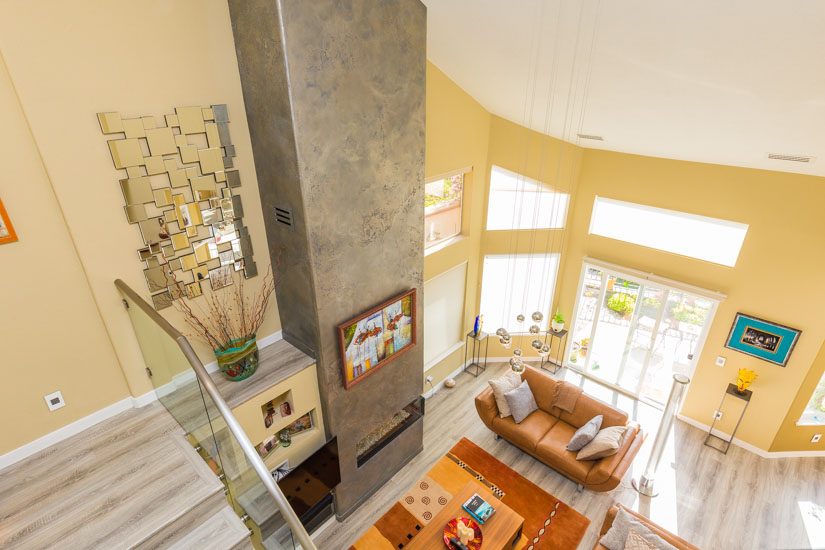 While they were replacing the flooring throughout, with wide-plank laminate from Skema in Elite Grey Canyon and had also ordered a stainless-steel handrail from CAST, Marina and Ron had not wanted to change the structure of the staircase.
"Boris suggested that we remove the wall along the staircase, and he was so passionate about it. There was not one time he left the house without saying, 'Are you sure?' He wasn't even the one who would do the work. Finally, we did it, and of course, the beautiful glass, it's the focal point of the house. It's airy and wonderful, and we're extremely grateful to him for talking us into it," recalled Marina.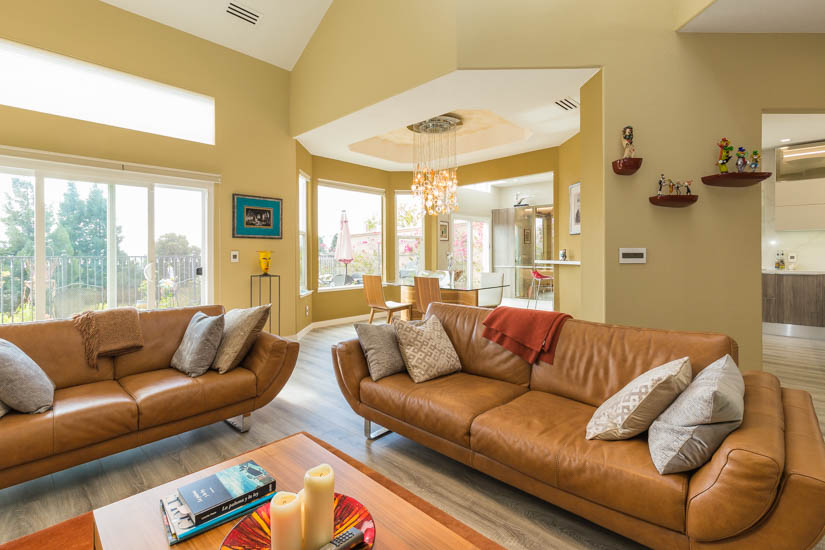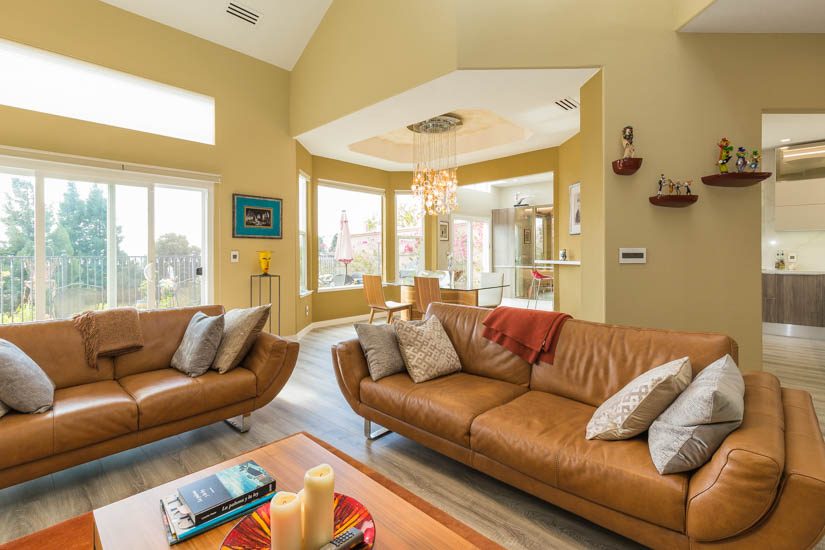 In the showroom, Marina worked with Alexandra Berkovich to choose not only the colors of the cabinets, vanities, and flooring but also the perfect wall colors to complement the new fireplaces as well as the furniture and accessories they already had. The result is modern, but also warm and welcoming.
"I've spoken to a lot of people who worked with other designers or contractors and are happy with the result of their remodel, but who are unhappy with the process. We're thrilled with how unified and matched everything is, how it flows from the staircase to the kitchen. And—we gained lifelong friends working with Robert and Alexandra. Anytime, with closed eyes, I can recommend them, it's the biggest testament," Marina concluded.
Find more photos of this project in our portfolio.
Ready to plan your kitchen? Download our kitchen design guide