Whether you're working with a contractor or doing it yourself, our step-by-step guide to planning, designing, and building your new bathroom will save you time, money, and hassle.
The very first thing you need to do when planning a new bathroom design is to clearly consider who it's for and how long you're likely to use it. Are you designing a master bath for the couple of the house, and do you plan to stay there indefinitely? If it's a bathroom for the kids, how old are they? Is it a bathroom for your in-laws or attached to an all-purpose guest bedroom? The answers to those questions will dictate the answers to the following items below.
Even a small bathroom can take a lot longer to remodel than you might first think, but a little planning and making design decisions before you tear out any tile will likely save you time and money, not to mention a whole lot of hassle.
Layout
Deciding on the layout of your bathroom is somewhat harder if you're building a new home because just about anything is possible. If you're doing a bathroom remodel, did you like the general layout of the bathroom—toilet, sink(s), and shower or bathtub—and if did, great, the plumbing is already in place. If you didn't, is making drastic changes worth the cost of moving the plumbing around? This is also the time to consider single or double vanities' shower, tub, or both; and where you're going to put the toilet.
Tip: Don't make the toilet the focal point of the bathroom. If space allows, setting the toilet apart behind a partition or inside a "water closet" is a great way to add privacy, especially in a bathroom that will be shared by more than one person.
Plumbing
Plumbing is, of course, one of the most important aspects of a bathroom. Using right sized pipes and drains can make a huge difference in functionality. Standard residential plumbing typically uses half-inch pipes for drains, but the larger the drain, the less likely it is to clog.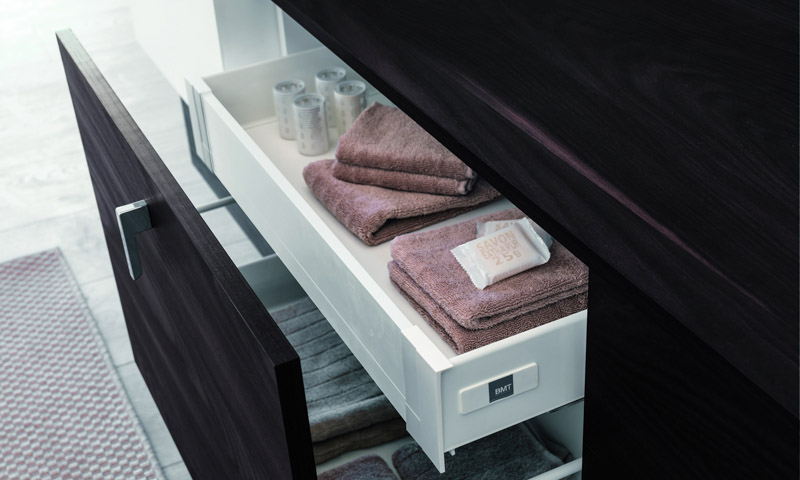 Heated bathroom floor
A heated bathroom floor is a great feature even if you don't live in a particularly snowy climate. If you want radiant heating in your bathroom, the time to decide is at the beginning of the project. There are two ways to heat a bathroom floor: electricity or hot water. The former is achieved by applying an electrical current to a heating element; the latter requires pipes to be installed running back and forth the length of the bathroom. An electric floor is easier to install if you're remodeling but generally costs more in the long run because electricity costs more than hot water.
Radiant floors work best with tile or stone because those materials conduct heat better than wood. Adding a heated bathroom floor will also slightly affect the height of the floor, which in turn will affect the transition between bathroom and bedroom or hallway, especially if the adjacent room has a hard floor, so be sure to plan accordingly.
Tip: Tile also retains heat for a long time, so you don't need to run your floor all day. Put the heating system on a timer so that it's warm when you wake up in the morning but isn't running unnecessarily all day.
Electrical
If you're redoing a bathroom in an older home, you may need to amp up the wiring. If you're unsure what you need, consult an electrician.
Toilet
When planning your bathroom, the first thing you need to consider in a toilet is whether you want a modern wall-mounted model or a more traditional floor-mounted model because it's directly related to the overall plumbing. Beyond that, considerations for the type of toilet you choose are largely aesthetic. For more help with choosing the toilet that's right for you, read our Ultimate Guide to Buying the Best Toilet.
Tip: The standard height for a toilet is 15", but if you're designing a bathroom for your in-laws or hope to grow old in your home, you may want to consider a toilet up to 19" high, which is easier to use for older people or people with disabilities.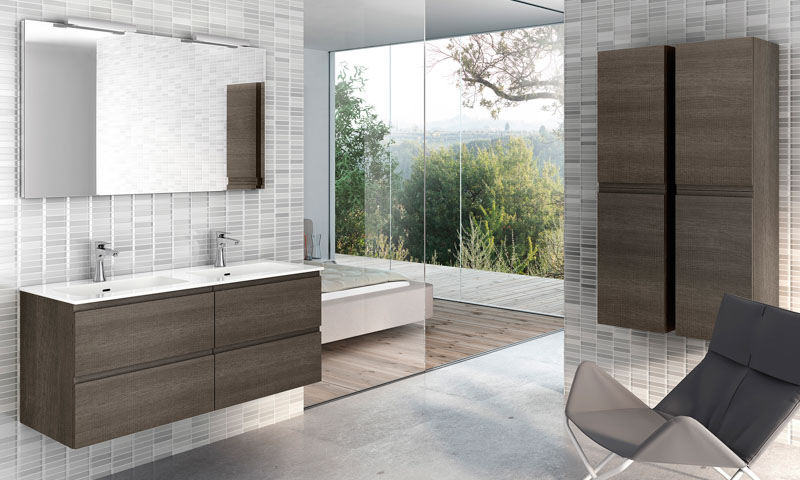 Vanities and sinks
Modern bathroom vanities feature a lot more drawer storage than they used to. Drawers are easier to access and offer more flexibility for organization. The height of your vanity will depend somewhat on whether you want a sink that's flush with the countertop or a vessel sink that sits on top of it. The new standard height for a bathroom vanity is 36"—the same as in the kitchen. If you want more flexibility with the height of your vanity, a floating vanity is a good option.
Shower, tub, or both?
Whether you choose a shower, bathtub, or both depends on how you will use your bathroom. In a bathroom used by small children, you'll probably want a more standard bathtub that makes it easy for the kids to get in and out, and for you to help bath them. In a guest bathroom, a walk-in or curbless shower is a good option. In a master bathroom, you'll definitely want both. And you probably want a curbless shower with a steam element and an extra-deep soaking tub.
Tip: The shower floor can either be a single, pre-manufactured piece of acrylic or porcelain, or tile. Smaller tiles are best because the grout lines offer traction and the smaller tiles are easier to slope toward the drain.
Fixtures
Fixtures, believe it or not, can be one of the most expensive elements in a bathroom. The price will depend on the material and level of customization you want. But no matter what fixtures you choose, practical, ergonomic placement of said fixtures will have as much to do with how much you love them as what they're made out of. At the sink, a spout that's too short or installed too far away will result in water all over the counter. In the shower, a faucet that puts your arm (or entire body) directly in front of that initial spray of cold water can turn into a source of daily frustration.
Tip: Make sure you've got enough towel bars and hooks to accommodate the towels and robes of the number of people using the bathroom on a daily basis. There's nothing more annoying than not having a place to hang your towel.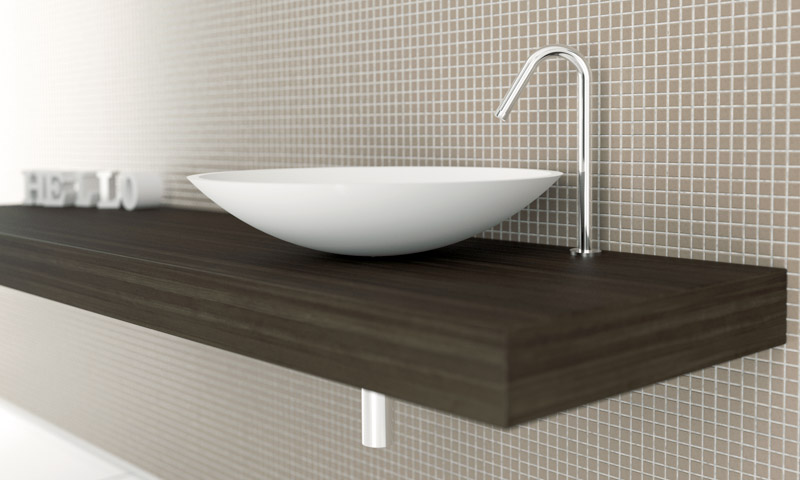 Medicine cabinet or mirror
Many modern bathrooms forgo the traditional medicine cabinet in favor of large mirrors. The benefit is two-fold: A large mirror makes the room feel bigger, and a medicine cabinet either has to be built into the wall or placement of the sink and faucet have to be adjusted to accommodate the hung cabinet, which could protrude up to five inches off the wall.
Tip: If you skip the medicine cabinet, make sure you've chosen a vanity with enough storage space and drawers for all of your toiletries.
Lighting
Perhaps more than any other room in the home, the right lighting plays a huge role in the success of your bathroom. You not only need to consider the style of the fixtures, but also the number of fixtures, placement, angle of the light, and temperature of the bulbs. Recessed lights in the ceiling can help to brighten up a small bathroom. Over the vanity, do you want aesthetic of functional lighting? How about both? Some modern vanity lighting systems allow you to adjust the temperature of the lights to be more pleasant, good for putting on makeup, or brighter for utilitarian needs like shaving.
The height of vanity lighting is also important; ceiling lights over the vanity or lights that are installed too high will result in unpleasant shadows on the face. Some manufacturers offer vanity lights that can be angled, so they're just the right height for the user. To create the spa-like feel popular in high-end bathrooms, the lights should be on a series of dimmers so that they can be turned down when the mood requires.
Tip: If using wall fixtures, be careful not to place them directly opposite a mirror as the reflection of the light can be unpleasant.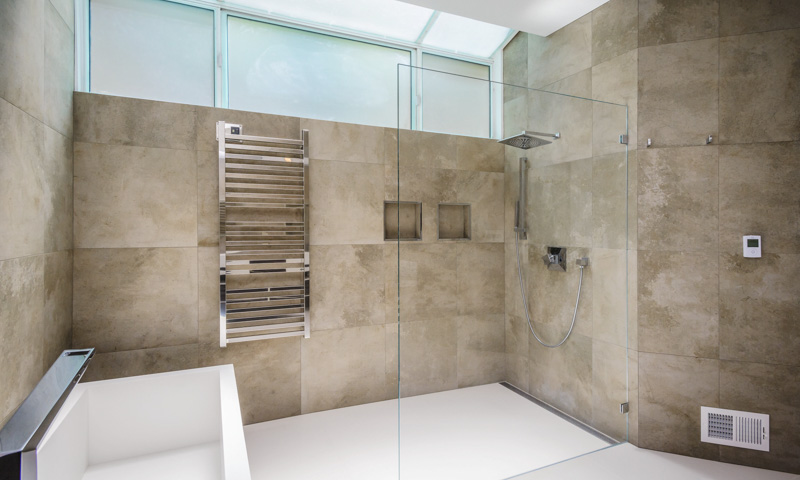 Windows and skylights
Whenever possible, put a window in your bathroom. A source of natural light can have a pleasing effect on the mood of your bathroom and help to reduce your energy bill. A window in the shower or above the bathtub is also great for improving airflow without the noise of a ceiling fan. For privacy, choose a frosted window, and for security and cleanliness, choose a tilt-and-turn window with a screen on the outside.
Tip: If you have a window in your shower, make sure the sill is sloped downward to prevent water from pooling.
Vent fan
With all of the other elements to consider in planning your bathroom, it's easy to forget about the vent fan. The latest models are quieter, more efficient, and programmable.
Specialty elements
As they say, the devil is in the details. Specialty design elements like built-in nooks in the shower or over the bathtub to hold toiletries, a mirror in the shower for shaving, a stool at the vanity for applying cosmetics, a bench in the shower, a small built-in bookcase next to the toilet, or even a coffee maker to get you going in the morning will all increase the flexibility and functionality of your bathroom. And technology items like digital shower controls, speaker systems, towel warmers, and bidet-style electronic toilet seats will bring your bathroom into the 21st century.
Ready to start designing your new bathroom?