The most common mistake made when lighting a bathroom is not using enough of it.
Once a strictly utilitarian space, the modern bathroom has evolved to become the place where we prepare ourselves to start the day—and pamper ourselves at the end of the day.
Just like in the kitchen, lighting the bathroom is best done in layers: ceiling fixtures for ambient light, vanity lighting for washing and grooming, specialty lights for the shower, bathtub, and water closet, mood lighting to create a relaxing atmosphere, and low lights for those middle-of-the-night trips.
How much light do you need?
At its brightest, to provide the best washing and grooming environment, the bathroom lighting scheme should replicate daylight—or even better, include natural light by way of a window or skylight. Adding (actual) natural light can also cut utility costs. A quick trip to the loo and a stop at the sink to wash your hands probably doesn't require turning on the lights if your bathroom has a window or skylight.
A well-designed bathroom lighting scheme can also impact safety and comfort, especially for older occupants. As we age, our eyes require more light to see; a 60-year-old need three times more light to see than a 20-year-old. Not only does better lighting make the act of seeing more comfortable for older people, but it can also prevent accidents and falls—80% of falls among seniors happen in the bathroom.
For the most versatile bathroom lighting configuration, put at least some of the fixtures on a dimmer switch.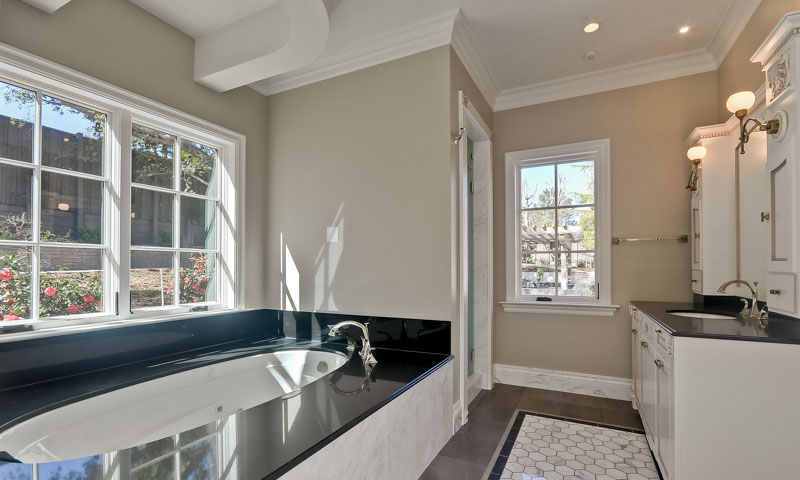 Choosing a better bathroom bulb
Creating the proper amount of light in a bathroom is not so much about adding more fixtures, but proper placement (covered later in this article) of better fixtures and bulbs.
Fixtures should have frosted white shades to create the most even and flattering light. Traditional incandescent bulbs (not recommended) should have a color temperature between 2700K and 3000K. Bulbs should be at least 100W, but you could comfortably have up to 150W if you like really bright task lighting. Compact fluorescent bulbs should have a color rendering index (CRI) of at least 90 and a color temperature between 2700K and 3000K.
Like the pictures in this post? See more in our portfolio!
LED bulbs are the gold standard in modern lighting. LEDs are more energy efficient than incandescent, compact fluorescent, or halogen bulbs, and their slim size offers a more modern, elegant look. Often the color temperature and brightness (measured in lumens) are adjustable—a single bulb can create bright task lighting and romantic mood lighting.
Not all LED bulbs offer the full temperature and brightness range, so be sure the LEDs you choose for your bathroom offer a CRI of at least 90, temperature between 2700K and 3000K, and at least 1600 lumens (equivalent to a 100W incandescent bulb).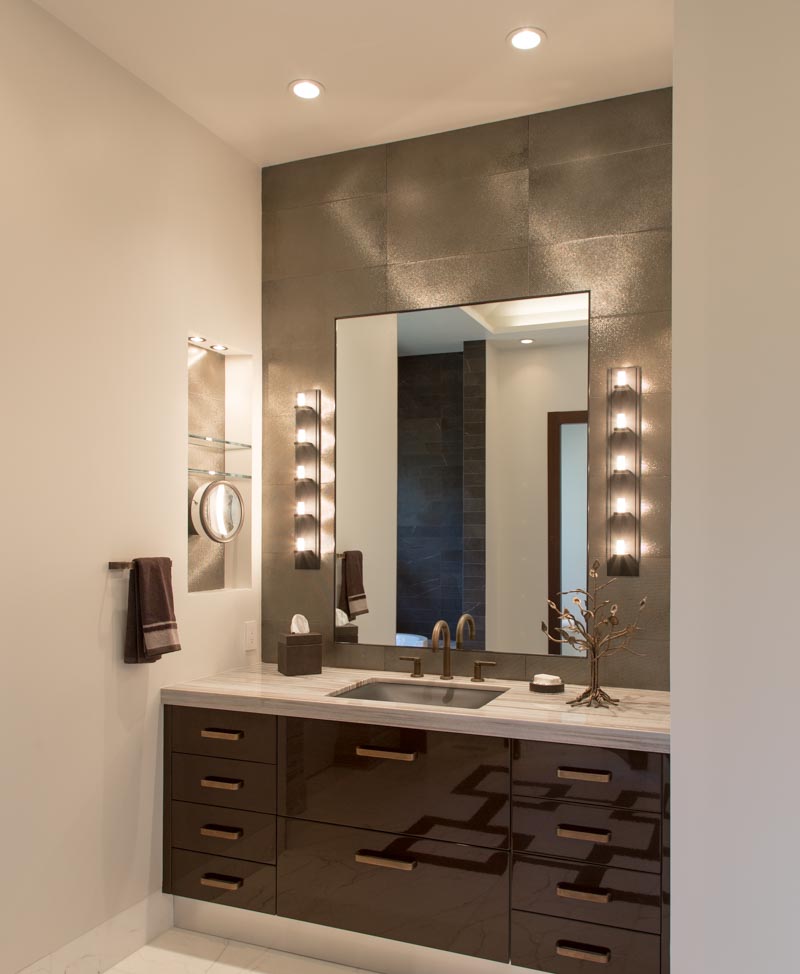 The do's and don'ts of ceiling lighting
The first most common mistake made when lighting a bathroom is not providing enough light. The second is relying too heavily on recessed lighting. The ceiling lights will provide the majority of the light in the room, but using too many recessed ceiling lights will make your ceiling look like a slice of Swiss cheese. How many fixtures you need depends on the area of the bathroom and the height of the ceiling. A general rule of thumb is to place ceiling lights at a distance of 50% of the ceiling height. So if you have an eight-foot ceiling, the fixtures should be four feet apart.
Ceiling lights should be symmetrically positioned throughout the room over the primary walkways. Don't mount ceiling lights too close to the vanity or you'll create uncomfortable shadows on the face.
Sconce vs. bar—or both?
Vanity lighting isn't all about vanity. Correctly placed sconces and a lighting bar above the mirror make daily tasks like applying makeup and shaving easier and more comfortable by casting a smooth, even light across the face, eliminating the awkward shadows created by ceiling lights.
To create the best vanity light, sconces should be mounted on either side of the mirror at least 28 inches apart. The center of the sconce should be at eye level, approximately 66 inches above the floor. A light bar above the mirror should be mounted approximately 78 inches above the floor.
Looking for an alternative to the typical sconce? Some companies are designing vanity mirrors with built-in LED lighting. Mirrors with built-in overhead lighting bars are typically adjustable to cast the right amount of light on the user, regardless of height.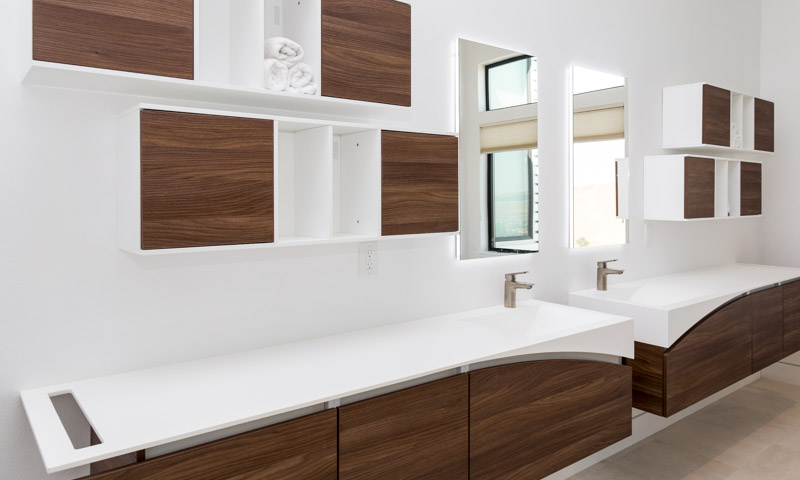 Lighting for the shower, tub & WC
The shower, bathtub, and (if you have one) the water closet all need to have dedicated lighting. At the very least, you'll want to have one or two ceiling lights in these areas depending on how large they are. Since water closets are typically small spaces, a light/fan combination fixture is a good choice.
In the shower, you'll generally want to use a recessed or dome ceiling light with a trim designed to keep moisture out of the fixture in a wet environment. When shopping for bathroom lighting, look for lights specifically rated for use in the shower.
In the case of the shower and bathtub, you may also want to add mood lighting. There are a number of products available for shower mood lighting, including specially designed fixtures that can cast several different colors of light—yellow to wake you up, green to create a sense of harmony, or purple to excite you—and showerheads with built-in LED mood lighting.
Building codes in many places prohibit open or hanging lights within eight feet overhead of bathtubs or whirlpools. To create a romantic atmosphere, you could mount decorative sconces on the sidewalls or place a skylight with an open view of the stars above the bath.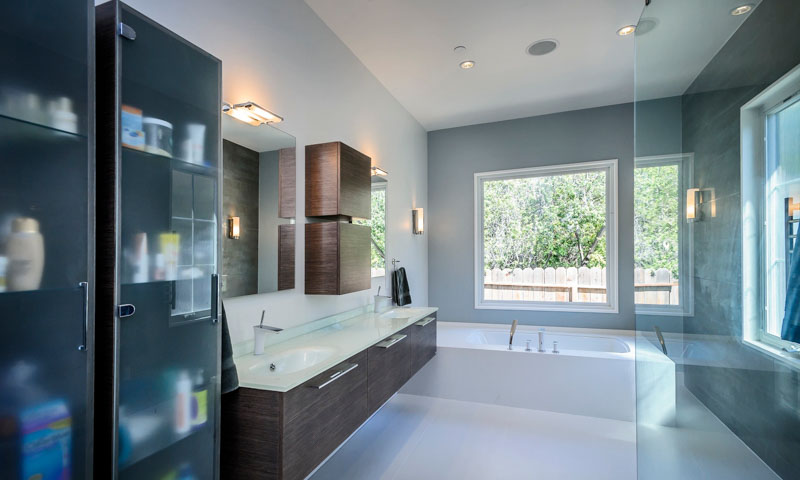 Show off your personality
When it comes to bathroom lighting, there are as many options as there are for the rest of the house. Whether your style is modern or traditional, contemporary or transitional, choosing unique fixtures or finishes will upgrade the level of sophistication in your bathroom.
You might want to have a few recessed ceiling lights for general ambient lighting, but a decorative chandelier adds style and personality. Put the chandelier on a dimmer switch to create a relaxing mood at the end of the day.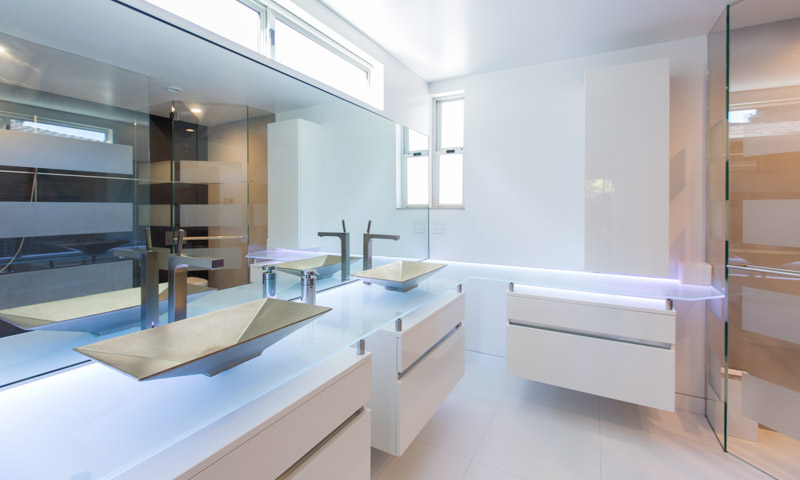 Don't forget the nightlight!
No one wants to step into a fully lit bathroom in the middle of the night, and nor is it necessary. Bathroom night lighting can be as simple as a portable night light strategically plugged in or a dimmable ceiling light on a dedicated switch that can be left on at night.
More sophisticated options include a strip of lighting mounded at the toe kick of the cabinets that illuminates when there's not enough ambient lighting or a designated light on a dimmable switch activated by a motion sensor. There are even wall outlets available with integrated night lights that turn on and off depending on how much ambient light is in the room.
Ready to start designing your new bathroom?