Key measurements, design tips, and ideas to create a beautiful and functional powder room for your home.
The powder room is likely the smallest room in your home, but with well-planned design and a few unique touches, it can make a big impact. Powder rooms, also known as half-baths, were once a luxury found only in large homes, but these days they're found in most American homes and even apartments.
The average powder room is just four feet by five feet, which is both a challenge to balance form and function and an opportunity to make bold design choices without overwhelming your home. The powder room can have a style all it's own; it doesn't, and shouldn't have to resemble any other room. From the flooring to the faucets, we recommend taking a chance on a unique material or style. However, a word of caution—don't over decorate.
Each element you choose should compliment not compete with the overall design, and keep in mind to leave some empty space on the counter for guest to set down bags or in a really small powder room, add a clever hook on the door for bags or a coat.
Flooring
When designing your powder room, it's a good idea to start from the ground up. Full bathrooms will likely require a tile or stone floor, but there are far more flooring choices for the half-bath because of the absence of a shower or bathtub. If you have hardwood flooring throughout the rest of your home, you may continue that right on into the powder room to create natural flow. Or, make a statement with a creative floor—black and white tile, bamboo, or slate.
Radiant heating is a great option for a small powder room because it eliminates the need for a register or heat vent in the wall or floor.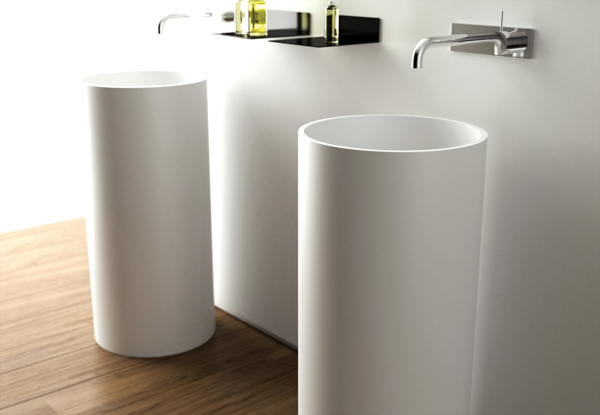 Vanity
The powder room is the perfect place to explore the wide world of bathroom vanities, and the vanity will be the focal point of the whole room. Because the vanity in a powder room is primarily for washing hands, it doesn't have to be very large. In a tiny powder room, you may consider a tower vanity or pedestal sink. Vintage or reclaimed furniture pieces fitted with a sink and new countertop make a unique choice.
Countertop
A bright or reflective material is a great choice for a powder room countertop because it can help to open up the small space. Quartz is available in a whole range of colors and patterns. Many bathroom vanities are manufactured with an integrated countertop in Corian, Dekton, or glass, all of which are great options.
Hardware
If you're looking only to make a small change in an existing powder room, a modern faucet with beautiful lines can make a big impact. The finish is another detail that packs a punch in a small package—consider skipping the standard chrome for a polished nickel, brushed bronze, or satin black. A wall-mounted faucet is also a wonderful solution and frees up counter space on a small vanity.
If you are using a pedestal sink or floating vanity that will leave the under-sink hardware exposed, you may also want to consider fixtures that are available with coordinating plumbing supplies in the same or similar finish.
Other hardware you'll need is a toilet paper holder and a towel rack. The toilet paper holder is usually mounted on a wall or other surface a comfortable distance from the toilet, but not so close it's easily bumped into, approximately 24" above the floor.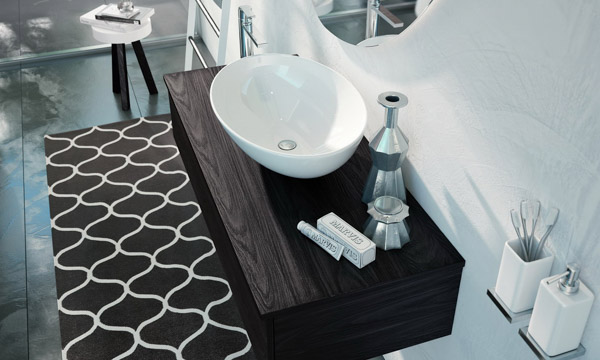 Mirror
The powder room is the perfect place for a fabulous mirror. Mirrors come not only in a huge variety of unique and sculptural frames but also a huge variety of custom shapes. The mirror you choose should complement the style of the vanity and reflect (pun intended) the overall theme of the room.
Toilet
If you think the toilet will be the most straightforward decision in the powder room design process, think again. Toilets come in an astonishingly wide variety of options, from size, shape, and height to mounting, flushing system, and bidet options.
The standard household toilet is 15" tall, but they're available up to 19" tall, which are easier for seniors and people with back problems to use. If your powder room is particularly small, look for a round or compact elongated bowl, and for a modern look, you might consider a wall-mounted toilet. For more information on choosing the best toilet, check out The Ultimate Guide to Buying the Best Toilet.
Wall & ceiling colors
The classic approach to a powder room is a bright white ceiling contrasted with a colorful wall paint, pattern, or paper. Alternately, a black ceiling and floor can have a wonderful effect paired with bright white walls. The small size of a powder room is an excellent place to play with dramatic wall covering options because it won't feel overwhelming.
You can also play with materials. A concrete wall or floor, an interesting tile pattern, or a tin ceiling could create a pleasant surprise when stepping in from the entranceway.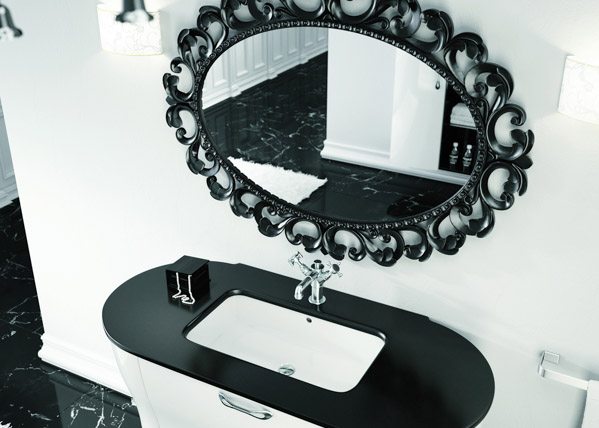 Lighting
Whether you choose wall sconces or a ceiling-mounted pendant, it's better to over-light, rather than under-light a powder room. To create mood when entertaining, install a dimmer switch. A motion-sensor light is also a nice feature in a powder room since it's most likely to be used by guests who both won't know their way around, and also might forget to turn off the light. Many dimmers with built-in motion sensors can be set to come on at any level of light.
Door
While it's certainly not wrong for the door to your powder room to match the other interior doors in your home, it's also an opportunity to experiment. If the space is particularly small, you might want the door to open out, rather than in. Or, consider a pocket door or barn door.