Spa-like bathrooms, floating vanities, and freestanding bathtubs top design trends.
Today's homeowners want clean, minimalist lines, but they don't want their bathroom to feel cold or calculated. Bathrooms are becoming relaxing retreats with upgrades that help you look and feel your best. The inclusion of modern technology, like programmable water features, is balanced by using natural textures for a Zen-like feel. According to the National Kitchen and Bath Association, contemporary spa-like bathrooms, floating vanities, and freestanding bathtubs will all be among the most popular bathroom design must-haves for 2015.
Master bath suite
Are your master bathroom and bedroom a little too cramped? Try opening them up into one master suite retreat. Modern bathroom furniture is artful and elegant—don't hide it behind a wall, show it off! "More and more, bathrooms will be designed as an extension of a space," says ECDS's Alexandra Berkovich. You can either remove a wall entirely or replace it with sliding glass. Either way, it will turn your bedroom and bathroom into an open, relaxing space.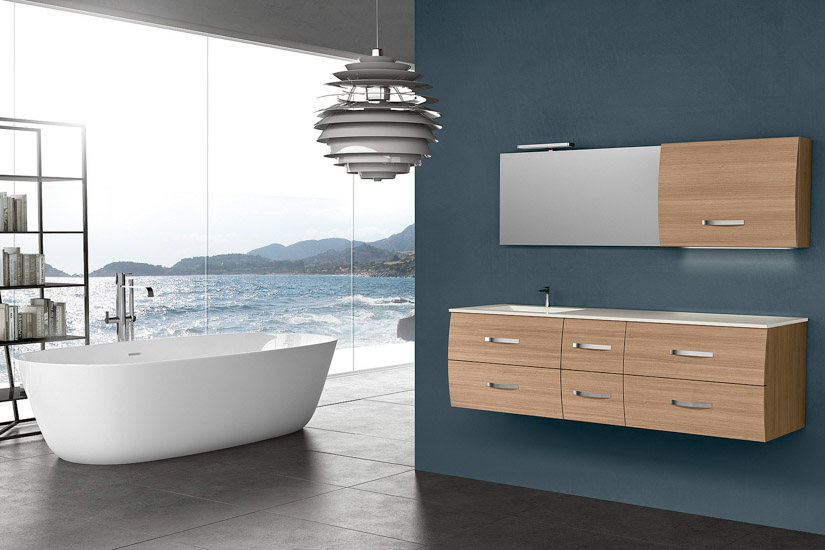 Freestanding tubs
"Freestanding bathtubs are still hot items," says Jennifer Hale of Interiors for Modern Living in Palo Alto. Large, well-designed tubs are the center of attention in today's bathrooms, pulled away from the wall and treated like sculptures. MOMA Design's bathtubs come in a wide variety of selection of smooth, inviting shapes. From asymmetrical curves to block-like tubs with end tables and bookshelves, once you get in, you won't want to get out!
Custom vanities
Custom, floating vanities combine a sleek, contemporary look with plenty of storage appropriate to the space. Drawers don't just pull anymore, they lift up and move out for a better use of space. Cabinets open vertically or slide smoothly to reveal hidden compartments, while today's sinks come in a wide variety of round, square, or oblong shapes. "Of all our bathroom vanity manufacturers, it's impossible to choose my favorite," says Alexandra, "because we have something for every mood, and they can all be customized however the client wants."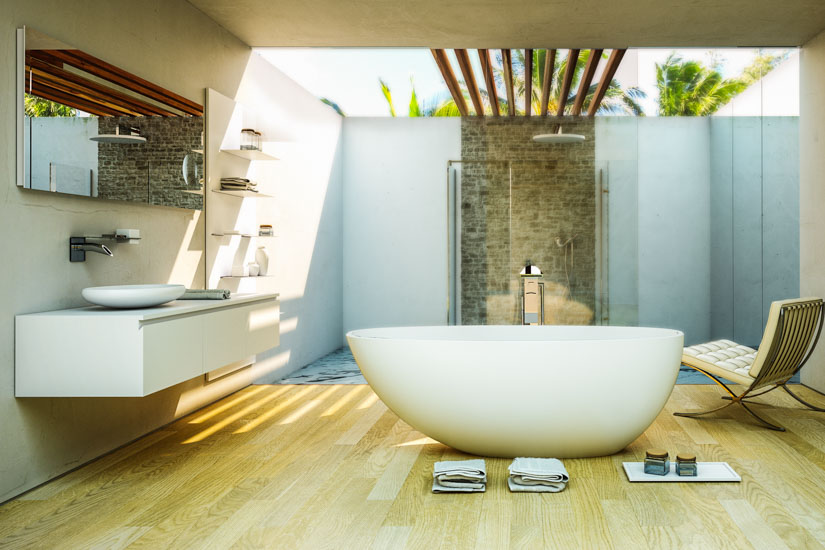 Modern technology
There are as many modern amenities for the bathroom these days are there are for the rest of the home. Hale said popular items among her customers are steam showers and defogging mirrors. Watermark offers a programmable shower system, through which users can regulate water temperature, adjust lighting, and even pre-set the shower for a certain length of time—great for helping shower lingerers meet those pesky California drought restrictions. There are also speakers that can be hidden inside the vanity, and a faucet from Airblade that doubles as a hand dryer.
"One of our more unusual requests this year was installing an iPhone compatible music source and charging station for family bath," Madeleine Baker of MH Baker, LLC in Greenwich, CT, told the NKBA.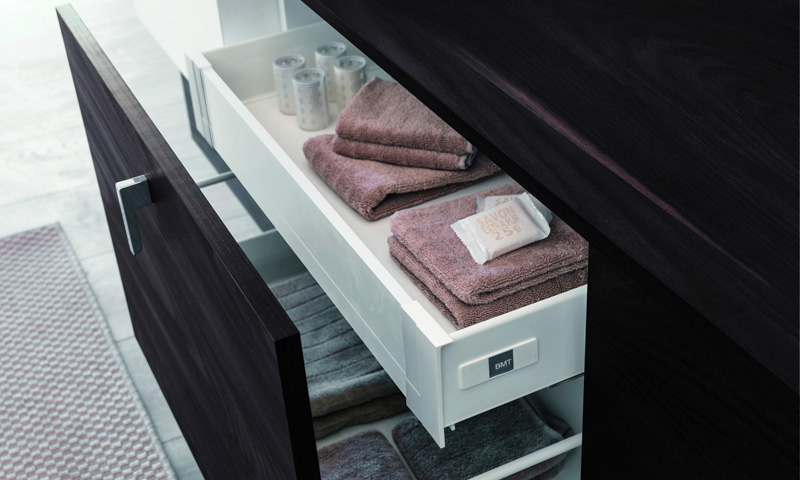 Natural beauty
Drawing design inspiration from natural raw materials is a great way to warm up a modern bathroom and infuse the space with a calming vibe. Wood, steel, and glass are a popular combination, offering the best of both worlds. Skema's Open Mind Vertical line is a collection of unique wall coverings created from reclaimed wood—a great way to give your bathroom a rustic touch while also making it more sustainable.