The most common mistake when lighting a kitchen is assuming that one central fixture will be enough.
Modern design trends demand plenty of natural light—oversize picture windows, sliding glass walls, and skylights—but artificial lighting is usually an afterthought. The kitchen, with all its nooks and crannies, cubbies, and features, not to mention functions—cooking, projects, entertaining—requires a lot of different types of light. One central overhead fixture is not going to cut it.
Light in layers
Start with the ceiling and work your way down overhead (ambient), task, accent, and decorative lighting. Especially in the kitchen, where cabinets and other necessary elements like the range hood create annoying shadows, no single light source can provide all the required illumination.
Older style kitchens had a central fixture and maybe a couple of feature lights. Modern kitchens usually feature recessed lighting, evenly spaced across the ceiling. How many you'll need depends on the height and square footage of the ceiling.
Susan Bowen and Revital Kaufman-Meron of BeKom Design in Cupertino are increasingly using LED strips instead of recessed cans to reduce the amount of "noise" overhead—smoke detectors, air grilles, sprinklers, etc.
"The linear design of the LED strip reduces the number of elements on the ceiling. And not only that—the quality of the lighting is far superior to a recessed can," said Bowen.
Ambient lighting should be bright enough to really light up the room, but not so bright that you cringe every time the lights are turned on. The ideal brightness for any given room is created by combining the following tips below, specifically, how many lights you use, how powerful they are, and the color temperature of the bulbs.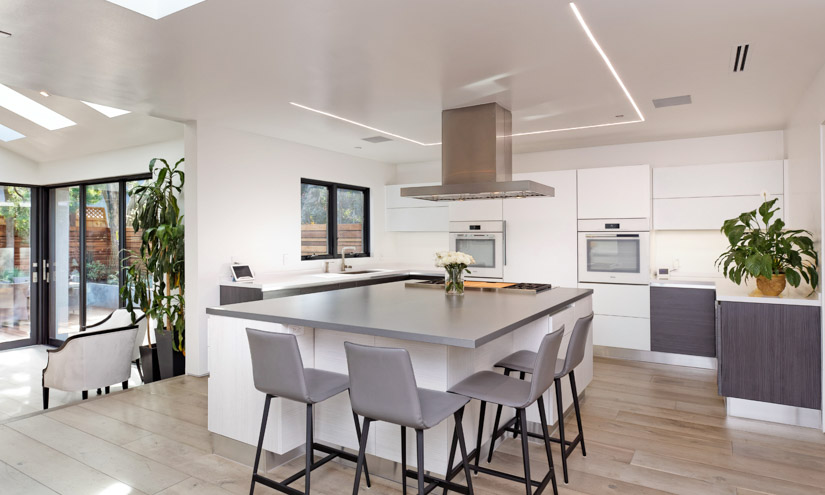 Task lighting
There's nothing worse than trying to cook dinner under a massive shadow. When shopping for a range hood, be sure to choose one with built-in cooktop lighting. Other important work areas like the island or the sink should have their own lighting, preferably on a separate switch.
Don't forget the under cabinet lighting! Even if most of your food prep takes place on a large central island, you're still likely to store knives, small appliances, or fruits on the countertop. Under cabinet lighting will brighten and beautify the kitchen, creating a more pleasant and inviting space for cooking and entertaining.
Accent lighting
While the overhead lights and task lights are the workhorses of lighting fixtures, accent lighting should create ambiance in the kitchen. Pendants—ideally two or three—over the kitchen island or breakfast bar may serve a dual purpose as additional task lighting or accent lighting. Fixtures that cast light in several directions can also enhance ambient lighting.
The ideal height to hang pendants over the island is 30 – 36 inches above the countertop. Chose bulbs or fixtures with a colored shade that are slightly warmer to create a cozy feeling when entertaining.
If your wall cabinets don't reach the ceiling, you could also consider above cabinet (up) lighting as additional accent or decorative lighting.
Decorative lighting
Decorative lighting inside a display cabinet is one of the most common ways of adding some additional, visually interesting light to your kitchen (or dining room). If your kitchen features open shelving, add warm LED strips or puck lighting attached to a single switch to quickly turn them on and off. LED strips along the toe kick at the base of your cabinets can add additional flair, and if set on a timed motion sensor, can serve as a nightlight.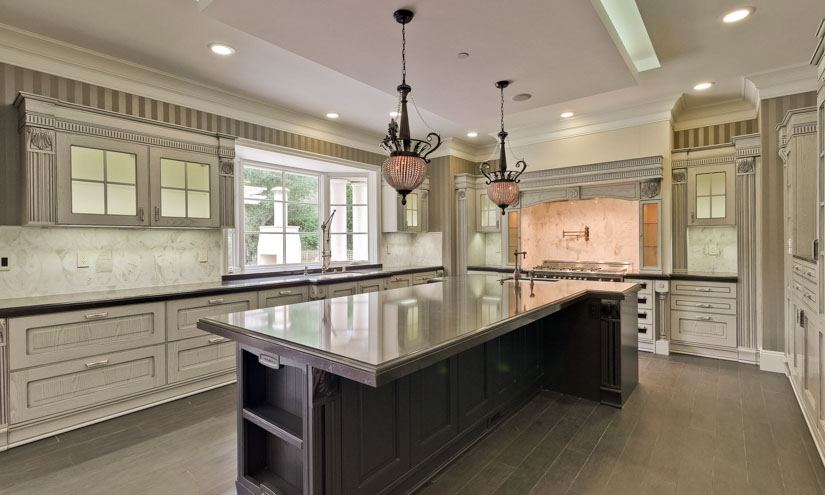 Be generous but not overzealous with switches
Every entrance to the kitchen should have a switch, ideally, connected to the same light or group of lights that can be turned on/off as you enter one way and leave another. These switches could also have a motion sensor that would turn off the lights after a certain period of time; you'll want to make the motion sensor is sensitive enough to always know when you're in the room, but not come on unnecessarily.
Each lighting layer should have a switch; you'll want to be able to turn on certain lights but not others depending on whether you're cooking, entertaining, or just grabbing a glass of water.
On the other hand, too many switches make it hard for anyone who doesn't know the kitchen to find the light they're looking for. The number of switches in a kitchen can quickly add up, especially if there are also switches for outdoor lighting. Place switches logically so that they're easy to access and that it's somewhat obvious the lighting they control.
Use dimmers
Dimmers are a great way to convert the kitchen from a workspace to a room for entertaining, especially in an open plan home. You likely won't need dimmers on every switch, but having them on key lighting groups like ceiling recessed lighting and specialty areas over the sink or island will allow you to create a comfortable environment during and after food prep.
Make the switch to LED
There is virtually no lighting need in your home that can't be accommodated by modern LED lights. LED lighting comes in many shapes and sizes, color temperatures, and brightness levels. It's much more energy-efficient and bulbs burn cooler.
The brightness of an LED is measured in lumens, not wattage like traditional incandescent bulbs. A conventional 60 W bulb is equivalent to approximately 800 lumens. When it comes to LEDs, watts are a reference to power consumption. If you want a bright bulb that's exceptionally energy efficient, look for an LED with low wattage and high lumens.
LEDs come in a variety of temperatures, which is not the same thing as brightness. An LED bulb with a color temperature of 3000K is recommended for kitchen ambient and task lighting, while a slightly warmer 2700K bulb may be more appropriate for decorative and accent lighting.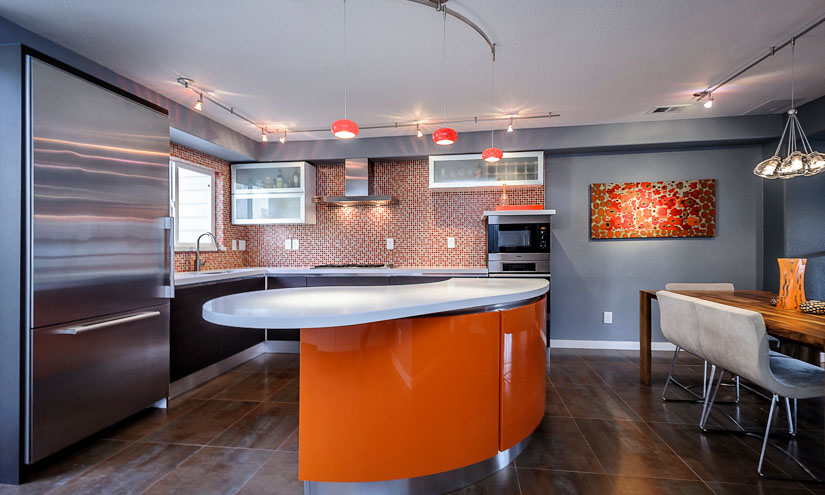 Consider paint color
Paint color has a direct relationship to the lighting scheme in any room. Warm lighting can make a cool color feel warmer, while very bright daylights can cause the paint color to appear gray. If you choose a very dark color for the walls and/or a dark finish for the cabinets or countertop, you may need to add more light in the room, while a kitchen with white walls, cabinets, and ceiling will appear brighter with fewer or less powerful lights.