Whether you're planning a new kitchen or just looking for a few details to update your current kitchen, these appliances will make your kitchen as smart as you are.
When talking about "the best" of anything, there is a lot of room for discussion. We've put together a list of our top picks among dishwashers, ranges, smart faucets, and small appliances. Each of these items is not only regarded as among the best in their category and take advantage of the latest kitchen technology, but they also feature truly beautiful design that will look great in your modern kitchen.
So whether you're planning a complete kitchen makeover or just looking for a few small kitchen upgrades, you'll want to consider these 10 items.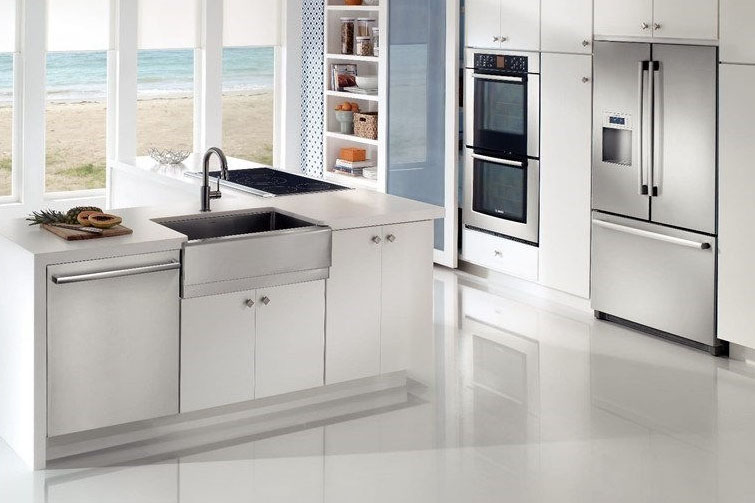 Bosch 800 Series Dishwasher
The Bosch 800 Series is Wired's pick for best dishwasher and we have to agree. Not only does this dishwasher feature a third rack for cutlery, Bosch's RackMatic function, which allows you to set your racks at different heights, heavy duty and eco cycles, it's incredibly quiet and also comes in a huge variety of exteriors, handles, and layouts making it easy to seamlessly integrate into the look of any kitchen.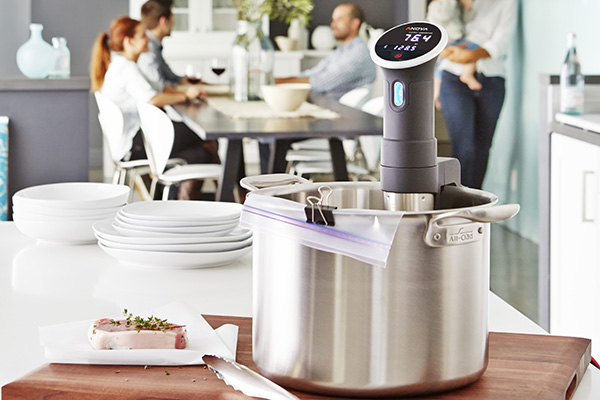 Anova 2nd Gen Precision Cooker WiFi
Sous vide is a method of cooking food in vacuum-sealed bags underwater. Why do you want to do this? Because no matter what you're cooking, it will come out perfectly every time. Professional chefs have been cooking sous vide for decades, but it's recently become a popular way of cooking at home thanks to a number of new immersion circulators designed for the home cook.
There are literally hundreds of sous vide immersion circulators on the market, but our pick is the Anova 2nd Gen Precision Cooker WiFi. Anova's first generation immersion circulator was chosen as the best overall by Reviewd.com and TheSweetHome.com and we're quite sure the second generation will be all that and more.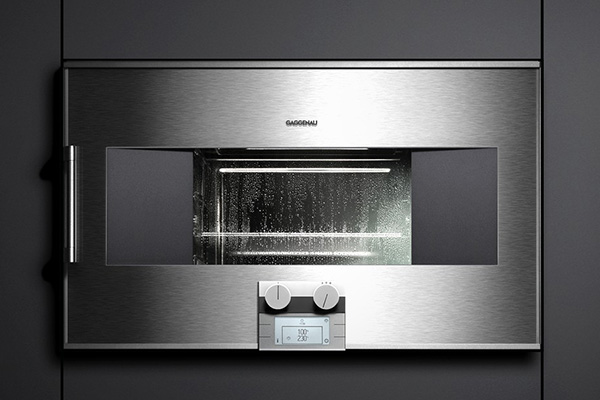 Gaggenau 400 Series Steam Oven
A steam oven is exactly what it sounds like: an oven that uses steam to cook food. Basic steam ovens have a reservoir that you manually fill with water, while high-end models like the Gaggenau 400 Series Steam Oven hook right into the water line for accurate, convenient cooking. The humidity of a steam oven not only helps to keep your food moist, but it also allows you to cook vegetables and rice in the oven.
The Gaggenau combi-steam oven can also cook with convection. It's an elegant combination of modern minimalist design with a slew of high-tech features including a meat probe with automatic shut-off function, automatic boiling point detection, automatic door opening, fully automated cleaning system, and a high-resolution touch-screen interface available in 25 languages.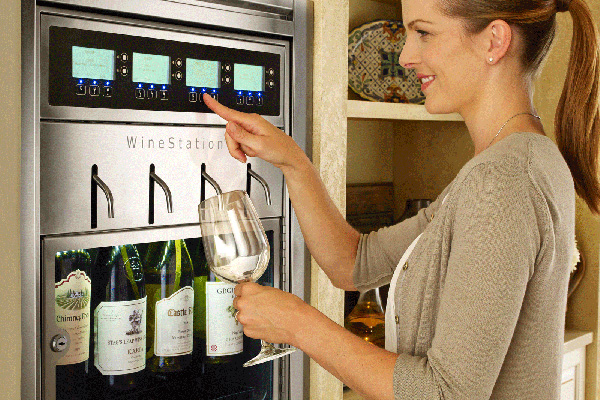 Dacor Discovery WineStation
Love trying new wines? Hate feeling forced to finish a bottle? The Dacor Discovery WineStation is just the answer. This built-in appliance serves up to four bottles of wine at once while keeping your favorite wine selections fresh for up to 60 days without loss of flavor or aroma. It's fully automated and temperature controlled and dispenses just the right amount of wine—a taste, a half glass, or a full glass—with a quick touch of a button on the LCD control pad.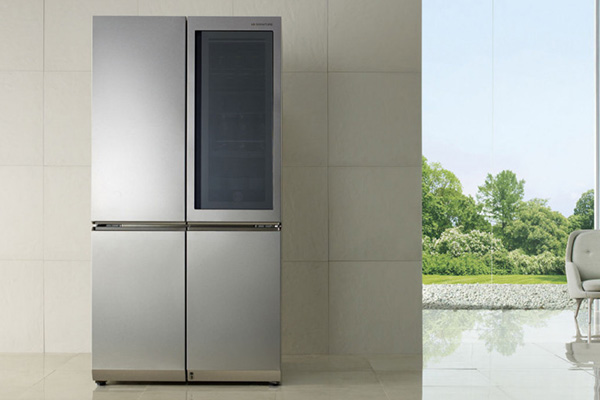 LG Signature Smart Fridge
LG's new Signature line of smart appliances includes the Signature fridge with automatic door opening, an energy-saving smart window, custom chill pantry drawers, and forced air circulation to eliminate odors. The stainless steel finish with scratch-resistant texture will keep this beautifully modern refrigerator looking its best for the lifetime of your kitchen.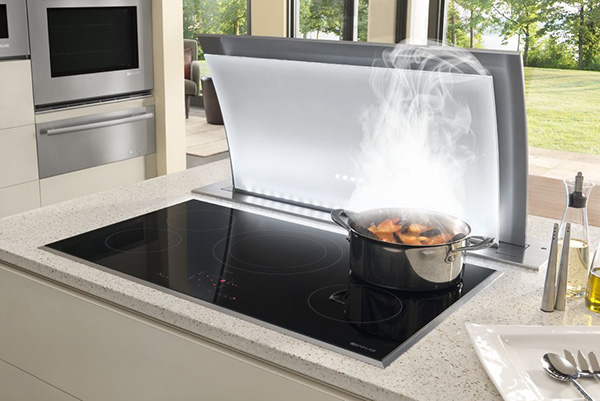 Jenn-Air Induction Cooktop
While we've always been a fan of the professional-grade gas range, the Jenn-Air 36" Induction Cooktop makes a compelling argument for modern induction technology. Available in two styles, black glass or "Euro-Style" stainless, this five-burner cooktop claims to heat up quicker than a traditional gas range, and we can't argue with the sleek look of the Jenn-Air.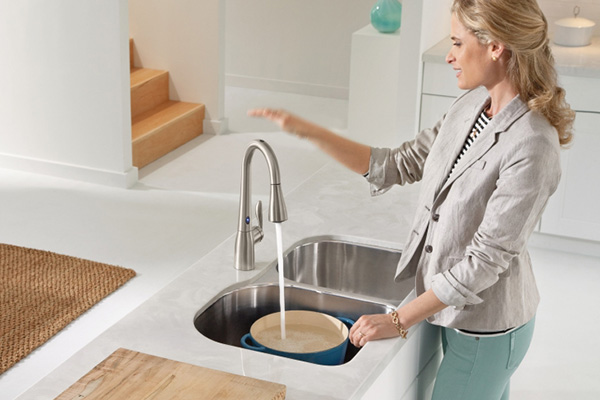 Moen Arbor Kitchen Faucet with Motionsense
Besides making your life easier, kitchen faucets equipped with a motion sensor can also reduce water use, saving you money. Our pick is the Moen Arbor Kitchen Faucet with Motionsense. This is a great one-handle faucet with motion sensors both in front and on top of the arc. The transitional design makes it easy to integrate into either a modern, contemporary, or traditional kitchen, and it comes in three finishes: chrome, oil rubbed bronze, or spot resist stainless. It's received top reviews for style, features, durability, and ease of installation.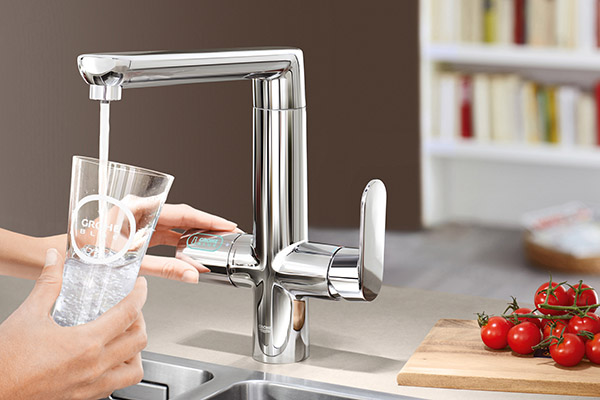 Grohe Blue Chilled & Sparkling
If you drink a lot of sparkling water, you've probably noticed the plastic and glass bottles piling up in your recycling bin, not to mention the time and energy it takes to ship that water from Italy. The Grohe Blue Chilled & Sparkling faucet has won taste tests against some of the top sparkling water brands, and it will save potentially tens of thousands of bottles of plastic waste and reduce energy consumption over its lifetime. With a twist of the wrist, you can choose between filtered and chilled still water, chilled medium sparkling water, or full sparkling water.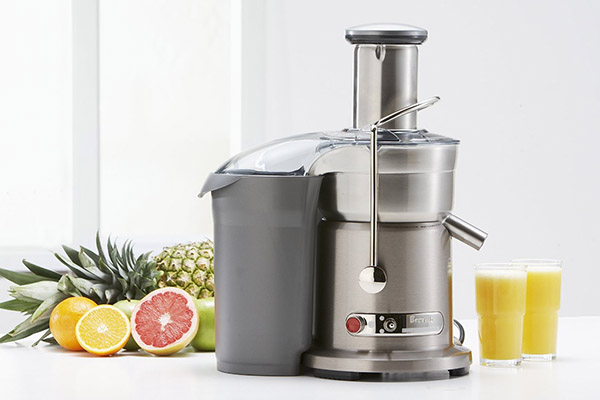 Breville Juice Fountain Elite
We all know we should be eating more fruits and vegetables. To do so, many of us regularly consume a glass or several of juice per day. However, many bottled fruit juices and even vegetable juices contain a significant amount of added sugar, not to mention the nutrient loss by the pasteurization process. Buy by making your own juice at home, it's essentially the same thing as eating the whole fruit, and an easy way to get your vitamins on the go.
The Breville Juice Fountain Elite is basically the king of juicers with a die-cast steel housing and titanium-plated cutting disk, 1000 watts of power and two-speed controls, and a "clean and green" juicer bag for easy cleanup. The Breville juicer can even juice a pineapple with the skin on, and the parts can be put in the dishwasher.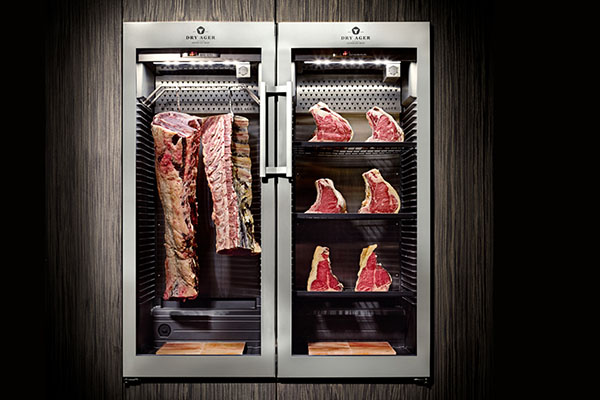 Dry Ager Meat Maturing Fridge
In our modern world, traditional food techniques are experiencing a renaissance. The Dry Ager Meat Maturing Fridge combines modern technology with traditional butchering techniques. While we realize most families won't need to have their own meat drying fridge, this is a must-have in any high-end home kitchen. The fridge can also be used for making homemade charcuterie and storing cheese. Designed and built in Germany, a brand new smaller version of this professional-grade fridge will begin shipping in January 2017.
Ready to plan your kitchen? Download our kitchen design guide