A timeless hardwood floor is a great way to boost the resale value of your home.
When it comes to flooring, there are a lot of options out there: solid hardwood, engineered hardwood, wood composite, laminate, concrete, and carpet to name a few. Well-made laminates are a great cost-conscious option for a high traffic floor, but both realtors and designers alike will tell you that if you really want to make an impression with guests or potential buyers, hardwood is the way to go.
Sustainability
A high-quality engineered hardwood floor can be next to indistinguishable to a solid wood floor, even by a trained eye. So why should you choose engineered over solid? The first reason is sustainability. Wood is a renewable resource, but the demand for wood flooring has increased significantly in recent years to a point of making a solid wood floor in every home an unsustainable proposition.
An engineered hardwood floor requires less wood to construct than solid planks so the finished product is much more sustainable—especially if you're interested in an exotic wood like rosewood or Brazilian cherry—and many engineered hardwood floors like those from Skema are endorsed by the Forest Stewardship Council and the Sustainable Forestry Initiative.
How engineered hardwood planks are made
Engineered wood planks in Skema's Oximoro Ermitage collection are constructed in three layers solid wood each placed with the grain running in opposite directions to create a very stable platform. The top and bottom layers are solid Italian oak and the middle layer is pine. Because Skema's engineered planks are so stable, they are particularly appropriate for use over floors with radiant heating.
Durability
Depending on climate and wear and tear, and engineered hardwood floor should last well beyond your lifetime in the home with no maintenance beyond regular cleaning—although not all brands are created equal. Skema floors are subjected to a series of 13 quality tests that guarantee their quality well beyond the minimum standards set forth by European manufacturing associations. Should you ever want to redo the floor, Skema engineered wood floors are manufactured with a thick top level that could be sanded down and refinished multiple times—but why would you ever want to?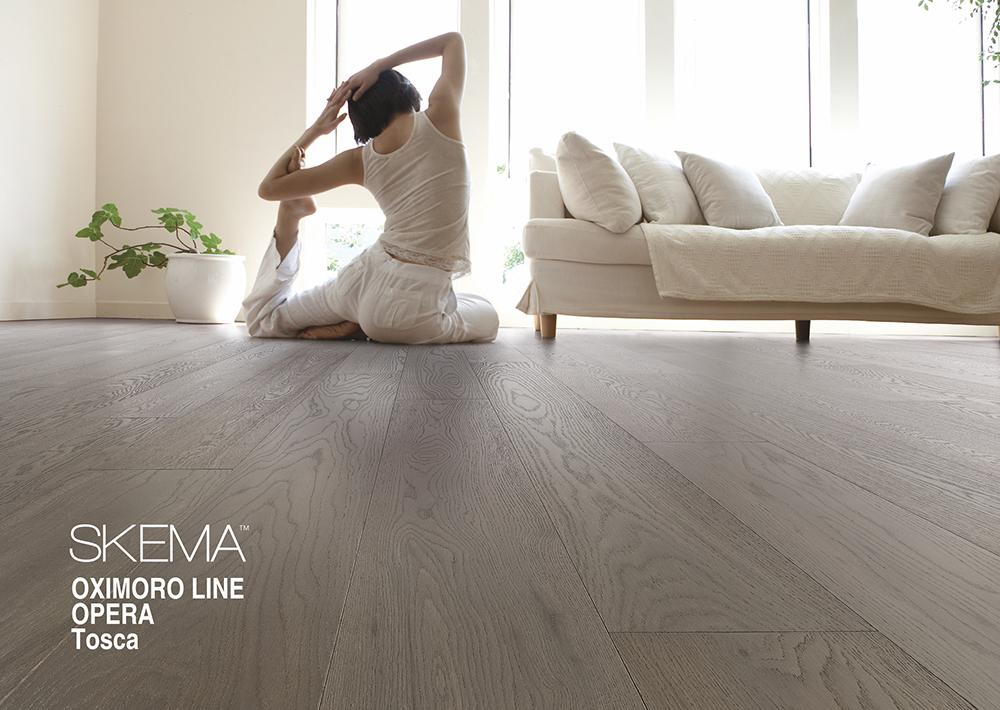 Floating installation
Most of Skema's engineered wood floors are designed with a tongue and groove and suitable for floating installation (although the floor can also be glued if necessary). Floating installation is much simpler than classic installation, and if a board gets damaged for whatever reason, repairs are possible. Floating engineered floors are particularly valuable in homes that see extreme heat and humidity fluctuation between summer and winter; since they're not attached to the subfloor at all, they are free gently to expand and contract under varied weather conditions.
Design choice
Engineered wood floors are available in far greater styles and finished than solid planks. Skema engineered flooring is available in more than 40 colors and more than a dozen plank sizes. There are also a wide variety of unique, custom textures that can be applied to the wood. Your imagination can truly go wild with the choice available in engineered wood flooring.
All Skema flooring comes pre-finished at the factory, which eliminates the time-consuming step of sanding and finishing on installation. The planks are finished with natural oil or pigment for an authentic yet consistent look. As soon as the floor is installed, you can move in and enjoy it!