Cook heart-healthy meals in a flash for your family with these sleek, top-of-the-line wall ovens.
Family life is so busy these days with two working parents, kids heading in all directions for after-school activities, social and professional obligations keeping us out many evening in the week, it might seem like no one has time to cook anymore. But nothing could be further from the truth. Cooking from scratch is making a comeback, whether it's using a pre-measured meal service, or picking up locally grown ingredients at the farmer's market on Saturday, healthy, home-cooked meals are on every family's To Eat list.
Fortunately, new technology is making cooking at home easier and more enjoyable. These professional-grade ovens come with modern features like precision cooking modes, dual convection, Wi-Fi connectivity, wireless temperature probe, and sleek, touchscreen controls.
Our basic requirements for a great wall oven include convection, maximum cooking space, and attractive design flexible enough to integrate into any kitchen—modern, contemporary, or classic. For an accurate side-by-side comparison, we focus on 30" single electric wall ovens. Whether you're planning a new kitchen or looking to upgrade your current kitchen, these are the best wall ovens you can buy if you want a professional quality oven for your home.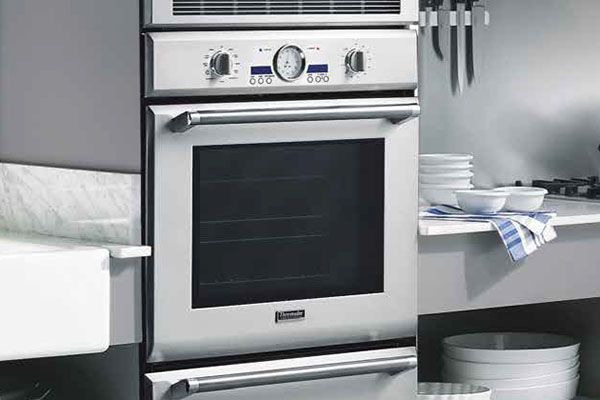 Thermador 30" Professional Series Single Oven POD301J
Thermador's entire range of Masterpiece and Professional Series wall ovens offers impressive cooking power at a lower price point than many other manufacturers in the same segment, but the 30" Professional Series single oven stands out for its built-in commercial-grade rotisserie—you can roast two chickens at the same time and still have room for a tray of root vegetables—and 5,000-watt Maxbroil element. Thermador's super fast pre-heat heats the oven in less than seven minutes, and the oven can self-clean in just two hours. The Speed Convection system reduces cooking time by 30%, and there are 12 pre-programmed cooking modes. You'll also love the SoftClose hinges to prevent slamming the door.
Key Features: 4.7 cubic feet cooking capacity, super-fast pre-heating, Maxbroil function, commercial-grade rotisserie, SoftClose door.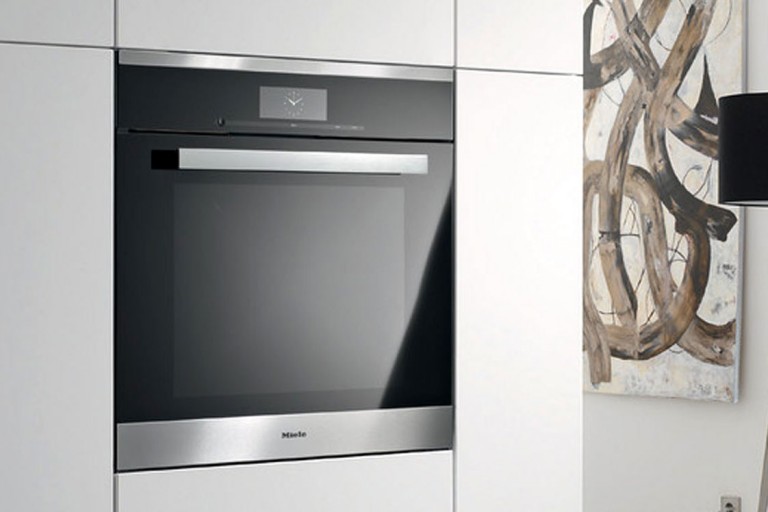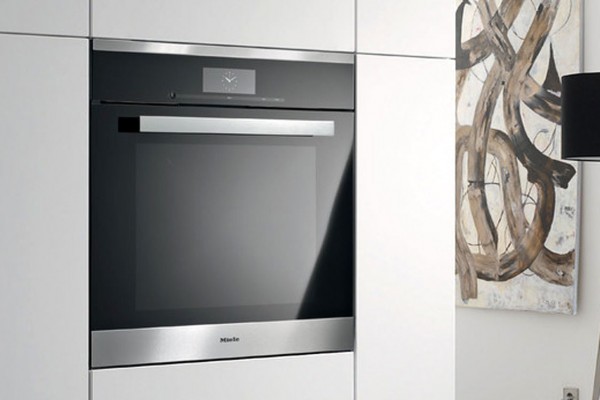 Miele PureLine H 6880 BP 30" Convection Oven
With Miele's award-winning convection oven, we get everything we want in a wall oven—and more. The PureLine H6880 BP 30" Convection Oven is hands down our favorite oven. It features Miele's intuitive new M Touch display, more than 100 MasterChef automatic programs, Moisture Plus for perfect browning and crisping, and a wireless roast probe to let you know when your meat or fish is cooked to perfection. Dual convection fans distribute heat evenly to upper and lower racks, and the Residual Heat Utilization feature, which turns the oven off early and makes use of residual heat to finish cooking your food, makes this oven particularly efficient and economical. With four colors to choose from—black, white, stainless, and truffle brown—this oven will look gorgeous in any kitchen.
Key Features: 4.6 cubic feet cooking capacity, 6 racks, M Touch controls, MasterChef automatic cooking programs, wireless temperature probe.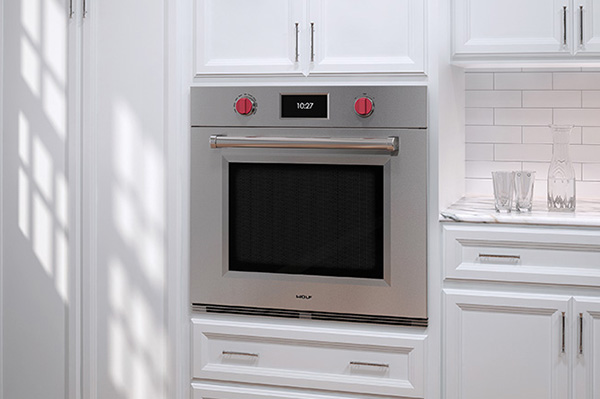 Wolf 30" M Series Professional Built-In Single Oven
The Wolf M Series 30" wall oven offers one of the largest cooking capacities in its class—a whopping 5.1 cubic feet of space. The 10 cooking modes, (Convection, Roast, Bake, Broil, Convection Roast, Stone, Gourmet, Warm, Proof and Dehydrate) and some 50 cooking programs take the guesswork out of cooking any gourmet meal. Wolf's Dual VertiCross convection system guarantees consistent heating and cooking across all racks and the large triple pane window and three bright halogen lights make it easy to monitor the cooking process without ever opening the oven door. There are also a number of additional accessories, like a dehydration kit and temperature probe, for endless food preparation possibilities.
Key Features: 5.1 cubic feet of cooking capacity, Dual Verticross convection, Gourmet cooking programs, 10 cooking modes, interactive color touchscreen.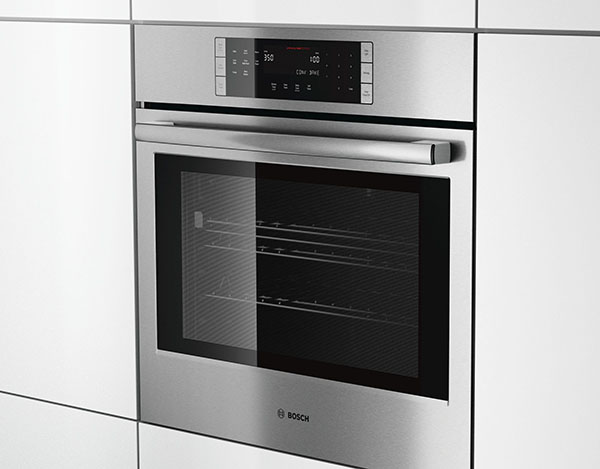 Bosch 800 Series 30" Single Wall Oven
Bosch's 800 Series includes a full range of appliances, from dishwashers to ventilation hoods, and of course, a fantastic 30" wall oven with touch controls, a QuietClose door, and a built-in meat probe. Specialized cooking modes make cooking your favorite dishes easy and true European convection ensures even cooking on all racks. The recessed broiling element maximizes the already generous 4.6 cubic feet of cooking capacity. The oven is available with a left-side or right-side opening door, as well as the traditional drop-down door.
Key Features: 4.6 cubic feet cooking capacity, QuietClose door, built-in meat probe, touch controls.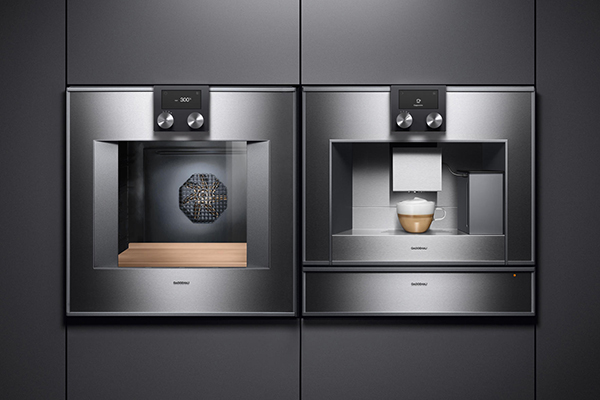 Gaggenau 400 Series Single Oven BO 480/481
The Gaggenau 400 Series Single Oven is one of the most elegantly designed ovens in its class. The brushed stainless steel finish and minimalistic rotary knobs and touchscreen make it more of a functional sculpture in your kitchen, rather than simply a cooking appliance. The display is available in 25 languages, and you'll love the handleless automatic side-opening door. The oven features a built-in meat probe and automatic shutoff when cooking is completed, a baking stone, built-in rotisserie, and multiple timer functions. There are 17 cooking modes and an option to save individual recipes to replicate your family's favorite meals. Have kids in the house? There's also a child safety lock.
Key Features: 4.5 cubic feet cooking capacity, 17 cooking modes, baking stone, rotisserie, automatic door opening, child safety lock.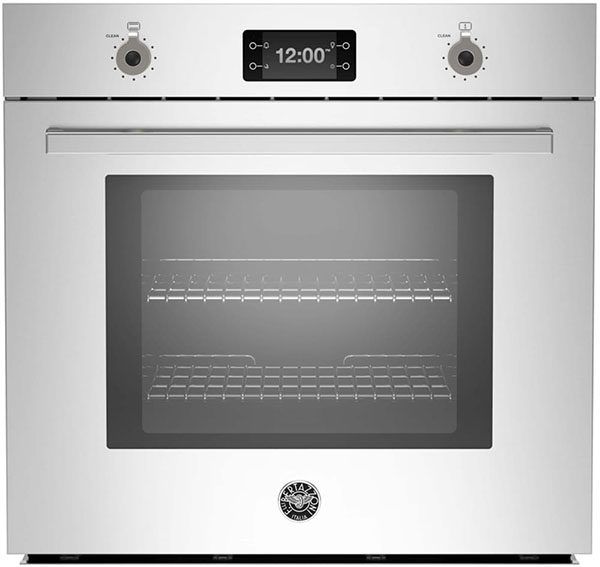 Bertazzoni Professional Series 30" Single Convection Oven with Assistant
Bertazzoni is known for its classic Italian ranges, but the 30" Professional Series Single Convection Oven is a fantastic option for those looking for Bertazzoni's traditional design expertise and the convenience of a modern wall oven. Though it's one of the smaller wall ovens in its class at only 4.1 cubic feet (that may be an advantage in some smaller kitchens), it still offers seven shelf positions on telescopic glides and a dual directional convection system for even roasting and baking without any flavor crossover. Bertazzoni's exclusive Assistant helps you navigate the 33 cooking programs and 11 cooking modes.
Key Features: 4.1 cubic feet cooking capacity, 7 shelf positions, dual directional convection, 33 cooking programs, Assistant.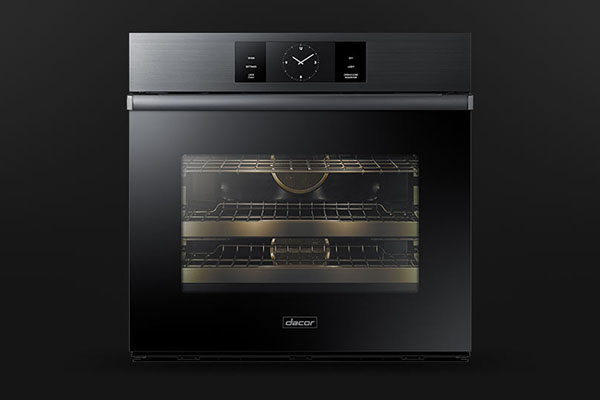 Dacor Modernist 30" Single Wall Oven
New this year, Dacor's Modernist line of kitchen appliances is perhaps the most technologically advanced in its class. Available in Graphite or Stainless Steel, the 30" Modernist Single Wall Oven connects to your smartphone via Wi-Fi and the Dacor iQ Kitchen Connect app. Look inside the oven, control temperature, and cooking modes right from your phone. This American-made brand was recently acquired by Samsung, and well the products will continue to be made in the USA, they will benefit from Samsung's technological know-how. An easily accessible water reservoir offers steam-assisted roasting and baking, and dual convection fans guaranteed even cooking.
Key Features: 4.8 cubic feet of cooking capacity, Smart iQ Control, steam-assisted roasting and baking, dual convection, SoftShut doors.