Stainless steel is one of the most popular choices for a luxury outdoor kitchen.
The fun of cooking for guests outside—poolside, by the sea, or on a panoramic terrace—has popularized the fully functional outdoor kitchen in recent years. Stainless steel is much more than a modern look. Here are seven reasons why it's simply the best choice for an outdoor kitchen.
Stainless steel kitchens are extremely hard-wearing
Stainless steel is a metal alloy known for its hardness and hard-wearing characteristics. It is resistant to impact, corrosion, and extreme temperatures. It's because of these intrinsic characteristics that stainless steel is the material of choice for professional kitchens, and it's also ideal for outdoor kitchens.
But, not all stainless steel is created equal. Abimis uses AISI 304 stainless steel for all of its domestic and outdoor kitchens. This professional-grade stainless steel is perfect for using in chlorine-rich or salty environments.
Stainless steel kitchens are hygienic
Stainless steel is a biologically neutral and therefore antibacterial material. Unlike other metals, stainless steel does not modify the color, the fragrances, or the flavors of food, and it does not release toxic substances, which could contaminate food. This is why it has loon been used to make cutlery, crockery, and food containers, as well as to design industrial kitchens, where hygiene and perfect food preservation are fundamental requisites.
To obtain these characteristics, however, you need to make sure the kitchen is made in austenitic steel, which is also referred to as 18/10 stainless steel or Inox steel. This type of stainless steel includes AISI 304 and AISI 316.
Stainless steel kitchens are easy to clean
The only places where dirt and bacteria can build up in a stainless steel kitchen are the inner corners of compartments and the joints between one module and the next. To make cleaning as easy as possible, Abimis kitchens are welded without joints, the shelves can be pulled completely out, and inner compartments can be made with rounded corners. Simply wipe down surfaces with mild soap and water and get back to your party!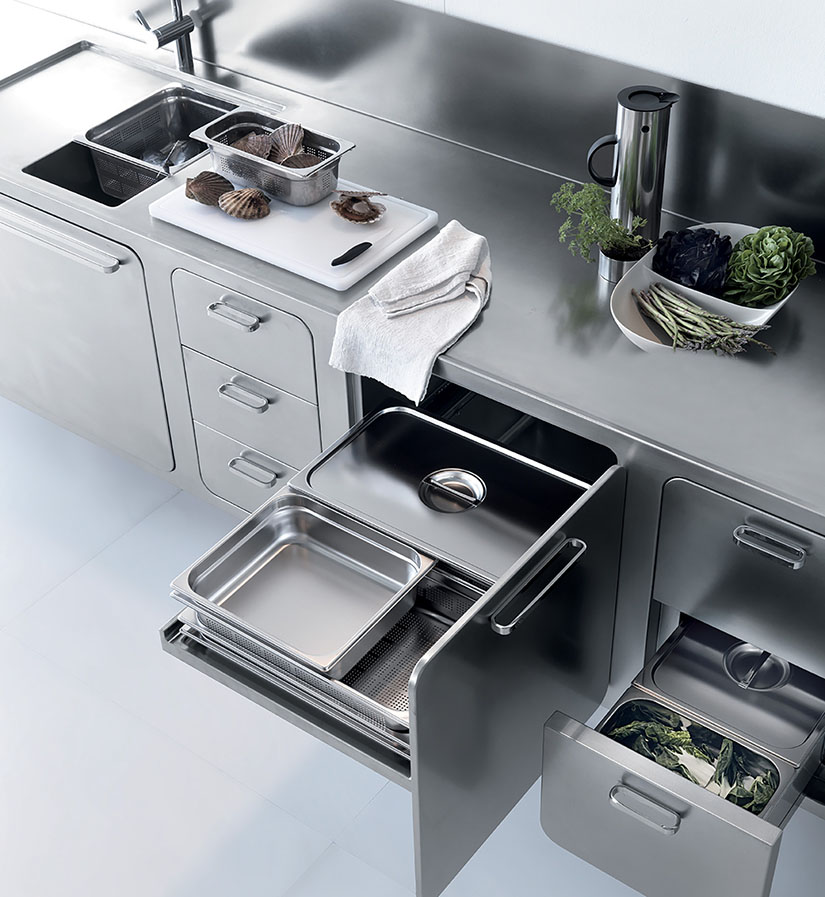 Stainless steel kitchens are 100% recyclable
Stainless steel is 100% recyclable making it an environmentally friendly and sustainable material. And it can be recycled numerous times without ever losing its original properties. Of course, as we'll see in the next point, a stainless steel kitchen is so durable that this problem will likely never arise.
Stainless steel kitchens are practically eternal
When well-made using prime quality materials, stainless steel outdoor kitchens are virtually eternal. Stainless steel is a very hard-wearing material that does not age or change over time. Unlike wood or tile outdoor kitchens, which can warp or chip, stainless steel kitchens have a much longer life. Even in the event of scratches, they can simply and easily be restored as good as new. A stainless steel outdoor kitchen is considered to be a genuine investment for the future and added value for any home.
Stainless steel kitchens are designer objects
Professional-grade stainless steel outdoor kitchens are not just practical, hard-wearing, and functional. They're also genuine designer sculptures that bring a touch of "industrial" transgression into the home. Indeed, stainless steel kitchens blend seamlessly with both modern and traditional homes.
Stainless steel kitchens can be made in several finishes. Matte finishes in orbitally-polished stainless steel give the kitchen a warmer appearance and reduce the visibility of fingerprints and small scuffs. Polished or mirror finishes give the kitchen a brighter and decidedly more contemporary look. Stainless steel can also be painted, and Abimis offers an extensive color palette ensuring easy integration into any design and uses automotive industry painting techniques guaranteeing a uniform application highly resistant to wear.
Stainless steel kitchens are a favorite among great chefs
Professional chefs have always chosen stainless steel for their kitchens—in their restaurants and at home—because they are practical, hygienic, ergonomic, hard-wearing, easy to use, and to clean. Abimis outdoor kitchens are custom-designed for individual needs and equipped with a range of tools and appliances.
Choosing a stainless steel outdoor kitchen for your home means demanding the highest quality the market has to offer. European Cabinets is the exclusive Northern California retailer of Abimis outdoor kitchens. Visit our Palo Alto showroom to learn more!
Make an appointment to visit our Palo Alto showroom