Add these design features to bring style, efficiency, and luxury to your walk-in closet—one of the most important spaces in your home.
A well-designed walk-in closet should feel like stepping into your own private boutique with all of your beautiful clothing and accessories on display. Not only does this make getting dressed an enjoyable experience, but it also makes it much easier—gone are the days of digging through a drawer to find a favorite shirt, only to pull it out in a wrinkled mess.
Whether you're designing a new closet from scratch or looking for ways to refresh your current closet, follow these design ideas to create an elegant and efficient space you'll enjoy.
Closet island
A closet island is basically a dresser built into your walk-in closet, and just like a kitchen island, can serve a number of different purposes. Custom closet islands can have drawers for jewelry and watches, lingerie, stockings, and underwear. The countertop is a valuable surface for folding or organizing clothing or placing newly purchased items before they're put away. The island could also have power for charging phones, smart watches, or other small electronics.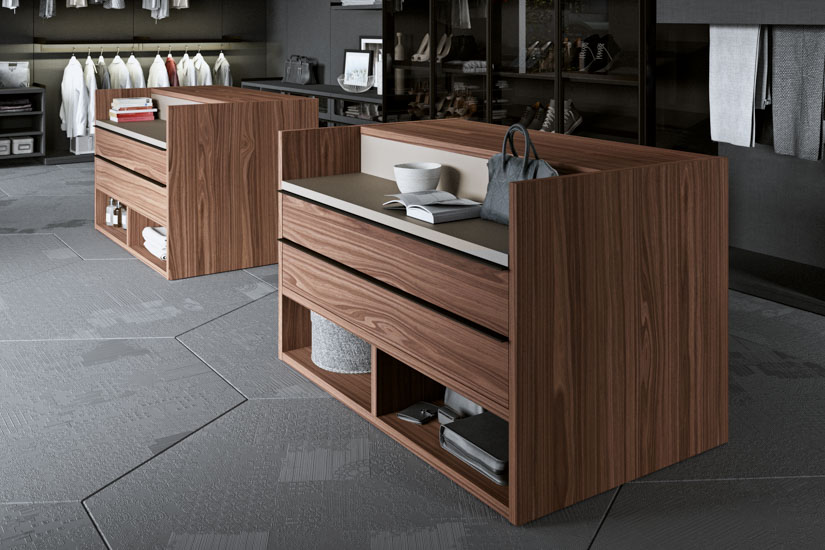 Drawers for jewelry, watches, and other small items
No custom closet is complete without specially designed drawers for jewelry, watches, and other small items like sunglasses, scarves, brooches, cuff links, wallets etc. Store items used most often higher up for ease of access. Drawers for precious items can be lined with velvet or satin.
A safe
Speaking of jewelry and watches, certain valuable items may best be kept in safe or at least locked drawers. While you may have a safe in your office for important documents, a second small safe hidden behind a cabinet door in your closet is a convenient place to keep valuable accessories.
Shelves for hats and handbags
Expensive hats and handbags are best stored on a shelf, and if possible, behind a glass door to keep dust off of them. How many shelves you need and what size they are depends on the type of hats and bags you have—a lot of large day bags and wide-brimmed beach hats, or primarily small evening clutches and bowlers? You'll need shelf space for both. Clutches could also be laid out neatly in a drawer.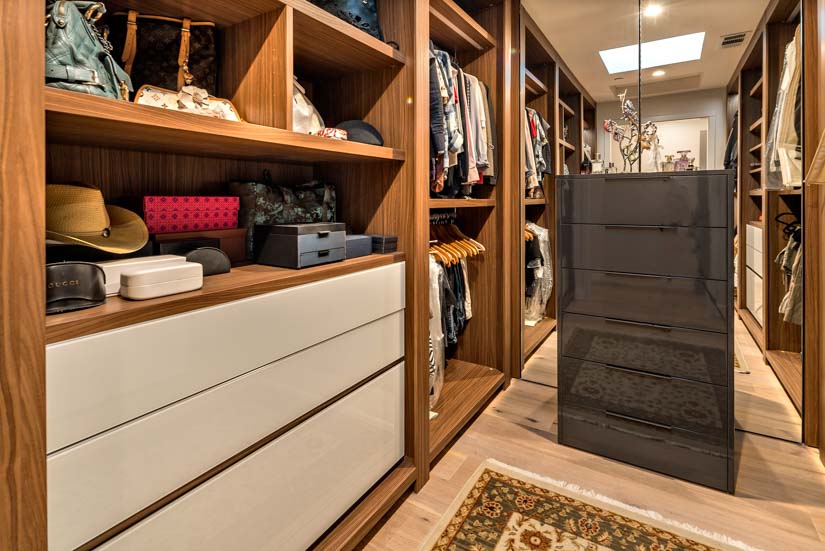 Dedicated shoe system
Show off and protect your shoes and boots with dedicated shelving—and not just underneath all of your hanging rods. If you have a lot of shoes, you may dedicate an entire wall. Group like pairs together with regularly worn pairs at an easily reachable height—eye level or slightly lower. If space is an issue, consider pullout shelves with double racks to store pairs of shoes two deep.
Elegant lighting
A closet should have at least three types of light: Overhead recessed lighting for general lighting, integrated LED lighting under or behind shelves and racks to highlight accessories and a beautiful chandelier for personality and mood. You'll also want dedicated lighting for the dressing table if you have one.
Full-length mirror
Whether you add a standalone mirror, mirror-covered cabinets, or a mirror-covered wall, a full-length mirror (with good lighting) is essential to any dressing room. If your walk-in closet is on the small side, a large mirror can also give the illusion of more space.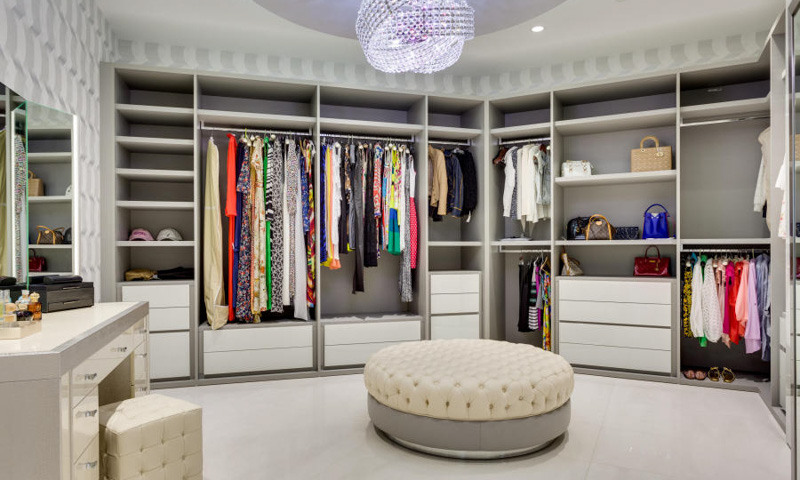 Valet rods
Once you get used to having valet rods in your walk-in closet, you'll wonder how you ever got along without them. You may use it to hang items while packing or unpacking for a trip, to temporarily hang a new outfit, as a place to collect items that need ironing, or all of the above and probably more.
Built-in laundry hamper
No one likes the sight of an ugly plastic laundry basket lying around. A well-designed walk-in closet will have at least one built-in laundry hamper, but you could also have more. His and hers hampers or a series of hampers for darks, lights, and delicates are a great idea.
Ironing board
While most of your ironing may get done in the laundry room, having a small foldout ironing board in your walk-in closet is wonderful for quick touch-ups when you're trying to get out the door quick.
Seating
An elegant ottoman, chair, or, if you have the space, a small sofa is a great addition to any walk-in closet. It's practical as a place for putting on and taking off your shoes or stockings, and a dignified suggestion of luxury.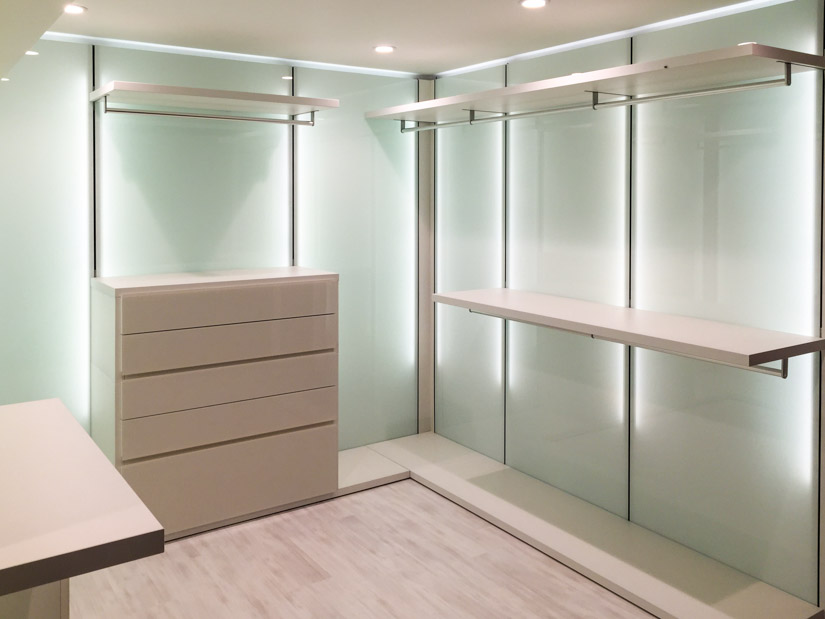 Dressing table
A dressing table with a vanity mirror is one of those items that's really not necessary—after all, cosmetics, perfumes, and other grooming tools are easily kept in the bathroom—but once you have it, you'll wonder how you survived without it. A vanity has to have excellent lighting, so consider LED sconces that have adjustable brightness and color temperature. You'll also want to have a small stool to sit down at the vanity.
Beverage station
If you are one of those people who simply cannot face the day without a cup of coffee or tea, you should consider adding a small beverage station in your walk-in closet. You'll want to have countertop space for the coffee maker, cabinet space for clean cups, and a small fridge for storing milk or cream. The same small fridge may also store a few select evening beverages for sipping while dressing to go out.
Artful touches
Finally, once the layout of your closet is determined, you can add a few artful touches. This will likely start with organizing similar items by style and color, and go on to include favorite framed photographs, decorative books, fresh flowers, or a piece of art if you have the wall space. You could also display a favorite piece of clothing on a vintage mannequin or put a stylish rug in the center of the room.
Explore Custom Closets