Five Bay Area kitchen designers chime in with their picks for this year's top kitchen color trends.
Ready to kick off a major kitchen remodeling project this year? We polled six Bay Area interior designers to find out the top color trends. Our designers agree: deep grays, blues, and that ever-popular white on white will reign this year.
Alexandra Berkovich of European Kitchens & Design Studios says shades of blue, ranging from bright, cheerful blues to deep hues will be popular. "It's barely February, and already several customers have come into our store asking for kitchen cabinets in blue," says Alexandra. "This is the case for customers looking for modern kitchens as well as traditional kitchen designs."
Tineke Triggs of Artistic Designs for Living in San Francisco expects to see blue as well as black and dark gray colors. "Dark colors tend to act as a base, to help the walls recede. But in the kitchen, dark cabinets make a strong visual statement and hopefully add interest to the countertops and textural accents we often find in the backsplash," she said. "You shouldn't be afraid to make a bold design statement [in a room] where people converge."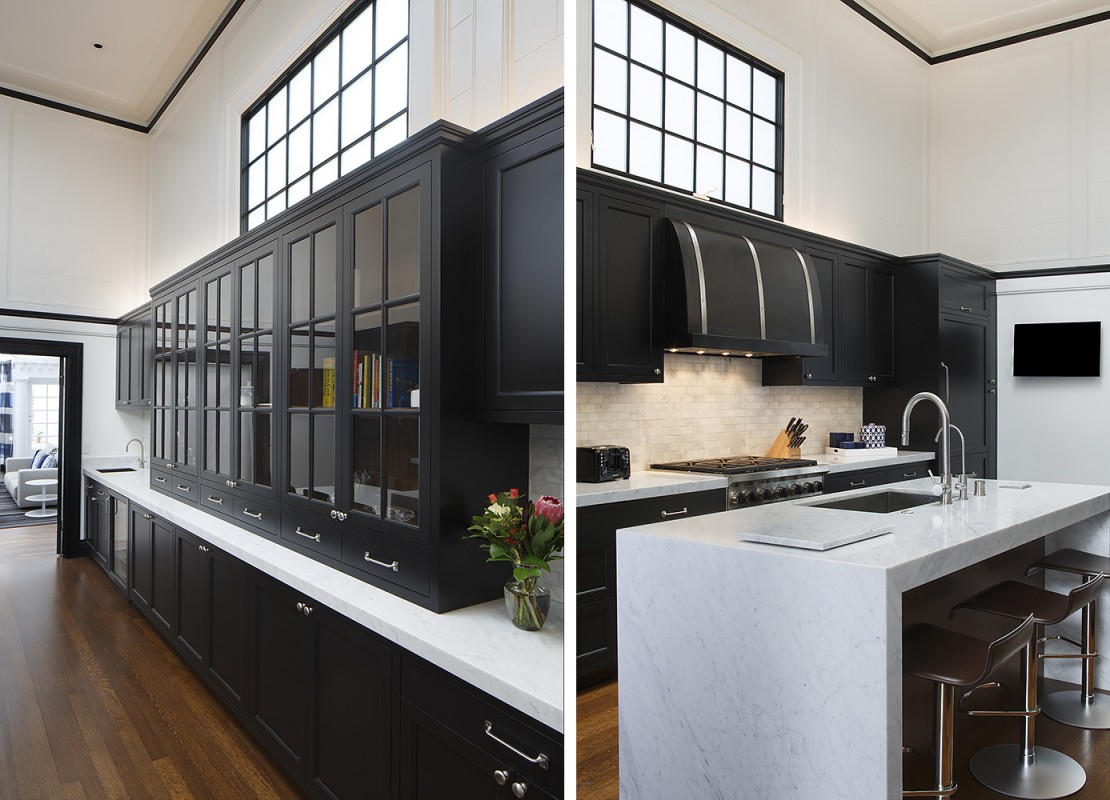 Anisha Kumra of VIZU Design Studio says she expects dark on dark and white on white kitchens to be the most popular this year. "Black or deep gray on black or deep gray, or white on white will be really popular for the most of the hard finishes and surfaces like counters, cabinets, backsplash, and flooring—and with a pop of a highly saturated hue or single color gradient on one of the surfaces."
"We expect to do a lot of white marble or quartzite counters with white backsplashes & a contrasting grout," Anisha added.
"I see white as the winning color for 2015," agrees Sunnyvale's Lucile Glessner. "Bright and glossy white laminate, matte glass, or painted wood give a pure, clean look to a room." Lucile expects white will continue to be popular for both traditional and contemporary kitchens for a long time to come.
When it comes to the material for backsplashes, glass tile is on its way out, says Anisha. "There's a movement towards ceramic, porcelain, natural stone, or warm metallic tile."
Mary Jo Fiorella of Fiorella Design located in the East Bay says her clients continue to ask for white kitchen cabinets often with a gray or wood accent island color. "My prediction is that people will keep with white and gray tones so that they can add color accents in their paint color, dishes, and other details as trends change," she said. "People want something that will be timeless for the next 10 to 15 years."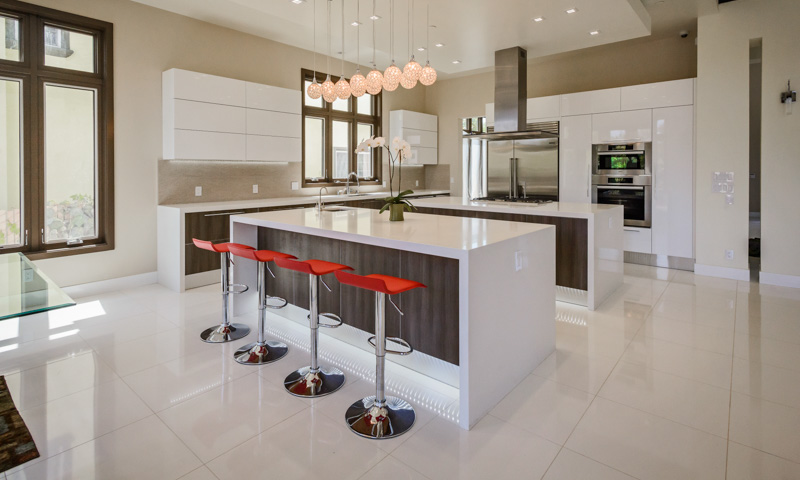 "This white monochromatic palette is being contrasted and spiced up by a mix of wood or another textured material for the island cabinetry and/or lower cabinetry," said Lucile.
Saturated accent colors will add texture and warmth. Alexandra says magenta will be popular, while Anisha expects to use natural wood accents like at the base of an island or for the handle pulls on lacquered cabinetry. "Plants, herbs can be added on walls thanks to the vertical living wall trend and add an organic touch," adds Lucile.
Ready to plan your kitchen? Download our kitchen design guide