Style, value, and hygiene—three reasons to choose the only true rimless kitchen sink on the market.
Stainless steel is by far the preferred material when it comes to kitchen sinks, especially in modern homes. Stainless steel sinks are typically either top mounted or under mounted. Top-mount or drop-in sinks have long been the go-to option until under-mount sinks hit the consumer market.
A top-mount sink has a visible lip around its perimeter that rests flat on the countertop. The sink basin drops straight into the countertop cut out, and the perimeter lip holds it in place. Drop-ins are secured by hidden metal clips under the countertop as well as a bead of silicone caulk under the sink's edge.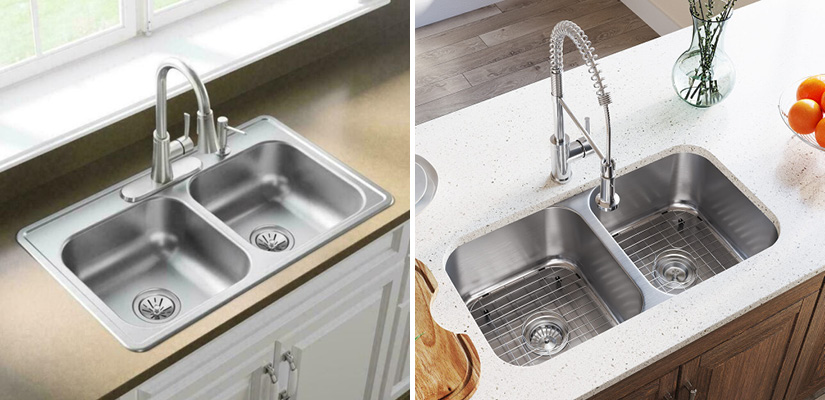 Under-mount sinks are mounted to the bottom of the countertop and held in place by heavy-duty clips and caulk or silicone. An under-mount sink has a rim, but it is not visible because it rests up against the bottom of the countertop. The edge of the countertop along the sink cutout is entirely exposed.
But now there's a third option: rimless. A rimless (also called seamless or flush-mount) sink is attached flush to the countertop surface for a sleek, vanishing-edge appearance. TopZero is the only true rimless kitchen sink.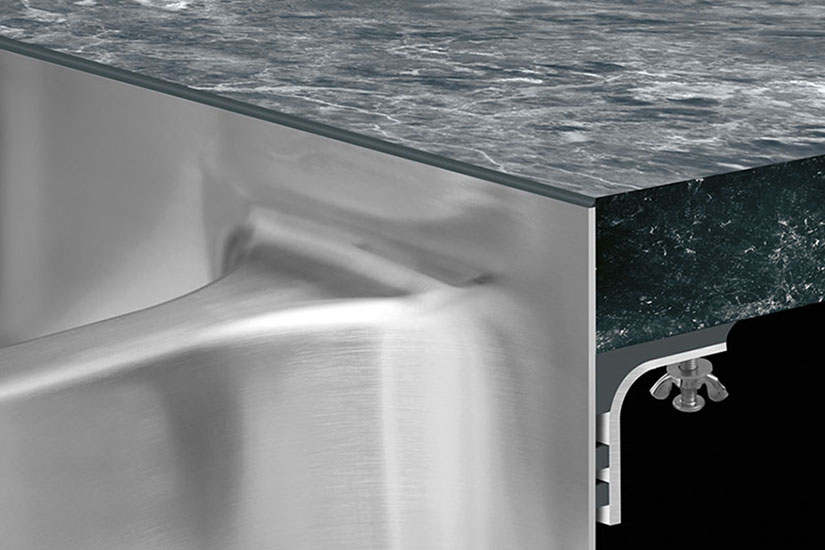 What makes TopZero sinks different:
First, hygiene. Whether a sink is self-rimming or mounted under the counter, it's sealed with caulk or silicone. Over time, moisture around the sink will degrade, blacken, and eventually peel off the seam creating a gap between the countertop and the sink where bacteria and mold will grow. The result is unsightly and, more importantly, unhealthy.
TopZero sinks are permanently integrated with the countertop using acrylic adhesives so that the sink becomes a seamless part of the countertop—and no longer a breeding ground for bacteria and germs. Furthermore, TopZero sinks are handmade in Europe using premium 18-gauge type 304 medical-grade stainless steel, which is non-porous, rust-free, and extremely durable.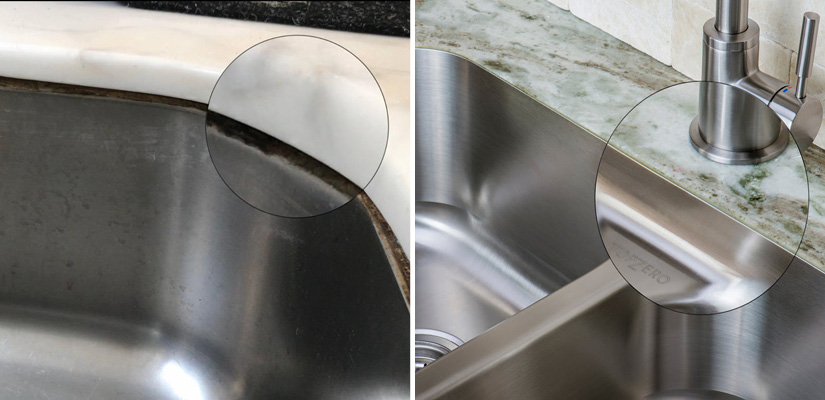 Second, value. The initial cost of a new TopZero sink is usually more than a traditional under-mount sink; installation requires a more precise cut and a skilled fabricator, but the result is picture-perfect. While a standard under-mount sink requires frequent service calls to get the counter-sink joint cleaned and re-caulked, the patented design of a TopZero sink requires no further maintenance making it less expensive over time.
Third, aesthetics. The vanishing edge of a TopZero sink offers a high-end look, like an infinity-edge pool. The appearance of a stainless steel TopZero sink built into a granite, quartz, or porcelain countertop is sleek and modern.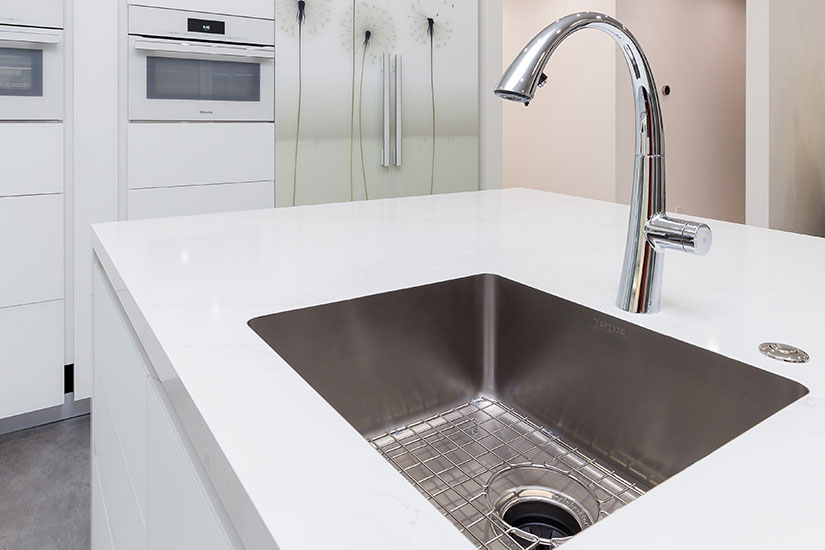 TopZero sinks come in a variety of styles, including oversized single bowls, double bowls, medium bowls combined with a drainer, and TopZero's own unique shape, all available with either square or rounded corners. They can also be combined with a selection of modern and convenient accessories—wood or glass cutting boards, a drying rack, or a colander—and are undercoated and padded for sound deadening and condensation.
There are many excellent modern kitchen sink manufacturers, but we think once you see a TopZero sink side by side with any other brand of stainless steel sink, you'll choose TopZero every time.
Ready to plan your kitchen? Download our kitchen design guide