A comprehensive guide to choosing a new front door that will keep your family safe while increasing the value of your home and reducing your energy bill.
The front door is the first and last thing your guests will see, so you want it to make an impression, but more importantly, you want it to keep your home warm (or cool) and your family safe. It's also a great investment for your home: an energy-efficient door can save you 10% on your energy bill, and on average you'll recoup nearly 100% of the cost on resale.
Home entry doors are often referred to as door systems because it's not just the door you're buying, but the frame (see insulation below) and locking mechanism as well. The standard pre-hung front door is 30–36 inches by 80 inches. There are plenty of options available if you have a standard size front door, but if not, you'll save a lot of time and headaches ordering a custom front door—Oikos front doors with a pivot hinge are available up to six feet wide and 11 feet tall! Custom front doors are nearly always made from a palette of modifications available for standard door design.
Here's what you need to consider when choosing a new front door:
Material
The three primary materials used to make front or side entry doors are fiberglass, steel, and wood. A modern front door system will likely combine two or more of these materials. Oikos custom front doors are built with a steel frame and high-tech insulating core. The outside of the door is finished in any one of a number of custom materials: steel, wood, porcelain, concrete, glass, or lacquer. Each of these materials is available in a variety of textures and colors, and two or more materials can be combined for a truly unique look. Also, you can choose different finishes for the interior and exterior surfaces of the door.
Wood remains the classic choice for entry doors offering the high-end look consumers desire along with excellent resistance to dents while scratches are easily repaired. The most common woods used to make doors are walnut, cherry, oak, mahogany, maple, pine, and fir. When it comes to solid wood doors, the devil is in the details; a thicker door with more intricate carvings and moldings is generally a better door. However, a wood door does need periodic varnishing or painting to keep it looking its best. A solid wood door should be inspected closely once per year for signs of damage or extensive wear and tear.
Steel is the most versatile and cost-effective material offering excellent weather resistance and security. Steel is stronger than wood or fiberglass and it won't crack or warp. Premium steel doors are typically built with an inner steel frame and high-density foam insulation. A steel door doesn't have to look like steel; custom steel doors are available with a stainable wood-fiber coating, laminated-wood veneer, or a range of other finishes.
Glass is gaining in popularity as a must-have material for residential exterior doors. Glass may seem like a "less secure" material, but modern glass safety doors include all the security measures necessary to keep your family safe and sound.
Fiberglass is the most common choice. It's resistant to wear and tear, can be painted or stained, is available in a variety of textures, and requires little maintenance. However inexpensive fiberglass doors can crack under impact and should be avoided. A quality fiberglass door will be on the high end of the price scale.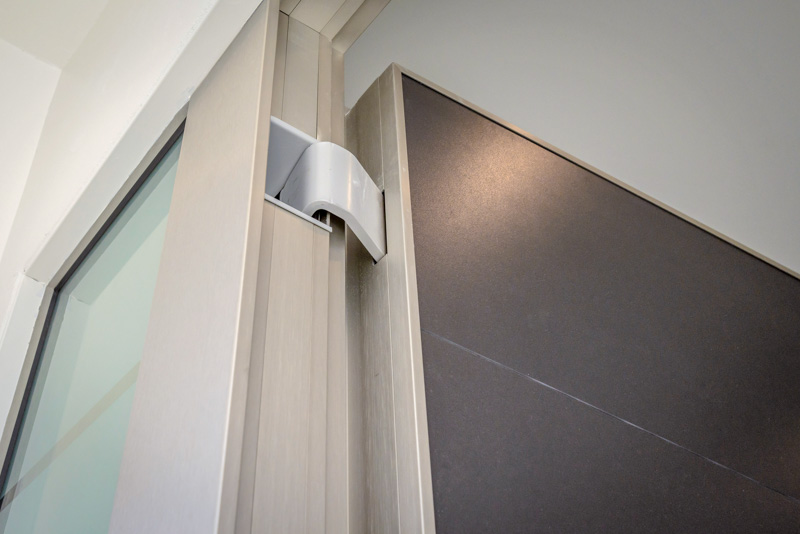 Hanging design
The typical exposed three-hinge system is not the only way to hang a door. Modern front doors are also available with hidden hinges or set on a vertical pivot, which allows for a wider opening range and greater brightness. No matter what hanging system you choose, the hinge or pivot can be located on either side of the door.
Insulation and energy efficiency
Steel and fiberglass front doors typically offer better insulation against the elements than wood doors, but the majority of heat loss is usually due to air leaks around the door, rather than through the door itself. When you're choosing a door, the quality of construction of the doorframe is just as important as the door, as is the quality of the design integrating the door and the frame—the weatherstripping should seal properly and the threshold should lock smoothly with the bottom edge of the door.
Modern front doors generally aren't made of a single material, but rather a sandwich construction of several materials designed for maximum insulation and safety. The highest quality steel and fiberglass front doors are designed with a thermal break, which is a heat-resistant material placed between the inside and outside skins to prevent heat and cold from being conducted through the skin and frame, which can lead to frost forming on the interior surface.
Security
When it comes to security, no matter what material a modern entry door is made of, steel, wood, or fiberglass, they are relatively equal when it comes to strength. Where they fail is at the locking mechanism. Look for a door with a deadbolt that's at least one-inch long and a reinforced metal strike plate. Oikos front doors are available with up to six locking pins, making them virtually impenetrable.
If you choose a front door that includes a window or side window, the armored glass should feature a double certification: bulletproof and sledgehammer-proof. Glass should also be glazed to further resist break-ins.
Modern locking systems include keyless entry either via a smartphone or a transponder, keypad entry, or RFID entry.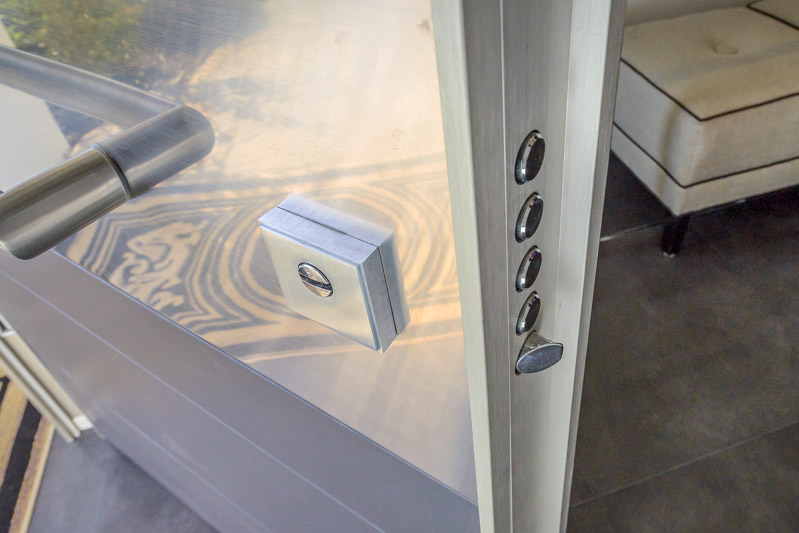 Swing
Exterior doors are generally designed to open in, however, depending on your needs, a custom exterior door could be designed to swing out.
Color
Natural varnished wood is always beautiful, but if you want to make a little bigger statement, bold colors like orange, red, blue and green, high-gloss black, and stainless steel have been popular in recent years. When choosing a color, you should take into account the local climate and style of your community as well as the design of your home.
Installation
Avid DIYers could probably manage to install a standard pre-hung front door, which comes as a kit with the door already mounted in the doorframe with the hinges pre-installed and lockset and deadbolt holes already bored. However, if you've never installed a front door before, or if your project requires and modifications to the size of the opening, you'll want to work with a professional installer. (We offer professional installation for all our front door systems.)
See all our custom front doors