Much more than just a sleek, modern look, stainless steel is incredibly versatile, eco-friendly, and long-lasting.
Stainless steel has long been the choice of professional chefs because it's practical, hygienic, ergonomic, hard-wearing, and easy to clean. In the home, stainless steel is a popular choice for appliance finishes in a modern kitchen, but it's also an ideal material for an outdoor kitchen, especially for those who love to entertain.
Modern design increasingly considers the outdoor hardscape to be an extension of the interior. And just as the kitchen is the heart of the home, the outdoor kitchen is the preferred gathering place for friends and family. Abimis, a renowned Italian manufacturer of professional stainless-steel kitchens, has recently unveiled a new line of bespoke kitchens, designed specifically for outdoor settings.
What makes an outdoor kitchen? It's a lot more than a having a built-in grill. An outdoor kitchen can be designed for any space large or small, but generally constitute a cooktop as well as a grill, refrigerator, sink, and storage—everything you need to prepare a meal from start to finish.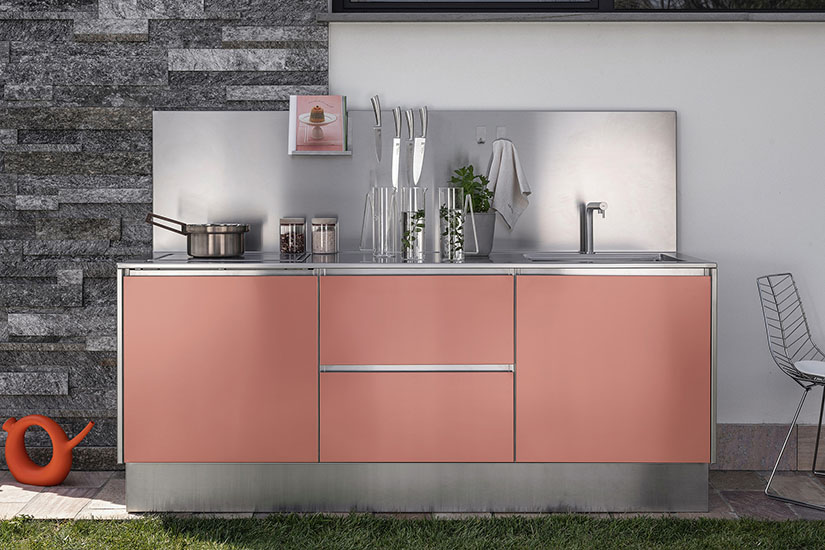 Stainless steel is a metal alloy that is highly resistant to impact, corrosion, and temperature. It's also non-porous, keeping germs at bay, and unlike wood, stainless steel will never warp. But not all stainless steel is created equal. Abimis uses AISI 316 stainless steel, an alloy that is particularly suitable for settings that are rich in chlorine or salty air, for example near a pool or ocean. Abimis outdoor kitchens won't rust, and they are 100% recyclable—not that you'll get tired of it any time soon!
While an outdoor kitchen is exposed to wind, rain, and all sorts of atmospheric agents, stainless steel requires very little maintenance. Abimis kitchens are custom-made with joint free worktops and integrated sinks to minimize the nooks and crannies where dirt and bacteria could hide. Simply wipe down surfaces with mild soap and water and spend more time with your guests and less time cleaning up.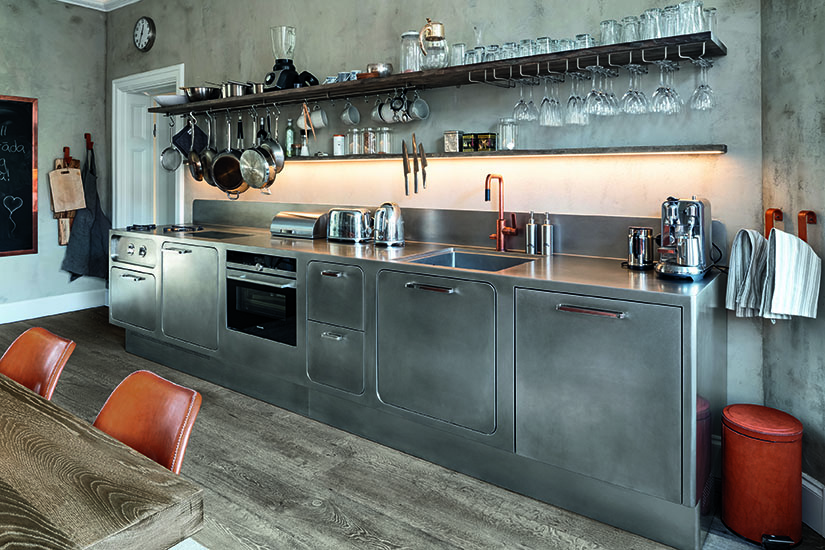 Before you start designing your outdoor kitchen, think about how you plan to use it. Will you host primarily larger gatherings, intimate dinner parties, or casual get-togethers with close family?
No matter what type of outdoor entertaining you like to do, Abimis has the solution. Abimis modular kitchens are highly customizable, from the design of the modules to the choice of finishes and appliances, and offer same functions and performance as any interior kitchen. Every unit is custom-made in Italy by highly skilled craftsmen, guaranteeing quality and performance.
Choosing a stainless steel outdoor kitchen for your home means demanding the highest quality the market has to offer. European Cabinets is the exclusive Northern California retailer of Abimis outdoor kitchens. Visit our Palo Alto showroom to learn more!
Make an appointment to visit our Palo Alto showroom