Top designers and savvy homeowners are taking the feature wall in a whole new direction.
Whether you want to make a statement in a room or simply have small space that needs to impress without overwhelming, adding a feature wall is a great way to create an unforgettable room.
You could always use a contrasting paint color to create instant drama in a room, but today top designers and savvy homeowners are taking this idea in incredible new directions including using recycled and reclaimed materials or adding personal pieces that make a bold statement.
"Wallpaper, wall murals, and paint will continue to be used," she says, "and I see a swing towards the use of mixed materials, such as painted sections with timber molding or feature tiles," designer Amanda Kiley of Omni Interiors told Houzz.
We've rounded up the most original and modern living room feature wall ideas—and tell you how to use them.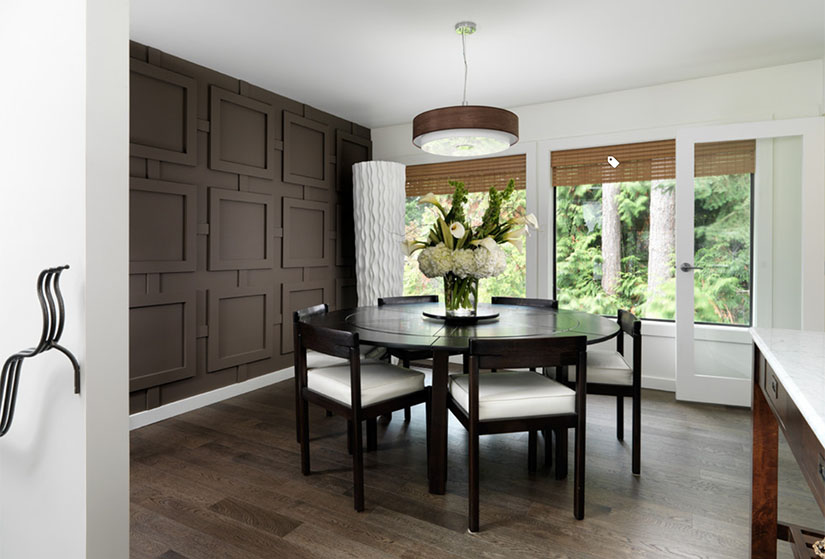 Unique wall paneling
Creating a custom texture or pattern on a painted accent wall is a unique but subtle way to use wall space, especially in a modern or minimalistic home. You could also wrap boards in an unusually textured cloth for an extra tactile accent.
To get the look: If you're design-oriented and handy with a table saw, you could use a home computer program like Photoshop to come up with your own design and map it out onto the wall. After cutting and installing the pieces, finish with a complementary paint color.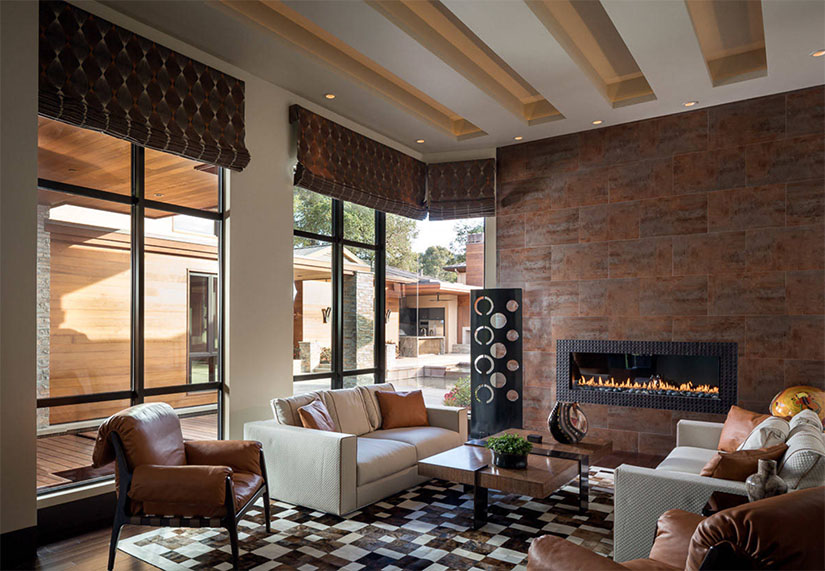 Fireplace accent wall
Gas fireplaces don't require a traditional mantle but a fireplace wall makes a stunning centerpiece in a modern home.
To get the look: First, choose the fireplace—Montigo is a good option—and then choose either a stone slab or modern tiles for the floor-to-ceiling fireplace surround.
The ultimate gallery wall
The set of Odd Mom Out closely resembles the real-life New York City townhouse of writer, producer, and star Jill Kargman, which features the ultimate gallery wall—a curated combination of pieces that reflect her taste and her personality.
To get the look: Frame each piece in a unique but not overwhelming frame. Then trace the pieces onto cardboard and label so that you can plan out your wall. Finding balance in both of the size of the pieces and the color, tone, and texture is crucial to creating a successful gallery wall.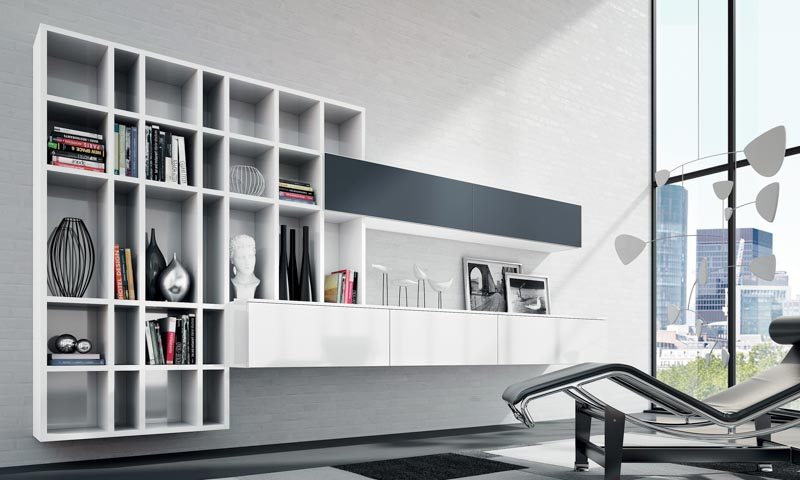 Statement storage
Form and function go hand in hand with these beautiful storage cabinets designed especially for use in the living room. They're part of Aran Cucine's Bella cabinet collection so it's easy to blend an open kitchen and living room. The integrated cabinets and shelving come in a variety of geometric shapes and bold colors and textures and provide plenty of space to store or display home entertainment equipment, books, and favorite art pieces.
To get the look: Set up a complimentary consultation at European Cabinets to see the full range of cabinet options.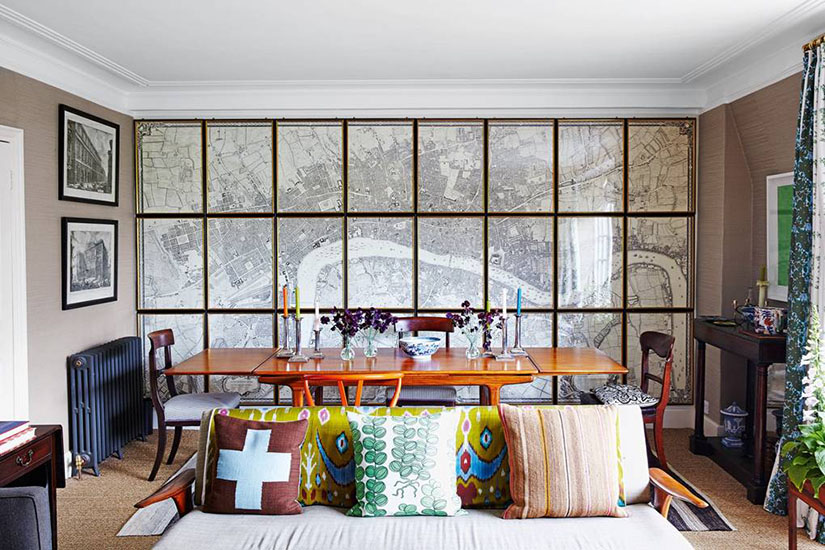 Vintage map
"In this new age of GPS, Google Earth and multidimensional digital maps, mapping is suddenly hugely relevant again," said art curator and historian Hans-Ulrich Obrist. A vintage map is a classic touch in any home modern or traditional. It can either recall a favorite place or voyage or inspire the next one.
To get the look: There are a number of websites selling vintage and replica maps. Choose a map that's meaningful to you. For the most dramatic look, have a good photo printer divide and print it. Frame sections and hang in a grid.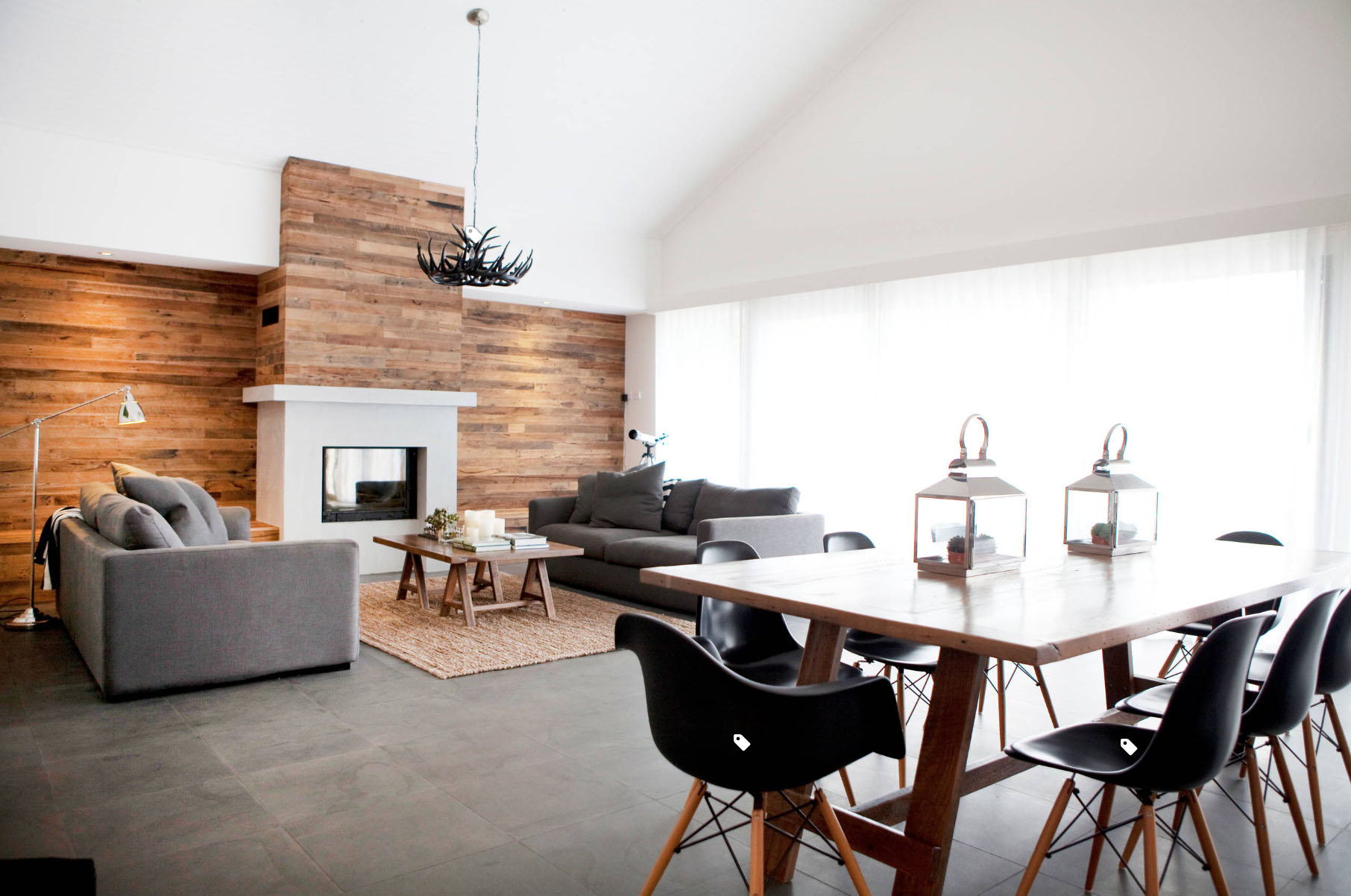 Reclaimed wood
Reclaimed wood has been used for everything from mirrors to tables to staircases to bathroom vanities. Now, it's being used to cover entire walls.
To get the look: Italian flooring manufacturer Skema also offers a line of wall coverings made of reclaimed and recycled wood. This wood often has a unique appearance that can't be matched by any type of process designed to distress new wood. Set up a complimentary consultation at European Cabinets to see the full range of Skema wall covering options.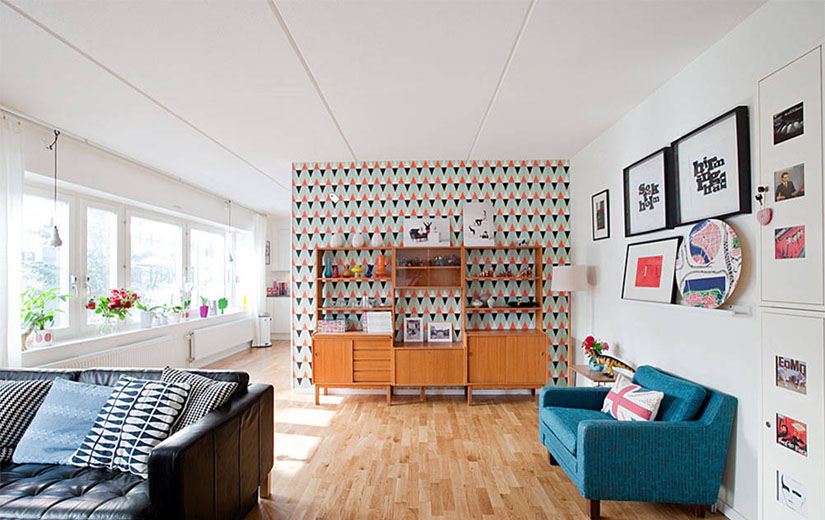 Bold print wallpaper
Statement wallpaper can instantly wake up a tired living room. In a small space, bold wallpaper draws attention away from the size of the room and creates instant personality.
To get the look: We love Chasing Paper's removable wallpapers, with beautiful patterns from top designers like Amy Van Luijk, Kelly Ventura, Caitlin Keegan, Jessica Jones, Two If By Sea, and more.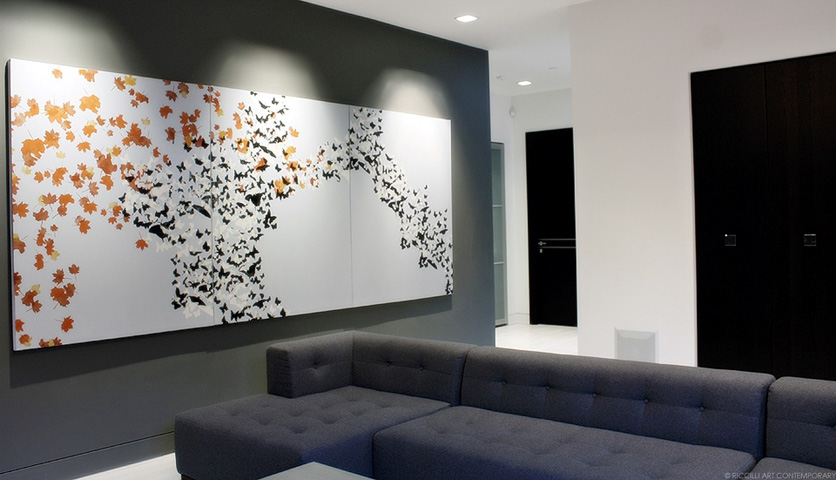 Art accent wall
Nothing says feature wall like a single piece of art, and even better if it's commissioned for the space.
To get the look: This is probably the most difficult look to make work, since you'll need a single, wall-sized piece that's both compelling and decorative, and you won't want to rush into a potentially large purchase. Consider choosing a piece from an up-and-coming artist and it could also turn out to be a good long-term investment.