There's definitely a right way—and a wrong way—to use black and white in a bathroom.
Black and white is one of the strongest color combinations you can choose. Black and white transcend style—the color combination is equally sophisticated used in modern and traditional homes. Done right, this color combination exudes elegance, power, simplicity, and refinement. Done wrong, and it can be overwhelming and gaudy.
Before we tell you what you should do, first let's get what you shouldn't do out of the way. Do not: put a black toilet in a mostly white bathroom; clutter the space with too many different tile patterns; get too "matchy" with accents; or use a lot of bright gold in the fixtures.
Now, here are a few design tips for how you should use black and white in your bathroom.
Use black in the accents
If you like the look of a black and white bathroom but don't want to overdo it, consider adding black with just a few accents: a black vanity with white Corian countertop, a vanity mirror in an oversized black frame, or black tile on the shower floor. Black accents in the mirror and lighting can help to make an otherwise white interior more interesting. Pay attention to placement and texture; you want to create balance with your accents and not overcrowd the space.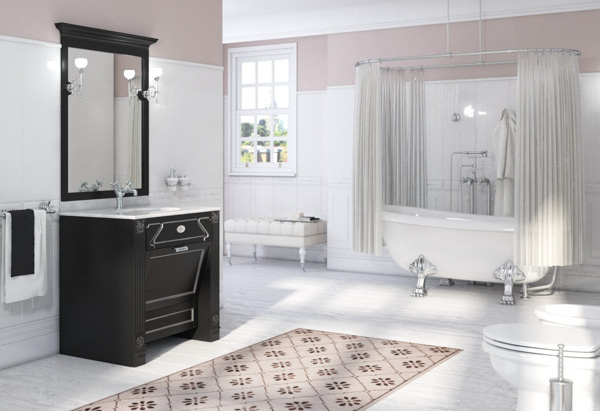 Use contrasting tile
As we mentioned above, you want to be careful not to overdo the black and white tile, but contrasting tile can be a great way to add style to a bathroom. Consider subway tile with black grout on the walls combined with large black tiles with white grout on the floor. Tile can also be a good way to delineate space, especially if you have an open or curbless shower.
Add a punch of color
The best thing about black and white is the contrast, but using a punch of color can be even better. You can do this with accent pieces like towels, bath mat, and soap dishes, or other decorative touches like antique apothecary jars, a bright piece of abstract art, or a large vase of flowers. Bright blue, orange, lime green, or pink are great colors to contrast with black and white.
If you're bold enough, you can take it one step further and add color to the walls—an accent wall can also help create color flow—or even paint the ceiling a bright hue like turquoise. As you finish up a black and white bathroom, you may feel like something's missing, and that something may be a single accent color.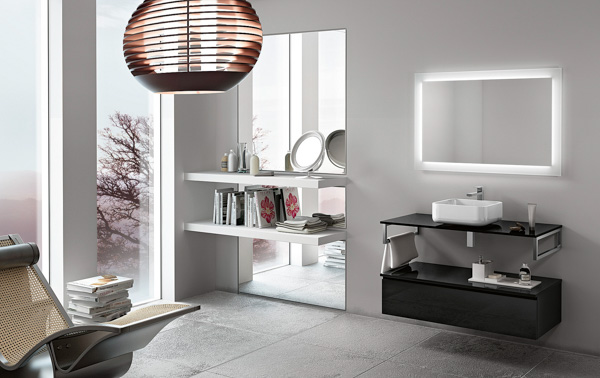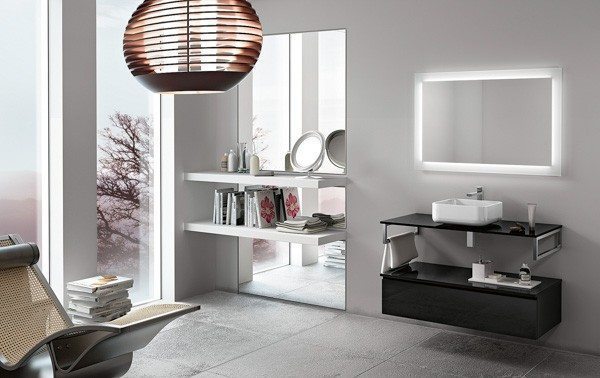 Use statement lighting
When designing a modern bathroom using only black and white, you do run the risk of creating an overly cold space. To keep your bathroom both warm and stylish, try adding statement lighting—a large chandelier instead of a simple light fixture. The fixture itself could be black or it could be chrome. Look for a fixture that stands out without sticking out.
Paint your walls black
Black walls with a white floor and ceiling can make the space appear taller. This is a great option for smaller rooms. Contrast the dark walls with a bright white vanity and be sure to use a really white paint for the ceiling and shiny tile on the floor to help reflect light.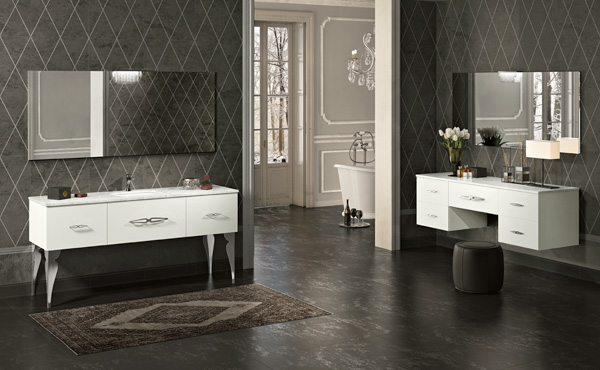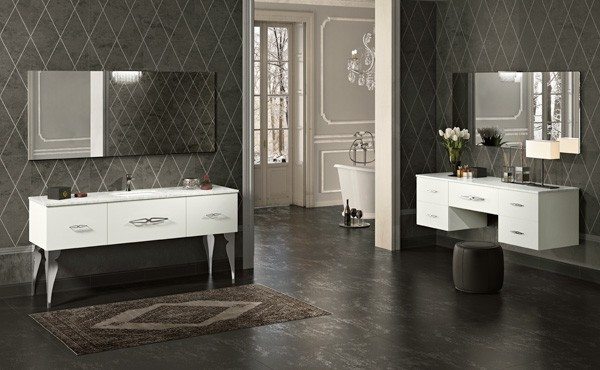 Soften with natural metals and wood
To prevent a black and white bathroom from looking overly stark, use warm metals like copper and bronze for your fixtures. For the flooring, you could skip the tile and use a black wood laminate or engineered hardwood on the floor.
Patterned wallpaper
There are an infinite number of patterns and textures available in black and white wallpaper, from very simple to very bold. Use white walls with a white vanity, black floor, and the black and white patterned wallpaper of your choice.