European Cabinets & Design Studios designed this custom staircase with a unique curve for a new home in Saratoga.
The original plans for this very modern home in Saratoga with a stunning view of a local winery called for a rather traditional staircase.
"You went up three steps to the landing, turned left, and then continued to the second floor. The rest of the house was extremely modern, and that staircase wasn't going to match," says Robert Berkovich.
The client wanted an open staircase to further lighten the space, but the challenge was that the space allotted for the staircase was very narrow and it had to make a turn. Robert designed a solution that involved a CAST staircase supported under the center of each step by high-quality series 304 stainless steel modular sections, which can each be set to a specific direction.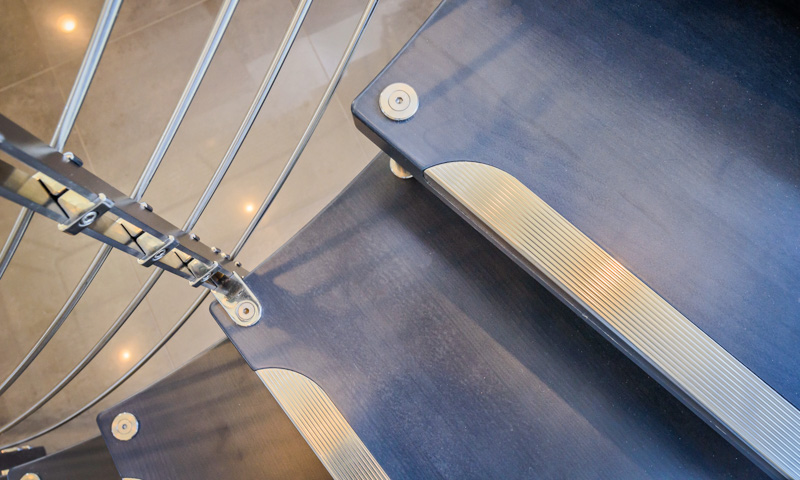 "We didn't want to just do a landing. With the Tekna Jazz modular system from CAST, we were able to make that curve," says Robert. The open staircase also allowed for the grand corner window to extend to the floor.
The steps themselves are finished in smooth oak (they are also available with a rougher finish) and edged with a stainless steel guard cover to protect them from wear and tear.
The handrail is also made of series 304 stainless steel and was custom created to match the curve of the staircase. CAST uses a finishing process that involves polishing the railing 13 times with progressively finer grain sandpapers, resulting in a handrail that is virtually fingerprint free.
"The polishing process is very complicated: One step further and the stainless steel railing would be too polished, and therefore constantly covered in fingerprints; one step less and it would be too rough to touch," says Robert.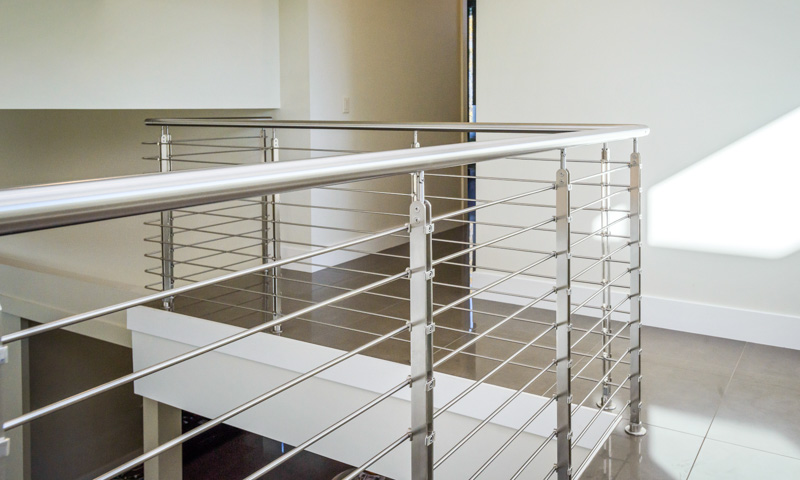 The balustrade is created by a series of adjustable vertical balusters placed every three steps. The number of adjustable 8mm stainless steel rods that run parallel to the railing can vary from three to nine—this project uses eight.
"This type of staircase usually uses cables run from the top to the bottom through the balusters. The CAST system with the custom length rods is much more sturdy and attractive," says Robert. The railing and balustrade become a guardrail along the second-floor landing.
The staircase was manufactured by CAST in Italy, and installed by European Cabinets & Design Studios' in-house installation experts.
The result was a staircase that adds to the light, modern design of the home, and is a focal point both inside and out.
See more from this project in our portfolio