Understanding how much you're going to pay for your kitchen and what you're actually paying for.
Shopping for kitchen cabinets is probably one of the most anxiety-inducing aspects of any home design project. There is a myriad of options, from modern, contemporary, or traditional to American or European to custom vs. semi-custom to materials, colors, finishes, and hardware. European Cabinets & Design Studios alone offers more than 20 different kitchen collections—and that's not even to mention the many millions of articles offering advice on style, design, and organization.
The bottom line is, you want to find a high-quality product that will increase the value of your home, and you don't want to overpay for it.
Cabinets, countertops, and appliances will define the style and function of your kitchen. Most people begin a kitchen design project by gathering ideas online and then visiting various kitchen showrooms where they get estimates for what their kitchen might cost.
Kitchen cabinets are a significant purchase. Even the cost of a modest Ikea kitchen will likely rival that of a small car. Therefore, savvy shoppers will be on the lookout for sales and discounts. Low-end ready-to-assemble (RTA) kitchen cabinets do go on sale occasionally, while some higher-end companies offer "discounts."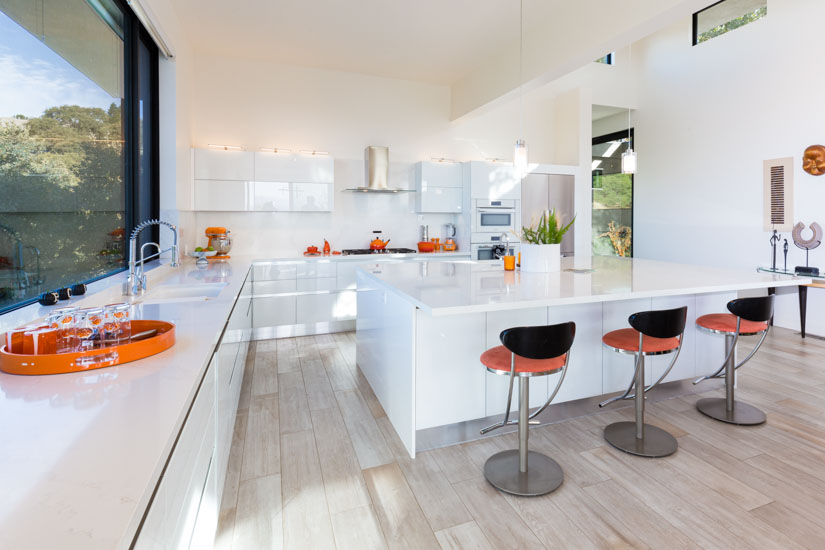 What you need to know, however, is how much you're going to pay—regardless of discount or sale and what that price tag includes—in order to assess the cost/value ratio of the products you are purchasing.
Modern white kitchens are extremely popular, but the price can fluctuate a lot depending on materials, finishes, and features. What material will your kitchen cabinets be made out of? Is the initial estimate based on cheap melamine or high-end glass, and does it include finishes? What about hardware and drawer assembly?
To make a project estimate seem as attractive as possible, many kitchen cabinet retailers generate estimates based on the lowest-priced options, inexpensive hardware and shelves instead of drawers, for example.
At European Cabinets & Design Studios, we guide you through the design process from start to finish to help you understand all of the design and installation costs. When we provide an estimate, it includes the types of materials and finishes you'd like and a realistic approach to the design, as well as high-quality hardware and drawer assemblies from Blum and often built-in undercabinet lighting. If you're interested in additional features like interior lighting or motorized opening, just let us know and it will be included in your budget.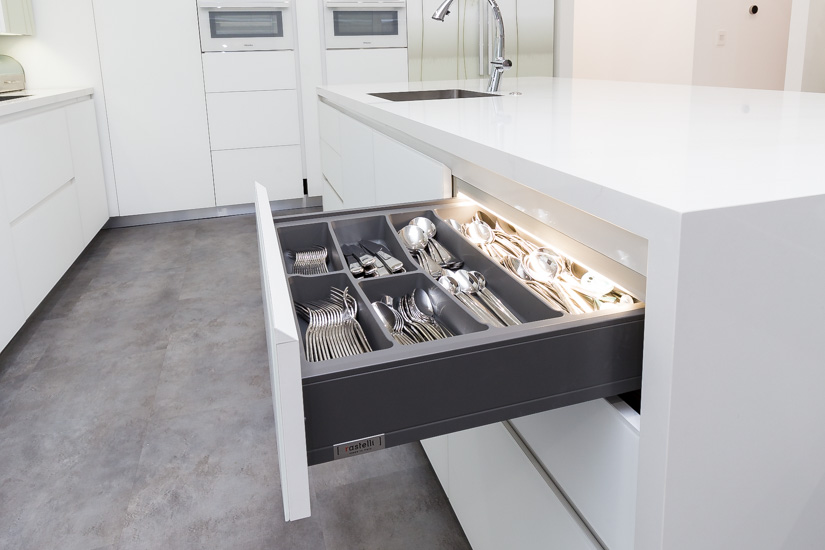 When it comes to European kitchens, that is, kitchens that are made in Europe, not European-style kitchens, which could be made anywhere, a significant part of the price could be the shipping, especially if purchased from a retailer that sells several cabinet brands made in Europe, the USA, or elsewhere.
European Cabinets & Design Studios offers exclusively Italian-made Aran Cucine kitchens. In fact, nearly all of the products we offer are made in Italy. By shipping products in volume from Europe, we are able to significantly reduce the cost of shipping for any one item, and we pass those savings onto our customers.
To get an estimate for your kitchen design project, stop by our showroom. Be sure to bring rough measurements of the walls and a couple of photographs of the current space. We'll show you the materials that will work with the style of your home and generate an estimate based on those you like the best.
Our goal is to make the kitchen design process as painless as possible by minimizing confusion and maximizing value. European Cabinets & Design Studios doesn't offer discounts, but we are committed to providing you the very best kitchen at the very best price.
Make an appointment to visit our Palo Alto showroom