This home went from cramped to spacious—without changing the exterior footprint.
The problem: A highly compartmentalized four-bedroom, 2.5 bath California bungalow in a cozy Fremont neighborhood with a small kitchen and little storage, well-worn carpet throughout, and leaky windows.
The solution: A whole-house renovation that re-thought the floorplan to maximize space and light and turn ordinary features into dramatic focal points.
The feature is an open kitchen, dining, and family room. Formerly three separate cramped spaces, the great room at the rear of the house is open and airy, with an impressive glass wall that looks out onto the home's generous patio lined with citrus trees.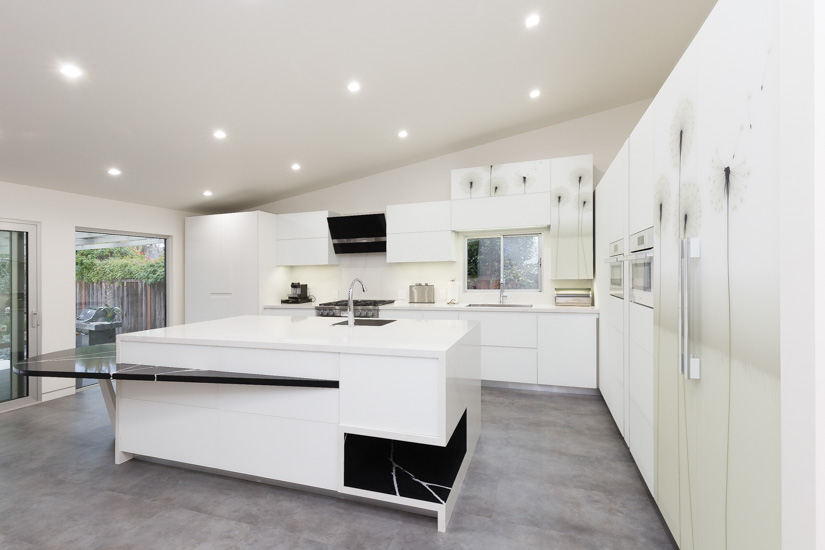 "We created one large, spacious area where three rooms used to be. The original kitchen was just a small corner with a couple of cabinets. This open plan allowed us to quadruple the amount of storage and add a huge island with a custom built-in breakfast table," explained designer Alexandra Berkovich of European Cabinets & Design Studios.
She used the classic combination of black and white to create a muted palette that never goes out of style. Color is added through details—kitchen, bedroom, and bath accessories and decorative art pieces that can be easily moved or removed.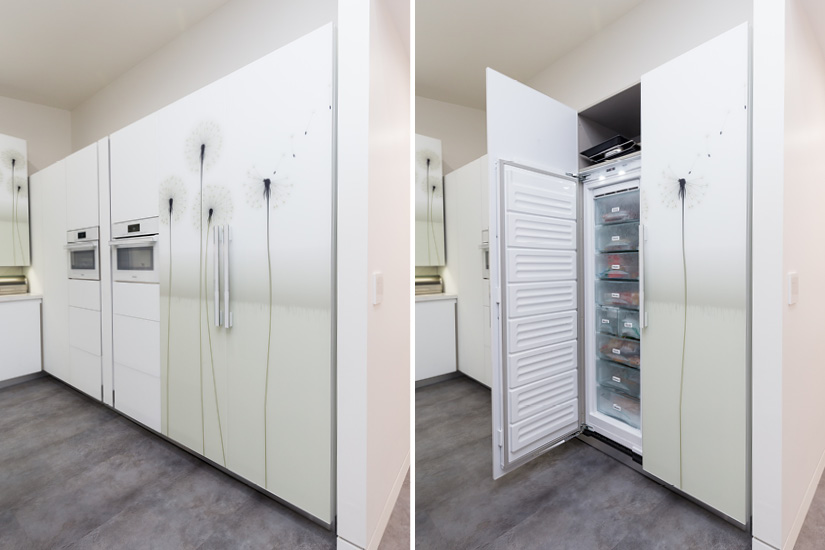 "Especially in the kitchen, to make it as bright as possible, I didn't want to put the black in front of your eyes. Instead I redistributed it, using it on the table to compliment and balance the bright white cabinets," said Alexandra.
The kitchen cabinets are white matte and decorative glass from the Karan collection by Rastelli Cucine. The matte glass, which is adhered to a strong lacquer panel, repels fingerprints and is incredibly easy to clean. Cabinets in the Karan collection are slightly higher and deeper than standard cabinets—the wall cabinets can hold a full-size pizza pan laid flat.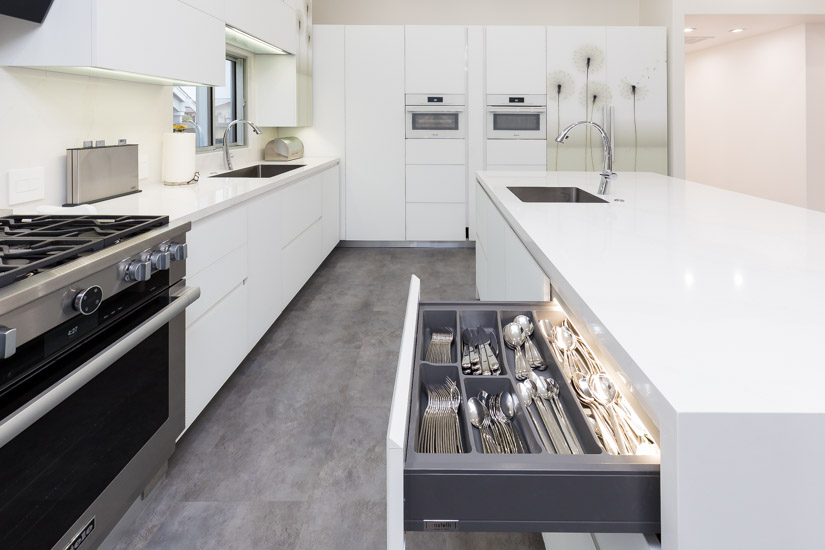 The cabinets and drawers feature built-in LED lighting, and the drawers feature top-of-the-line Blum hardware with electric opening. Miele appliances were chosen throughout: a gas dual-fuel 36" range, steam oven, speed oven, and 24" side-by-side integrated refrigerator and freezer. The range hood is from Zephyr; both the primary sink and prep sink are by TopZero.
The Karan collection offers a selection of decorative glass that can be integrated into any kitchen design. "The dandelion cabinets remind me of my childhood, when we used to go blow them. My mother was very artistic, and she loved nature. She often read me poems about those things, and one that I loved was about dandelions," said Alexandra.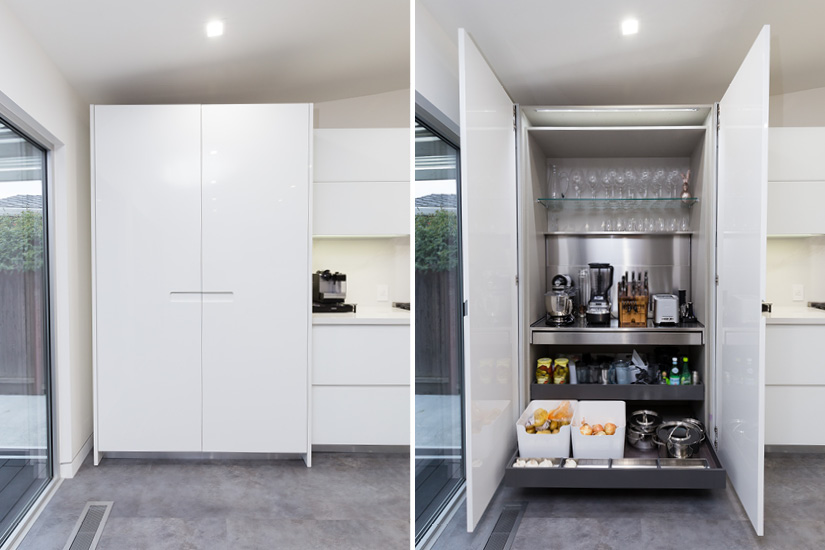 One of the most interesting features of this kitchen, a solution unique to the Karan collection, is the tall pantry, which is actually a hidden workspace. The doors open and slide back into to the unit revealing a stainless-steel pull-out counter and bar-like storage. Indeed, this could be used as a bar with shelving above for glassware. In this case, it's used as an appliance cabinet—there is a power supply so appliances can be operated in place. Below large sliding shelves hold non-perishables.
The massive island not only triples the counterspace and orients the work area toward the room rather than toward the wall, it also provides a ton of additional storage. On one side, drawers and on the other storage cabinets for rarely used china and decorative vases. The custom, nearly floating breakfast table was made with Silestone Marquina quartz and the countertops and backsplash are Silestone Calacatta Gold, fabricated and installed by Bay StoneWorks.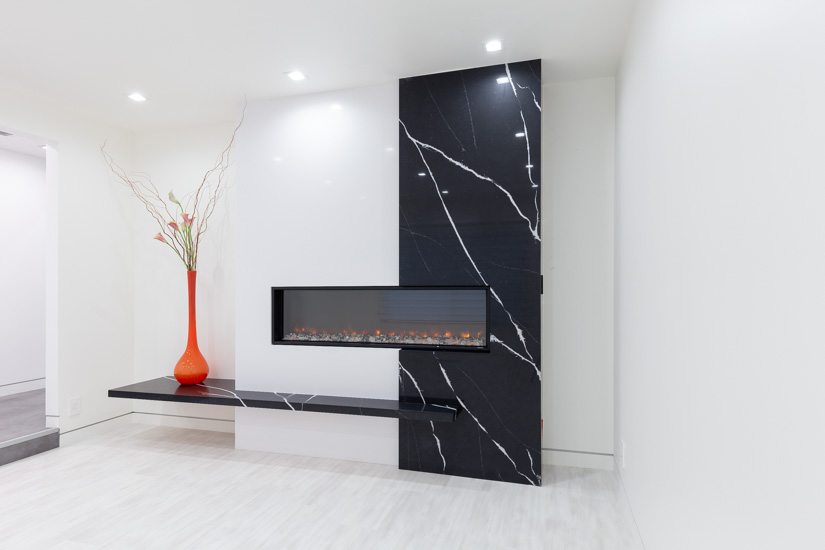 In the living room, to make better use of the space and create a focal point visible from the street and immediately upon entry, the fireplace was moved to the kitchen wall. The horizontal gas fireplace is showcased on a striking feature wall.
"When the curtains are open from the outside, you can see the fireplace from the street, and when guest are arriving, you see it right away. It's very modern, but it still provides a cozy feeling," said Alexandra. The custom surround for the gas fireplace was designed with Silestone quartz in Iconic White and Marquina.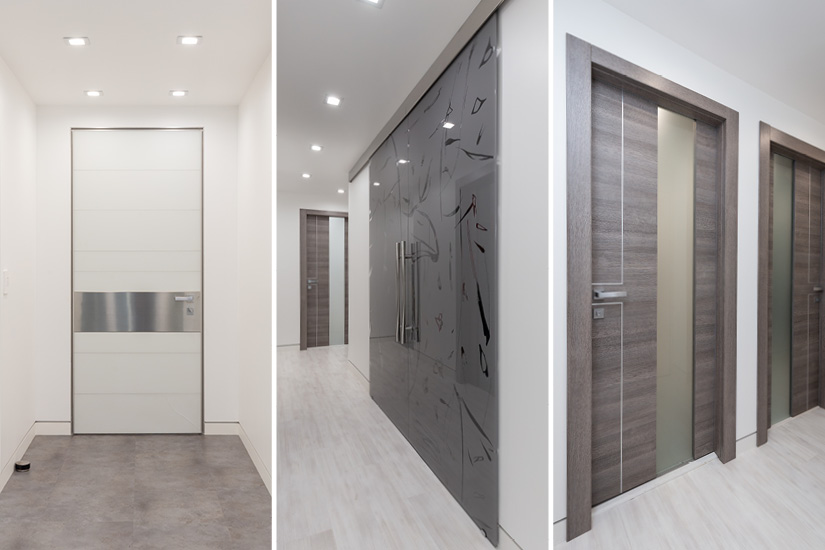 Most people have a simple swing or sliding door for their hallway coat closet. For this home, Alexandra chose a showcase piece: A huge sliding glass door from Casali. "I fell in love with Casali when I first saw them at the Milan show. It's a unique company. All the doors are handmade, and they can be done in any design and in any color. We visited the factory, and I was shocked at their beauty, and the quality of the hinges and sliders is excellent. I integrate these doors in my designs whenever I can. It's such a wonderful compliment in an otherwise unremarkable hallway," said Alexandra.
To create a modern master suite, an adjacent bedroom was converted to a walk-in closet. The original en suite bathroom had a small shower with a toilet and a vanity behind a small wall. Alexandra borrowed space from the two closets to create one large master bathroom with an elegant walk-in shower, large vanity, Toto bidet-style toilet, and additional wall storage for cosmetics. The entry to the bathroom is a dramatic black and magenta glass door by Casali.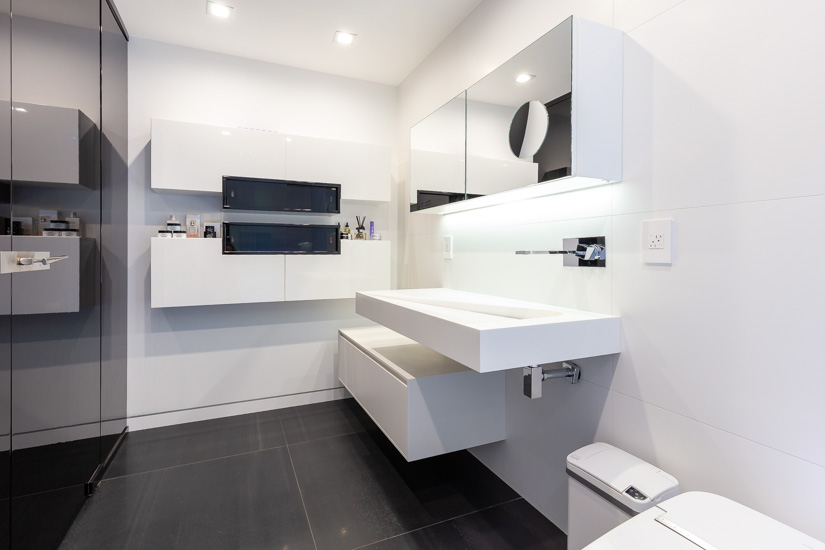 Flooring throughout the home is from Skema: Laminate flooring in the kitchen and STAR.K resilient vinyl flooring in Varsavia for the living room, hallways, and bedrooms. The project was completed by B&I Modern Construction.
The homeowners are thrilled with the modern look and spacious result of the project. "Everything is clean, it's a wonderful space to relax, and the black and white will never go out of style," Alexandra concluded.
Ready to plan your kitchen? Download our kitchen design guide