Some kitchen trends have more staying power than others. Use these modern ideas to design a kitchen that fits your life and reflects your good style.
A new kitchen is one of the largest single investments you can make for your home—according to Remodeling Magazine's Cost vs. Value Report, the national average cost for a major kitchen remodel is over $56,000. Because kitchen remodeling projects are so expensive (and so involved), homeowners generally want the end result to look as fresh and modern as possible. These eight kitchen trends have outlasted their heyday. Take a look at our alternatives:
Appliance garages
Corner counter cabinets with a rolling "garage door" used to be a popular way to hide away small kitchen appliances, but these cabinets took up a lot of valuable counter space. And, appliance design has improved significantly from that bulky old Cuisinart blender. Companies like Smeg, Bugatti, and Ascaso Dream are designing small appliances that border on being small, functional art pieces. We suggest storing your most-used appliances right out on the counter and keeping the others in large pull-out drawers.
Standing microwaves
Forget the on-the-counter after-project microwave, and don't even mention a microwave nook—a built-in Miele Speed Oven is the way to go. We can integrate this appliance seamlessly into your cabinets. Placing the Speed Oven under the countertop make it more ergonomic and easily accessible to families with children as well.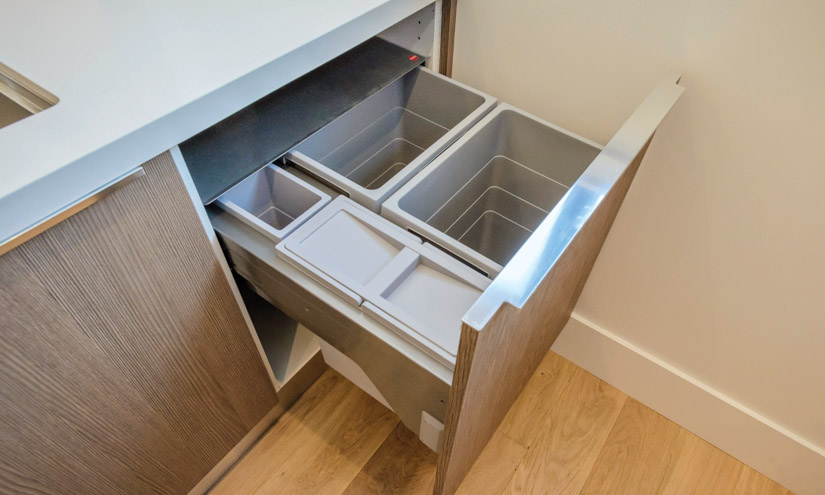 Trash compactors
With curbside compost and recycling pickup becoming available in more and more communities, the about of waste destined for the landfill is thankfully less and less. Skip the trash compactor—they can easily malfunction and are a pain to clean—make it easier for your family to be green with a custom drawer with at least three separate bins for waste, recycling, and compost.
Office nooks
Remember that built-in desk your mother had in her kitchen? Did anyone ever use it? Chances are slim. They probably just gathered place for loose stuff—papers, bills, loose change, and keys. A much cleaner approach is to designate a drawer for mail and personal items, with an in-drawer charging station for smartphones and other mobile devices.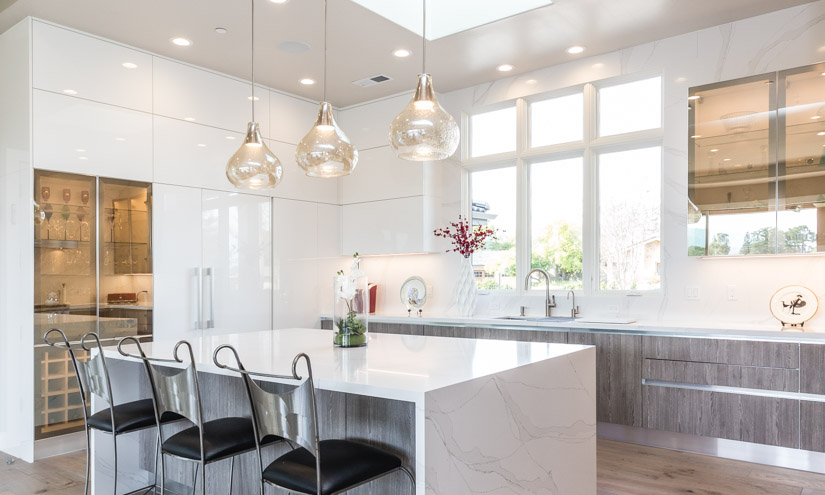 Short backsplashes
Growing up, we had a beautiful four-inch tile that formed a single line of a backsplash between the countertop and paint. The problem was, it wasn't tall enough to serve its function. Re-painting the wall became an annual project. Now we recommend a backsplash that extends to the bottom of the wall cabinets, either in the same quartz as the countertop or in a contrasting tile for a bolder look.
Farmhouse sinks
The apron-front farmhouse sink hit a brief trend high a couple of years ago. They came in wild colors and textures, even including wood. If you live in an authentic early-20th-century farmhouse, we concede the look might be appropriate. But if you want a modern kitchen, stick to a stainless steel sink, ideally, a drop-in or under-mounted model.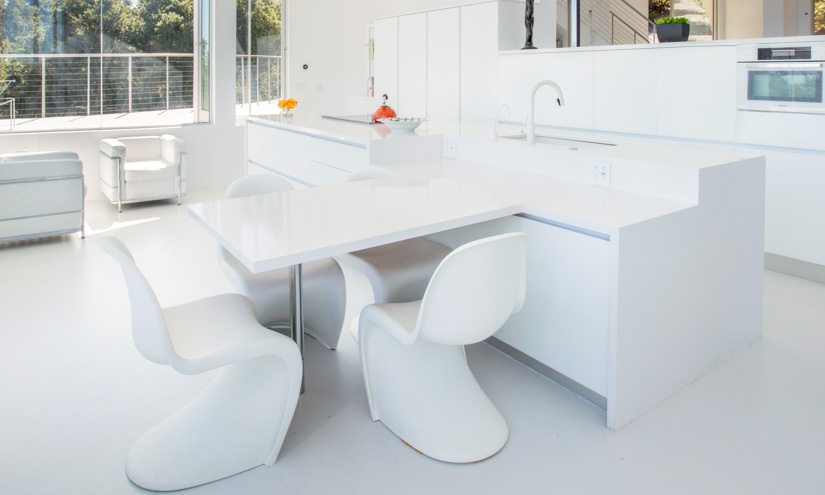 Kitchen islands with a breakfast bar
Whether your kitchen is large or small, the island can do a lot more than serve as a prep or serving station, and they're not just for breakfast anymore. The modern kitchen island can have a table large enough for a family of five, creative spaces for storage like a bookshelf for your best cookbooks, and back-to-back cabinets.
Pot racks
Hanging your pots above the kitchen island detracts from the open look of a modern kitchen. Aran Cucine kitchens can be designed with wide, deep drawers, which are particularly great under a built-in gas or induction cooktop.
Whether you decide to implement these ideas or not, remember, when it comes to kitchen design form and function go hand in hand.
Ready to plan your kitchen? Download our kitchen design guide